With artisanal attention to detail and respect for all the people involved in the production process of its clothing, Lazzari has been carrying on the Made in Italy tradition since 1977. Here are 5 winter outfits from this beautiful company from Vicenza.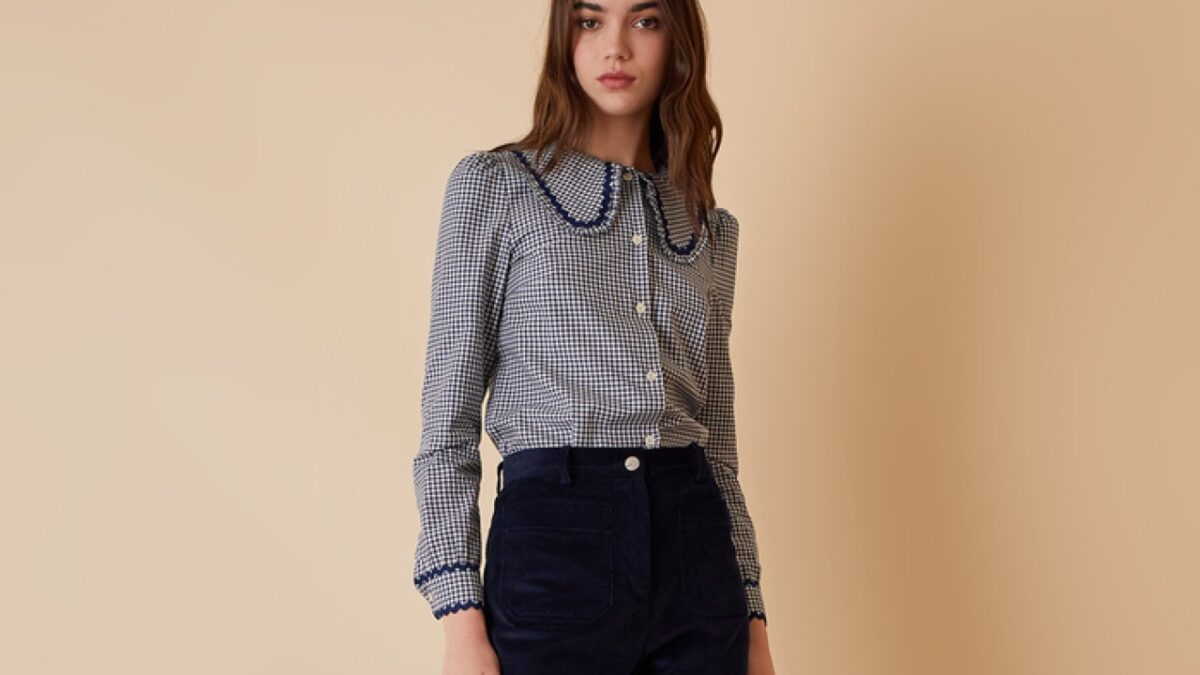 From 1977 to today Lazarusa small family business born in the province of Vicenza, tells the truth with its highly refined clothing Made in Italy. From the types of fabrics used, chosen with a preference for fine yarns made in Italy with respect for the environment and people, to the tailoring, carried out in its own laboratories, the clothes Lazarus they are made "as they once were". With artisanal attention to detail and respect for everyone involved in the manufacturing process. We just have to give the floor to the images of the 5 designer winter outfits Lazarus to which you will not be able to say no!
Checked blouse and velvet trousers: a mannish and refined outfit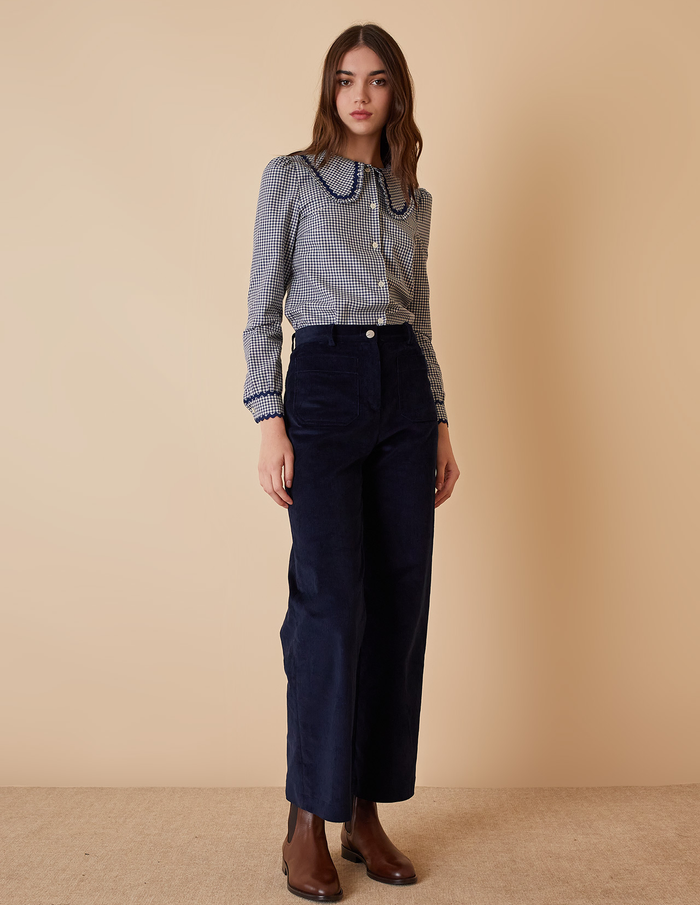 Let's start with the first signed outfit Lazarus, a suit with a retro and mannish style that shows itself in all its refinement and sophistication. The looks mannish, or those that are inspired by the male wardrobe, give great charm and, if done well as in this case, they are damn sensual. The set consists of a shirt in 100% cotton, with a blue and white checked pattern and characterized by the contrasting serpentine on the maxi collar and cuffs and by trousers straight in corduroy. To complete the outfit, the most practical of the classics, the ankle boot Beatles, featuring a practical elastic insert that makes it comfortable and easy to wear. An original and refined look, a concentrate of style and masculine lines that mix perfectly with details with a purely feminine look.
Happy Hues for Monday moods: the right foot to start Monday and beyond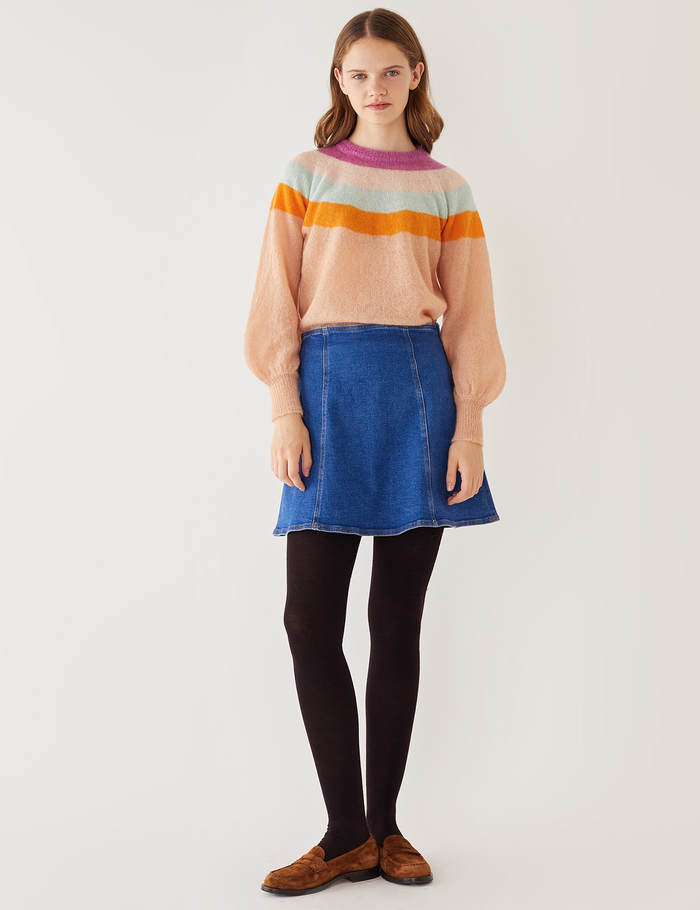 A lively and cheerful outfit, the right energy to start a long and intense working Monday! That's exactly why Lazarus called him Happy hues for Monday moods. A graceful cardigan with rainbow yoke and wide sleeves made of a soft mohair blend available in two variants, on a peach base (like this one in the photo) or powder pink. Wear it with this short flared skirt in denim that will accompany you with a casual but cool style until spring. Now, combined with a very sweet sweater, a pair of heavy socks and tobacco suede moccasins, in a few months, with light tights and an oversized shirt.
That 70s' feeling: an outfit that will catapult you into the vibrant and free 70s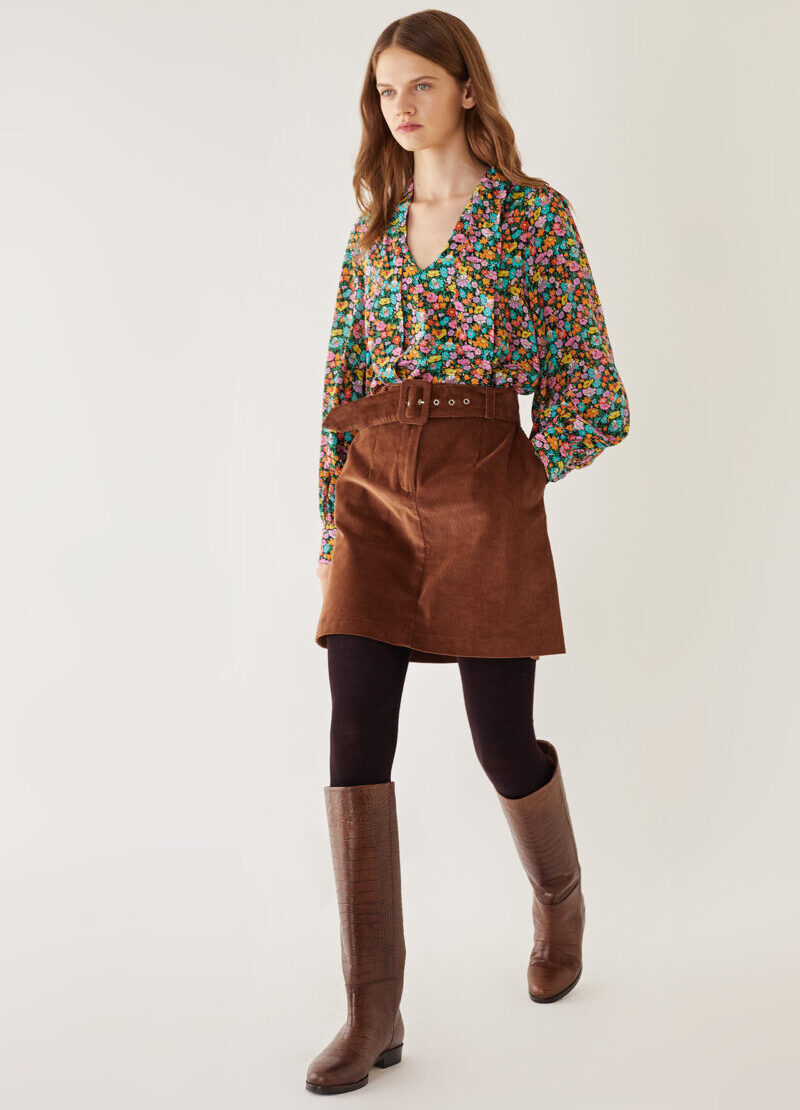 For a nostalgic and revival look, here is an outfit that catapults us directly into the colorful and vibrant 70s. A miniskirt flared dress in ribbed cotton velvet that makes us daydream, characterized by a maxi belt with ton sur ton buckle, which goes divinely with a blouse with flowers or an oversized mohair choker. But take a good look at this blouse. What appears to be a classic floral print hides a secret. In this ironic reworking of the Liberty Fabric "Poppy & Daisy" pattern, the illustrator Hattie Stewart has inserted inspirational characters cartoon. Lazarus he then chose to use this special silk to make highly original blouses with knotted collars. One more reason to keep a one-of-a-kind garment in your wardrobe, don't you think?
READ ALSO: The Velvet Blazer is back in Fashion: 6 super chic jackets for the winter!
Satin top and wide trousers set: an essential but sophisticated outfit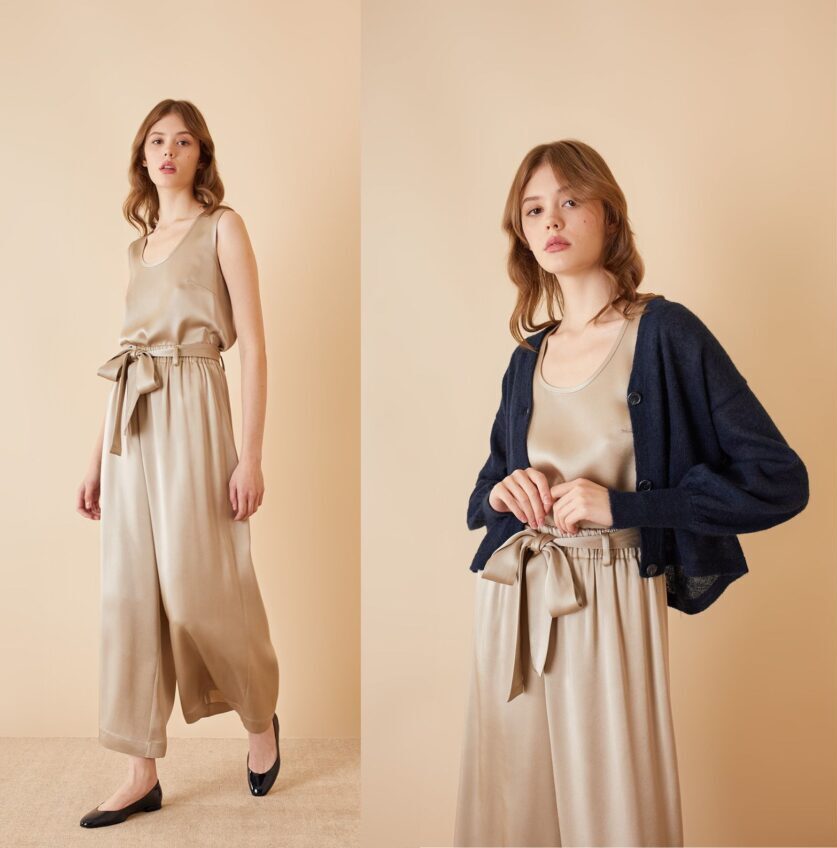 Precious and sophisticated in its simplicity, this full champagne with wide satin top and trousers will accompany you on special occasions, but will also make your everyday life special. In fact, you can wear it for a ceremony by declining it with delicate nude or contrasting slingbacks, while, in the office, with an oversize sweater and the flats you see in the photo, it will be the ideal match. It is a practical and versatile suit with a slightly oversized fit which, thanks to the elastic waist and the composition of the fabric, allows freedom of movement and maximum comfort. Shall we talk about the adorable ballerinas? These dancers neckline are inspired by the most elegant and bon ton models of the 50s. The founds available in black nappa, dark brown or blue patent leather, are made in the footwear district of the Brenta Riviera, in a shoe factory specialized in the creation of elegant women's shoes.
Mohair and baby alpaca blend sweater and tartan midi skirt: bold and lively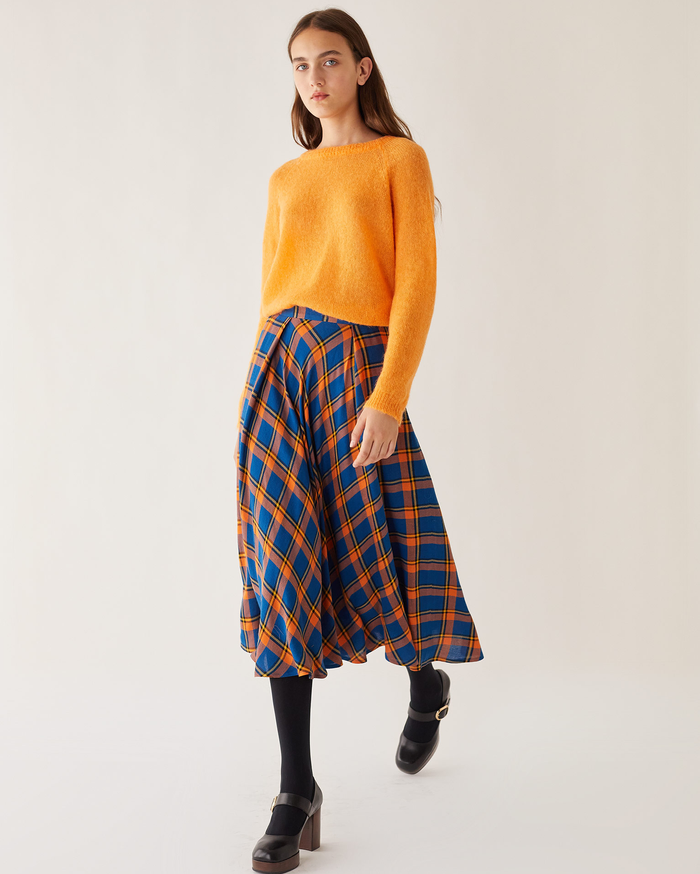 A decisive and lively outfit, perfect for women who absolutely do not want to go unnoticed. A soft and very soft pastel yellow sweater in a blend of mohair and baby alpaca, combined with an elegant midi circle skirt in blue and orange tartan. What to say about these beautiful shoes? Maxi buckle, slightly squared toe, 9 cm heel: Zoë Kravitz he wouldn't let them get away. You? These Mary Janes are available in a single variant in black nappa leather with a wood-effect heel.