Morocco's National Geophysical Institute announced that a magnitude 7 earthquake had struck the country. The institute said the epicenter of the earthquake, which occurred at a depth of 8 kilometers, was in the El-Houiz area of ​​​​Marrakech in the north of the country.
The earthquake, which was felt in several cities across the country, killed 296 people and injured 153, according to preliminary findings, a statement from Morocco's Ministry of Internal Affairs said.

"The biggest earthquake in the country's history in the last century"
Morocco's National Institute of Geophysics announced that the magnitude 7 earthquake that struck Marrakesh was the largest earthquake in the country's history in the last century.
It was reported that Marrakesh, Azilal, Agadir, Varazzat and Chichoua were among the cities where deaths occurred.
In the statement, it was emphasized that local institutions, police forces and civil defense teams mobilized all their resources to detect the damage caused by the earthquake and to deliver necessary assistance to those in need, and appealed to citizens to remain calm and not panic. Was not done. ,
Rescue teams in Morocco are trying to save survivors from the debris of collapsed buildings.
Meanwhile, it was revealed that teams had difficulty reaching the earthquake areas due to roads being damaged and closed after the earthquake.

Earthquake caused damage in many cities
Moroccan Channel 1 television reported that the earthquake caused damage in several cities.
The "El-Yevam 24" news site said some buildings collapsed in downtown Marrakech during the earthquake.
Images of people taking to the streets after the earthquake and moments after buildings collapsed were shared on social media platforms.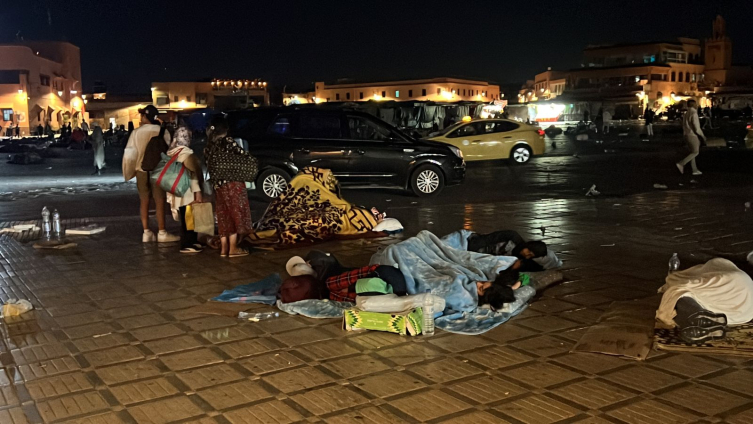 It was reported that a part of the historic walls of Marrakesh was also damaged in the earthquake.
Local newspapers wrote that the earthquake, which occurred in Morocco at around 23.10 local time, was felt in the cities of Casablanca, Meknes, Agadir and Fes, especially the capital Rabat.
While preliminary information from the local press reported that the earthquake had a magnitude of 6.8 – 6.9, the German Center for Seismology declared the earthquake a magnitude of 7.

Turkish Red Crescent: Our disaster teams closely monitor the developments
The Turkish Red Crescent also announced in a statement on its social media accounts that it was closely following the developments in Morocco.
The Turkish Red Crescent included the following words in its social media post:

"Our disaster teams are closely monitoring the developments following the earthquake that struck Morocco in Marrakesh, Morocco, with a preliminary determination of 6.8 magnitude."
Our disaster teams are closely monitoring the developments following the earthquake that struck Morocco, which was initially determined to have a magnitude of 6.8. #Earthquake #morocco pic.twitter.com/PSgk6hUkOY

– Turkish Red Crescent (@Kizilay) 8 September 2023