The Kardashian family has been around for over a decade. A large family never disappears from television and gossip sites, and the recent announcement that the cult show "Keeping up with the Kardashians" has ended has broken millions of fans' hearts. And all thanks to 65-year-old Kris Jenner, who made being a mother a business worth several hundred million dollars.
The Kardashian family is a pop culture phenomenon. "Keeping up with the Kardashians", reality show depicting the life of Kris Jenner and her large family is broadcast in 160 countries around the world! Each of the six children of Kris Jenner is somehow related to show business. Of course, Kim is the most famous, but Kylie and Kendall are chasing her in popularity rankings, while the rest of the siblings are slightly behind. But neither of the Kardashians and Jenners would have had a chance for such a spectacular career if it were not for the business flair of Kris, who Nine years ago, she stormed into Ryan Seacrest's office and offered him to do a program about her family. Since then, cameras in the Kardashian and Jenner home (s) have been recording 10-12 hours of footage a day, sometimes even more. It seems we know everything about the members of the clan. But when The New York Times published a large profile on Kris, it turned out that there were many things that had escaped our attention so far. What so we don't know about Kris Jenner?
1. Kris was born Kristen Mary Houghton

Though he looks to be at least 10 years younger, Kris will be celebrating his 66th birthday next year. She was born in San Diego in 1955. Her parents divorced. The father left and the mother went to live with her daughters, Kris and Karen, with their parents who ran a candle shop in San Diego.
2. She trash Robert Kardashian

Kris met her first husband, Robert Kardashian, as a very young girl. She was 17, Robert — 28. It was just entering into force, he already had a reputation as an excellent lawyer. Kris's beauty and grace knocked him off his feet. Supposedly he proposed to her right after he saw her for the first time on the racetrack in Del Mar. But Kardashian had to wait a long time to accept the proposal. Kris became a flight attendant at American Airlines. She wanted to travel, gain experience. However, Kardashian did not give up. He proposed again after 5 years. Kris agreed to become his wife.
3. She had an affair with the footballer, Todd Waterman

Kris briefly had a passionate affair with Todd Waterman. Robert Kardashian found out about the whole case. He filed for divorce, canceled Kris' credit cards, leaving her with four children and penniless. The divorce case dragged on for a very long time.
4. Kris met Bruce Jenner on a blind date

American athlete Bruce Jenner with his wife Kris Jenner, circa 1990 (Photo: Kypros / Getty Images)

Photo: Getty Images

One day in 1990, when her divorce from Robert was not yet finalized, Kris went on a blind date. Friends made her appointment with Bruce Jenner, athlete, Olympian, direct, funny, open-minded guy. They fell in love right away. Each of them had four children – Bruce from two previous marriages. They both dreamed of big families. They wanted to get married as soon as possible, so Bruce asked Robert to expedite the divorce. Kris didn't take a penny from her ex-husband. They got married a month after the divorce papers were signed.
5. She was friends with Nicole Simpson – the wife of OJ Simpson

After marrying Robert, Kris began to lead the life of a typical suburban wife. She lived in a villa, spent weekends playing tennis with her husband and children – before the age of 30, she had four of them. She wasn't working, she was hanging out with friends, and she felt her youth slipping through her fingers. One of Kris's friends was Nicole Simpson, wife of OJ Simpson, with whom Robert in turn was friends. When Nicole and Ronald Goldman were murdered in OJ's home in 1994, it began the most famous criminal trial in US history. Kris, then already married to Bruce, sat in the courtroom demanding justice for her murdered friend. On the other side of the room, in the place of the defenders, her ex-husband was sitting. Kardashian was part of the legal team that saved Simpson from being charged with a double murder. It is even rumored that Robert Kardashian helped Simpson hide the evidence of the crime. Kendall Nicole Jenner, Kris and Bruce's first daughter is named after the murdered footballer's wife.
See also: 15 Instagram accounts that teach you to be stylish and sexy in the plus size
6. Bruce Jenner was Kris's first client

After their marriage, Bruce and Kris were on the verge of bankruptcy. Although Bruce ran his business – he traveled around the country with motivational lectures, but he was not very successful. Only when Kris took matters into her own hands, she tidied up his portfolio, she told journalists, something moved. Coca-Cola and Visa wanted to cooperate with the Olympian. As befits Kris Jenner, contracts weren't the only form of earnings for Bruce. In addition to motivational lectures, together with Kris he created a series of exercise videos. They turned out to be a bestseller and Kris realized he was an excellent manager.
7. She invented "Keeping up with the Kardashians"

1993: Jenner / Kardashian family portrait in Los Angeles, California. (Photo: Maureen Donaldson / Michael Ochs Archives / Getty Images)

Photo: Getty Images

In 2006, Kris concluded that her family's life was the perfect topic for a reality show. Two years have passed since the end of "The Osbournes" (with Ozzy and his family in camera) and America clearly needed a new celebrity clan to peek at. One that can be loved and hated at the same time.
Kris knew it perfectly well. She prepared the script and made an appointment with Ryan Seacrest. The producer was quite skeptical about Jenner's idea, but agreed to send the crew to record a demo at a family barbecue. On his way from the Kardashian estate in Calabasas, the operator called Seacrest:
"We have a show. They are unearthly"
, He said.
Premiere of the show "Keeping up with the Kardashians" took place in 2007. Since then, the family "known for being famous" has grown into the most influential clan on American television.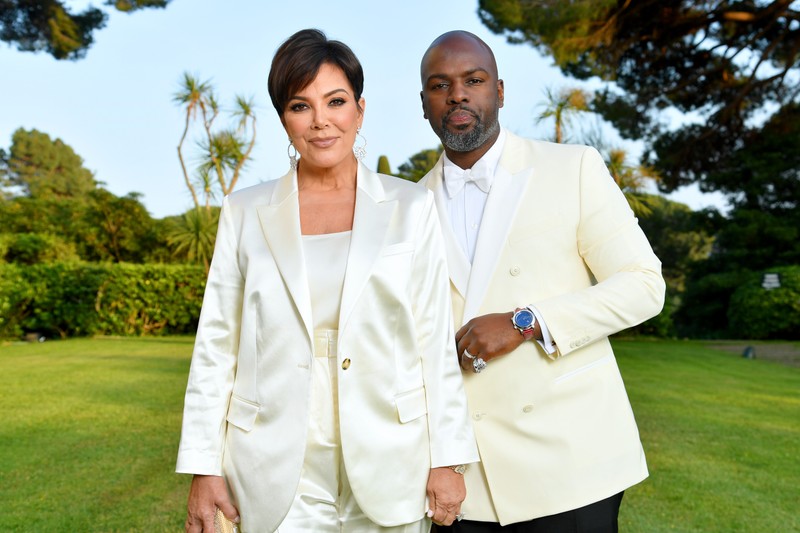 Kris Jenner and partner Corey Gamble attend the gala at the Cannes Festival 2019 (Photo: Pascal Le Segretain / amfAR / Getty Images for amfAR)

Photo: Getty Images

The next children of Kris and Bruce entered the world of show business. Kim, Khloe and Kourtney have run Dash boutiques and have several collections of clothes, cosmetics and babywear. Robert, who fights depression and obesity, produces socks (of course, hipster, which are sold in the best department stores in the world).
Kendall is a revelation of the fashion world, although as her other models point out, the way to the catwalk was definitely easier. Kylie's focus is on her beauty empire, she's now the richest kardashian girl. Khloe has her TV show revenge body and Kourtney focuses on her family. They are all rich, and that's all thanks the best mom in the world.
See also: