Story
A candidate from the AV-PP list of St. Lucia tells his version of the "betrayal" of the party leader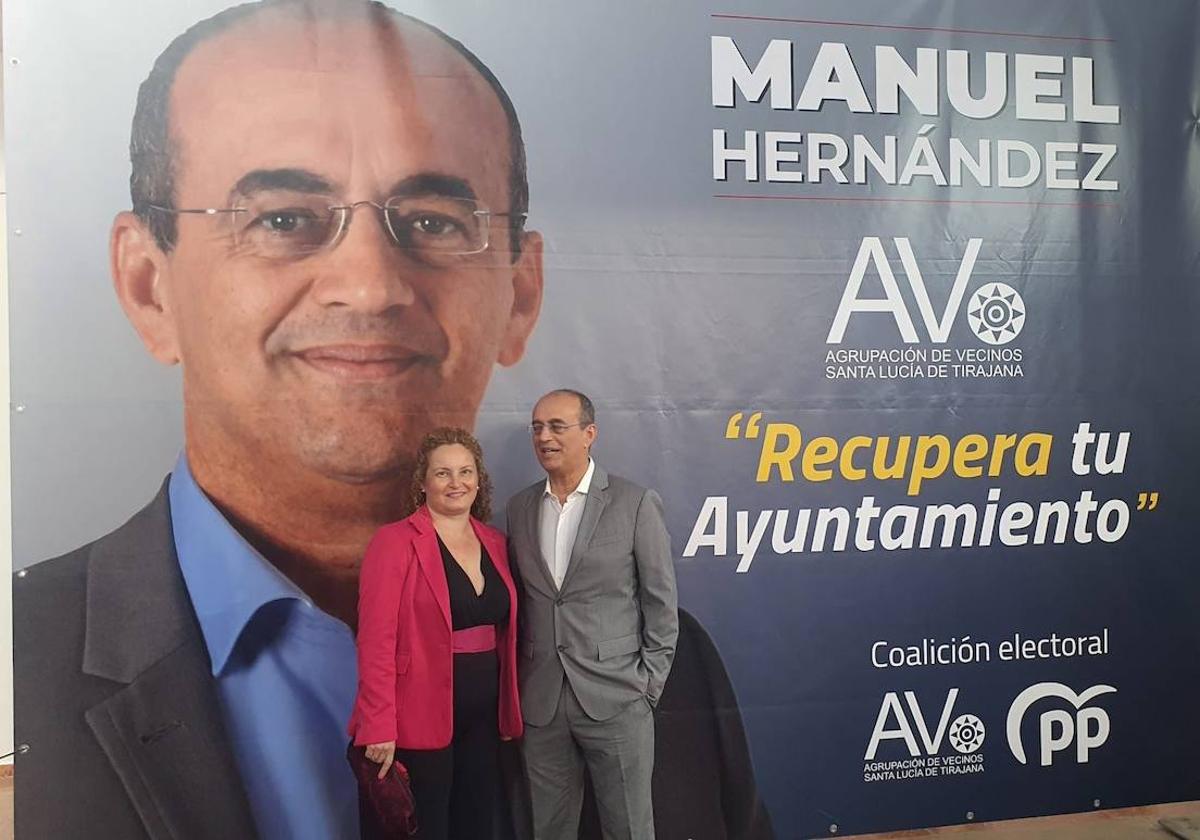 Maria Ines Garcia Gonzalez in figure rank 25 fixed list with which they form electoral alliance Neighborhood Association of Santa Lucia de Tirajana and the Popular Party (AV-SLT-PP) He is contesting the May 28 Southeastern municipality election, but he is among seven candidates who announced their decision to resign from the gridiron these days. He and the other six decided to follow in view of the head of the list, Manuel Hernandez, who announced his withdrawal from politics after confirming that he changed his candidacy behind his back, as he had denounced at the time.
now it's ines barcia send a letter in which she tells her version that she insists on calling "Betrayal" and "Stabbing in the Back" And that this newspaper reproduces in its entirety:
«To the residents of Santa Lucia de Tirajana, I am María Inés Barcía González, candidate who suffers from a major disability and I am in an electric wheelchair, necessary given my disability. On behalf of those of us who have renounced candidacy via a press release on May 17, 2023, as done by number 1 on the list, Mr. Manuel Hernandez, candidate for mayor, who has already publicly resigned It has been given (in the story) why it has been written.
The residents who attended the presentation on 27 April were able to meet me and all the residents present expressed their happiness with the candidates. Many neighbors came to congratulate me.
We are going to tell what happened after that on April 27, 2023, the day of the presentation to the neighbors. since that day had a plot To all the neighbors, Don Manuel Hernandez, for betraying and stabbing Manolo in the back Lucia, number 2 of the party, and Jacinto, number 6, Which were in the list published in the BOP (Official Gazette of the Province of Las Palmas) on April 26, 2023.
The one who was leading as number 1, Manuel Hernández, Manolo, mayoral candidate for the residents, sent press releases and bureaux to the AV-STL party and the PP to inform them of his resignation and did not publish his name. Can go His face or any document, meetings, calls with neighbors, publicity, election campaign etc. (something he kept doing). He has not been able to officially resign till the end of the May 28 elections. That is what we have done.
I deal with the facts of truth:
A week before the presentation of the candidates from the AV STL/PP list to the residents, the agreement with the PP was that the project to be presented belonged to the AV-STL and that Manuel Hernandez (Manolo) would be in charge of the list of candidates. AV-STL's attorneys, Juan Jose Ramos and Manolo, begin to list Before the weekend of Saturday 22nd and Sunday 23rd. manolo wanted to put in third place Vicente Arana (a great professional, an honest person, human and on whom we trust, because he can be trusted), that we understand that he too was betrayed.
The lawyer named earlier wanted to put him at number 6 on the list and Manolo said no. At the end of that week, through the wasp between Manolo and the lawyer, The lawyer insisted on not keeping him as number three; He not only insists, but he tells him: I've decided to take a step forward and I'm going to do a touch-up, we take Vicente Arana off the list and I put myself in third place . Manolo said no and replied that he had already spoken to Vicente Arana and told him that he did not want to be included in the list. (On the same Sunday the 23rd, Manolo told some of the candidates what had happened, the conversation he had with Juan José Ramos through the Wasp). Since Manolo completely trusted the AV-STL lawyer, as did all of us, and so the list was submitted to the Electoral Board on 24 April, which was published in the BOP on 26 April.
On 27 April, candidatures were submitted (that is, the submission of all candidates who were on the list for the 28 May elections) in Victor Jara. i was present Jose Luis Arana, his brother, Vicente Arana, and AV-STL lawyer, Juan José Ramos (all three of whom Manolo and his team trusted completely for years). He praised the two traitors in that presentation, José Luis Arana, empowered by Manolo, and AV-STL lawyers, Juan José Ramos, and Vicente Arana, in particular he helped the party, trusting them completely, especially José Luis Arana, who for decades are known. For this reason, I authorize the distribution of the list to the Electoral Board. They betrayed them and backstabbed them, and they stole the program and project they've worked on for so many years, both Manolo and Lucia, Jacinto, and the team-mates.
All party associates and thousands of residents knew how this party worked. Everyone is always close to neighbors, fights for their rights, is transparent in everything. I have no words to describe all the cool qualifiers at the AV-STL party, They had the best project and program presented which the parties have never been able to do in decades and that was presented in these elections on 28th May. He ran for the first time in the last election and fielded 5 councillors. They could only rule for a few months as Nueva Canarias, PP, La Fortaleza formed a coalition that currently governs. And within a few months he showed how well he did it.
After the presentation, on Thursday, April 27, everything was set to wait until May 2, 2023 for the final publication, which was the same list that was published on April 26, 2023.
Receive an email on Saturday, April 29 Lawyer Juan Jose Ramos, first thing in the morning, an email he made to keep in touch with the election board, in which he tells him he has to correct the list, because Could not find equality. The list from first number to last number obeys parity, except for the substitutes, who were 3 men and 1 woman. it was enough to remove two options, even 1 and it was already solved And we had all the candidates on the list published in the BOP on April 26, sign responsible declarations that we were not involved in criminal acts, something that all the candidates on the above list signed.
the person in charge josé luis arana and the lawyer should have informed manolo about this reform, because it was his duty. The final decision was Manolo's responsibility to resolve it. José Luis Arana and lawyer Juan José Ramos remained silent (on Friday the 28th the lawyer had dinner with Manolo and was very quiet). The lawyer knew, it is believed, because he had already presented himself in previous elections, and he knew that the documents of the above responsibility had to be delivered. Thus they were able to achieve their goal. Recognized among several neighbors and candidates as the person responsible for distributing all the signed documents that he gave them to the lawyer and José Luis Arana, who had the power to distribute it. What have you done? They did not deliver signed documents of responsibility that they were not involved in criminal acts to 4 candidates: No. 2, who was Lucia, and No. 6, Jacinto, who was loved by the entire party and neighbors, 4 councilors of the year, and two substitutes. Whom did they hire? Sister-in-law and niece No. 5, both relatives of José Luis Arana.
He did not have time to speak with Manolo, who had to know, because the lawyer was bound to inform him, and had an obligation to inform him, by 7:00 a.m. on Saturday the 29th, which was the end of the term. , so that between the two parties they can decide whom they will take as substitute, that it was a mistake and submitted the signed documents of all the candidates appearing in the BoP publication dated 26th April, 2023.
It is very clear that this was a betrayal and a stab in the back, Perpetrators and accomplices are Juan José Ramos, lawyer of Avi STL, and José Luis Arana, empowered by Manuel Hernández and a PP militant.
They were quiet from April 29 to May 2, i.e. Saturday 29, Sunday 30, which ends at 7:00 p.m., and the holiday Monday of May 1, they remain silent. We came to know about the treachery and backstabbing (and I think what they have done is also a crime) on the same day, 2nd May, when we see it published in BOP of 2nd May.
And there was a period of two days, 3 and 4, to improvise if, as they said, it was due to lack of time and it was they who were at hand (who believed). Because he didn't use that time to do what was right. They could have done this by starting a dispute and those who presented themselves to the neighbors and a list published in the BOP on April 26, but they remained silent. And they take Lucia out and take the lawyer, Juan Jose Ramos No. 2. Because of Manolo's kindness they knew very well that when he betrayed himself like this and stabbed him in the back, he was going to resign and with him, some others, and in fact Announcement has already been made for the post of Mayor What he wanted was the mayor's office. and José Luis Arana did not want to go on the list because he was running as Cabaldo's candidate. If it was due to lack of time, why didn't they fix it? This clearly shows that this was done intentionally.
Not only were Manuel Hernandez (Manolo), Lucia, Jacinto, etc. betrayed and backstabbed, we believe that Vicente Arana was also a victim. We feel very sorry for him, because he was a good candidate for number 3. We were all deceived and disappointed, members, all residents of Santa Lucia de Tirajana, that for such things we stop believing politicians. And thus it is shown who was with heart and who lives for power and money, those who have not resigned have already shown what they wanted. Some Juan Jose Ramos knew how to justify himself with a lie. something he continues to do publicly. So those of us who have resigned have decided on May 17, 2023, because We understand that the residents of Santa Lucia de Tirajana deserve to know the truth.
How sad that there is no place for honesty, integrity, transparency, humility etc in politics. If they do this for a list to come to power, what will they do while in power.
Last Monday, May 8, Manolo called a meeting to tell the residents the truth and lawyer Juan José Ramos took the stage and said that he was the only one responsible. The neighbors asked him to speak the truth and he took out a rally and raised his voice in front of the neighbors. It is true that some neighbors also raised their voice, but because they wanted the truth.
We went there behind Manolo's and it was practically empty. When I went upstairs, a candidate (who didn't resign) picked me up along with others, I think they were neighbors, but when I went outside, despite asking for help, they pretended not to hear and some neighbors I was coming out, because Manolo had already left. He helped me down, because there are stairs after the elevator to go out. We were so many on the street that people asked why there were so many people. The insurgents who went ahead despite knowing the truth remained on top and if there were any neighbors they could count on the palm of one hand.
what would you say to her? I imagine myself, some candidates, and thousands of neighbors just like that. Betrayal and backstabbing.
Manolo was repeatedly requested by the PP for an alliance. He was a member of the Popular Party, José Luis Arana, and who presented himself to Cabildo de Canarias, Vicente Arana, and Juan José Ramos, begging and persuading them. They asked him to help clear PP's name for a luxury party worth 500,000 euros, of which the city council paid 100,000 euros from the neighbors' money, all neighbors' money, because one of PP voted Diya please pay that full money. And he persuaded her because of Manolo's heart. And finally Don Manuel Hernandez and Don Miguel Jorge Blanco signed the alliance.
In short, I know the voting is secret, but what is clear to me is this I am not going to vote for this AV STL/PP alliance party."