They may not be spectacular from the point of view of "aesthetic beauty" like the images released by the James Webb Space Telescope, but the new image released by the NASA Juno space probein orbit around Jupiter and which recently flew over the moon Europe, however, it is worth seeing. This is a unique result of its kind, also because it was captured not with a scientific camera but with a different tool (used to orient yourself).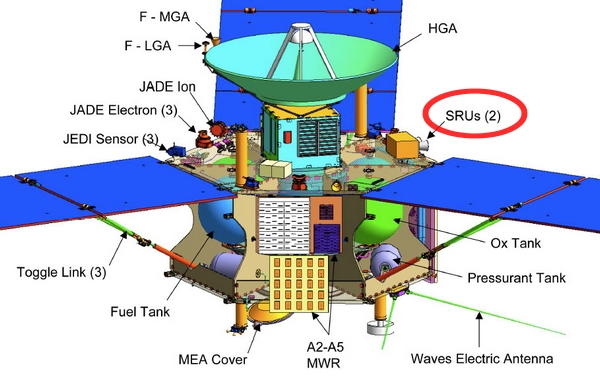 Circled in red the NASA Juno SRU
At the end of September, the first images captured with the JunoCama device meant to be a high resolution scientific camera and capable of delivering impressive photographs of Jupiter And Europe. As for the new image, released more recently and become popular, it was captured with the Stellar Reference Unit (SRU). This unit has a particular sensitivity in the visible wavelength between 450 nm and 1100 nm and is used to control the attitude of the space probe by referring to the stars identified (a very common system for satellites).
The new image of the surface of Europa thanks to NASA Juno
As told by the JPL it is the photograph of the surface of Europe with the highest resolution ever captured by NASA Juno space probe. Thanks to the low altitude at which the satellite traveled, it was possible to photograph details of the icy surface that hides a kilometer-deep ocean of salt water that could also host life (but certainties are still lacking).
Click on the image to enlarge
As written, the altitude was particularly low (412 km) and therefore the recovered surface is equal to just 150 x 200 km. You can see the furrows and icy ridges that fragment the ice sheets of Europe. The dark spots instead could be caused by geysers already noticed in the past on this one moon of Jupiter. What looks like a musical note (as described by NASA) has dimensions of 67 x 37 km.
There are also many white dots in the image, especially on the top edge, created due to the interaction between the unit's photo sensor with high-energy particles. The resolution of black and white photography varies from 256 m / pixel to 340 m / pixel while NASA Juno flew over Europe at 24 km / s.
Heidi Becker (who runs the SRU) said "This image is unlocking an incredible level of detail in a region not previously photographed at that resolution and under such revealing lighting conditions. The team's use of a stargazing camera for Science is a prime example of the Juno's revolutionary abilities ".
21 for a very fast micro SD SanDisk Extreme from 128GB! On offer now on Amazon, it goes to 190MB / s. Look no further: there are models that cost only 1 or 2 less and are half as much, not a real saving! Today the micro SD to buy this.
Gift ideas, why waste time and risk making mistakes?

GIVE A GOOD AMAZON!