While Doctor Strange 2 continues to dominate the international box office, also reconfirming itself in the first place of the Italian Top 10 – as we saw on Monday in our report of the weekly receipts -, we are already talking about the debut on Disney + of cinecomic with Benedict Cumberbatch.
Although there have been no official communications from the House of Mickey Mouse, in the last few hours a potential date has started to make the rounds of the web due to the platform's German Instagram account, which allegedly inadvertently published a post with a list of titles in arrive next month. Among them was Doctor Strange 2, fixed at June 22 together with the relative Making Of, coming out among the special contents of the film.
The image was immediately removed from the page, which was not enough to remedy the error, as a few minutes later the screenshot was already available on various themed sites and pages Marvel worldwide. We report below the one released by The Direct: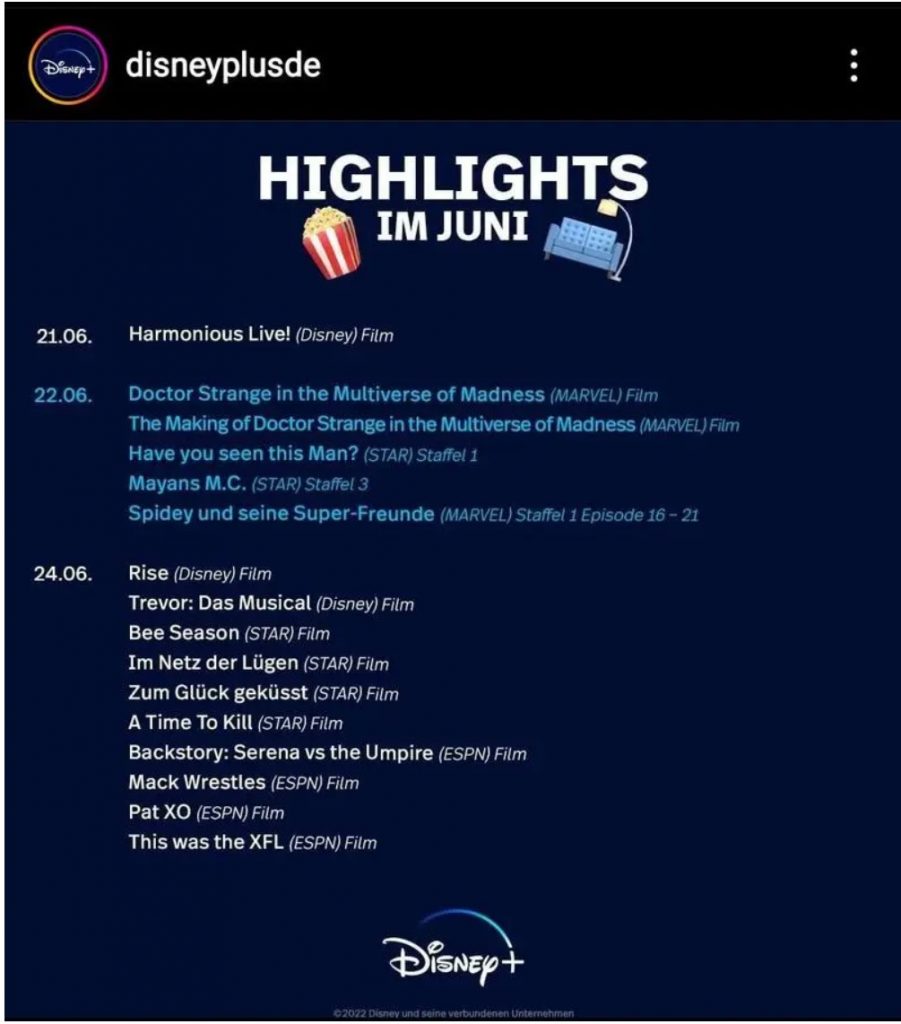 For the moment, as already mentioned, this is news to be taken with a grain of salt, although it is not uncommon for such leaks to be inadvertently spread by the numerous Disney + accounts of the various countries. We therefore look forward to further updates in this regard.
Doctor Strange 2, whose official title is Doctor Strange in the Multiverse of Madness, is available in our rooms from May 4th. The adventure is directed by Sam Raimi and together with the protagonist he also sees in the cast Elizabeth Olsen as Wanda Maximoff / Scarlet Witch, Benedict Wong in Wong's, Rachel McAdams like Christine Palmer and Chiwetel Ejiofor in the part of Karl Mordo. Xochitl Gomez instead she made her debut as the heroine America Chavez aka Miss America.
Here the official synopsis:
Now that Iron Man and Captain America have left us after a fierce battle in Avengers: Endgame, former neurosurgeon and the strongest wizard of all, Doctor Strange, finds himself playing an active role as the central figure of the Avengers. However, by using his magic to manipulate time and space at will with a spell that is forbidden and considered one of the most dangerous ever, he has opened the door to a mysterious madness called the Multiverse. To restore a world where everything is changing, Strange enlists the help of his ally Wong, the new Sorcerer Supreme, and the more powerful Scarlet Witch, Wanda Maximoff. But a terrible threat looms over humanity and the entire universe that cannot be met by their power alone. Even more surprisingly, the great threat in the universe looks exactly like Doctor Strange.
© REPRODUCTION RESERVED