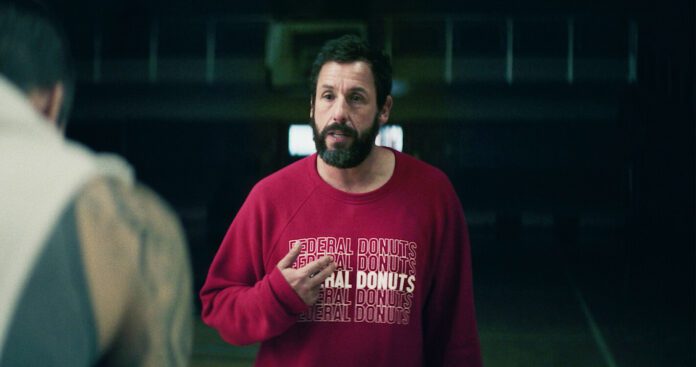 Adam Sandler would have deserved an Oscar nomination for the Safdie brothers' film Uncut Gemsbut the Academy was not of the same opinion, although it had left a door open for the actor at the time in case of a future performance worth considering. Hustle it looks like the film that will corner the academy's members.
READ ALSO: All of Adam Sandler's "fuck" in Uncut Diamonds
There is still basketball at the center of this sports drama that sees Sandler in the role of a talent scout who goes in search of champions for the historic NBA frank of the Philadelphia 76rs.
A job he has been doing for many years, but without ever having managed to find the right shot to take off a career that now seems to be on the avenue of sunset. Until, traveling the world in search of a diamond in the rough, he is not faced with a sure future champion.
Hustle is directed by Jeremiah Zagar
A very talented director whose delicate one should be remembered We the Animals, which had charmed the Sundance Film Festival a few years ago. The film is co-produced by Sandler with LeBron James, the Los Angeles Lakers champion who this year starred in Space Jam: New Legendssequel to the classic starring Michael Jordan.
READ ALSO: Space Jam: New Legends – The review
In the cast of Hustle we find Ben Foster, Robert Duvall and Queen Latifah. The film is expected to arrive on Netflix on June 10th.
Meanwhile, Adam Sandler also teamed up with Jennifer Aniston again for the follow-up to Murder Mysterythe yellow-pink comedy that is still one of Netflix's most viewed films.
READ ALSO: Murder Mystery 2music and dance on set for Jennifer Aniston and Adam Sandler
But that is not all. Spaceman, directed by Swedish director Johan Renck, who has already signed the Chernobyl miniseries, should also arrive on the streaming platform by 2022.
READ ALSO: Carey Mulligan joins Adam Sandler in Spaceman
Spaceman is based on Jaroslav Kalfar's novel The Cosmonaut (published in Italy by Guanda, one of the most sensational editorial successes of recent years.
Meanwhile, here is the official trailer of Hustle