They hadn't set foot in the Bell Center since 2012 and hadn't set foot in Montreal since their visit to the Osheaga festival in 2018. Finally back, Arctic Monkeys yesterday confirmed their place in the Hall of Fame of British rock groups. most influential, and Alex Turner one of the most talented performers of his generation.
However, before the evening began, we were wondering what an Arctic Monkeys show could look like in 2023. That's because over the course of more than two decades and seven studio albums, the brisk 160 bpm guitar riffs have quietly given way to crooner melodies and more sophisticated orchestration.
Part of the answer was given even before entering the Bell Centre. We met small groups of gray heads, groups of young adults, some of whom were at their first concert and many parents who came to share the evening with their offspring. One daughter jokes about telling her dad she's taking out her boomer (he didn't find it funny), another compulsively watches Harry Styles videos on her phone. Nothing to reassure that all would find their account there. Appearances are often deceiving, it's a real rock mass which we had the right to yesterday. A mass where two generations were gathered, standing from beginning to end, around the unifying album AM published in 2013. We will come back to this. Let's start at the beginning.
Dublin post-punk, bubbling and anxiety-provoking
It's eight o'clock sharp. The light dims. We hear Avalanche by Leonard Cohen. The band of Fontaines DC quietly takes place on stage. Quietly taking a seat is not at all what Grian Chatten does. Dressed in white sneakers, blue sweatpants and a baggy black Metallica sweater, the singer can't help but hop from one end of the stage to the other.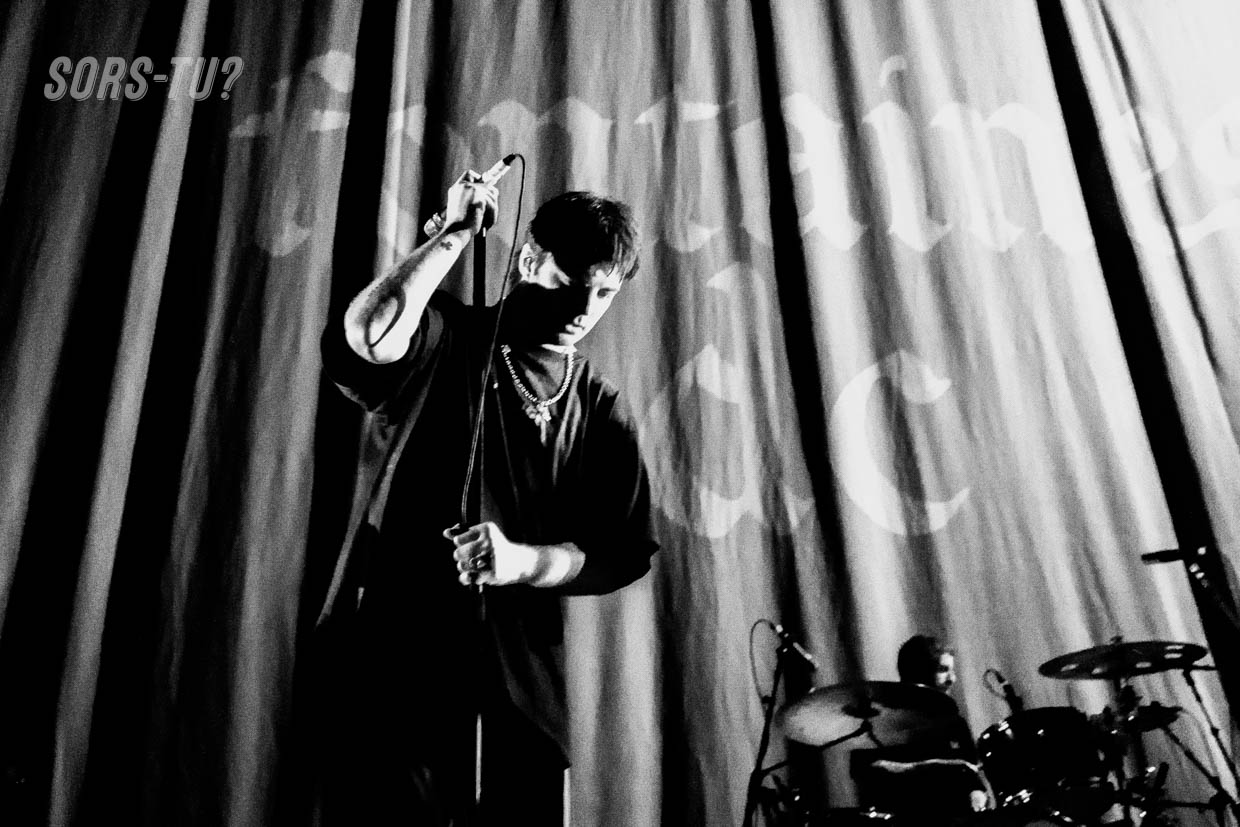 Sometimes he shakes his hands, sometimes he takes his microphone stand from below and raises it high. He has a mouthful of spoilsports, that of pub regulars who, drunk, end their evening fighting. Need we remind you, all in contrast, Cohen always rocks us with his poetry. They haven't really started yet, and already we find these Irish people quite endearing.
Fontaines DC gives a boost to post-punk by modernizing it. Their sound sometimes flirts with garage rock, but frequently moves into a sullen and melodic zone. The title Roman Holidayplayed in the middle of the show, is a good example.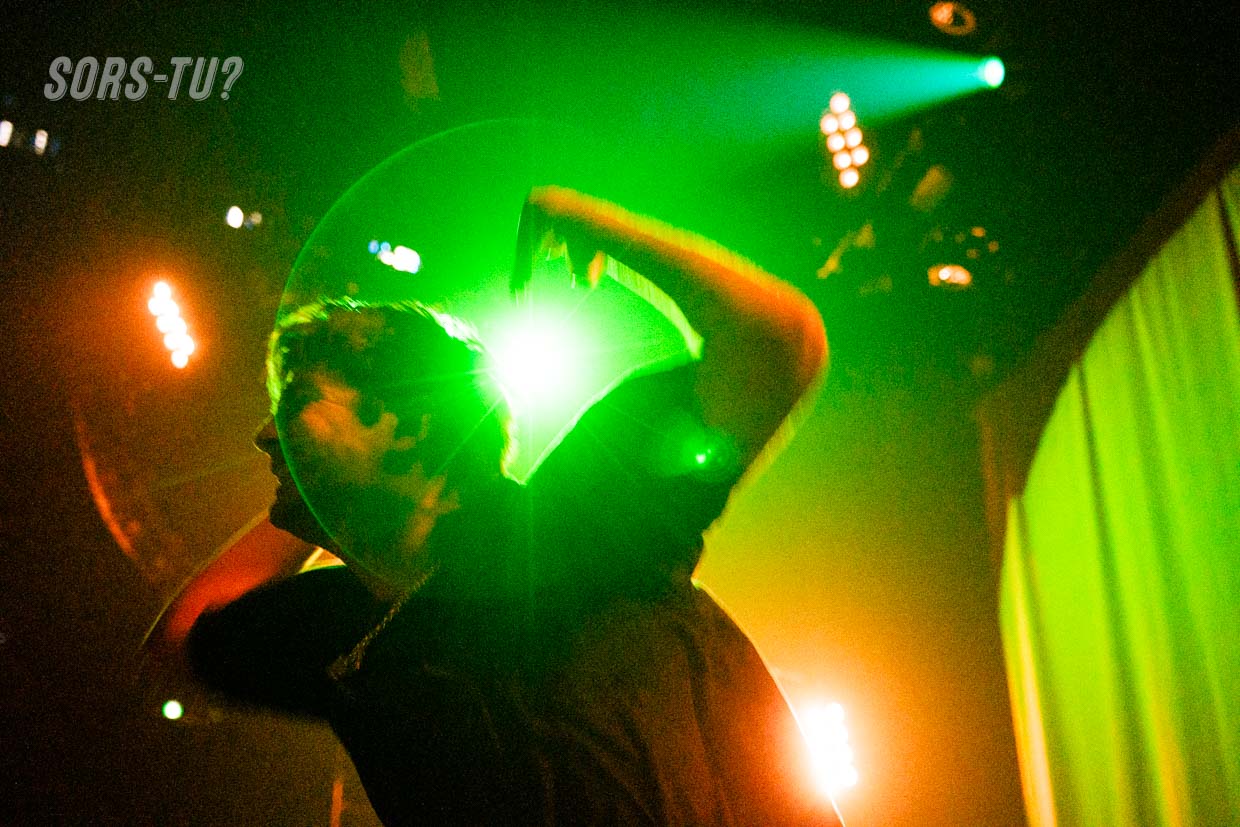 Let's get back to their stage presence. To say that Fontaines DC warmed up the room last night is an understatement. It's one thing to warm up the room, quite another to set it ablaze! They ensured to a point where one doubted that Arctic Monkeys could compete with this bubbling and anxiety-provoking rock. Tom Coll hit his drums like there was no tomorrow, Conor Deegan went there with intoxicating basslines reminiscent of 80s new wave, and the guitars of Carlos O'Connell and Conor Curley have weighed down the atmosphere with their often oversaturated tones. Chatten, who almost never stopped fidgeting, sang with aplomb in his distinctive voice, that of the night owls who sing the charm to the one they want to bring back.
It makes you wonder if the audience was conquered in advance. From the first minutes, hundreds of people spontaneously supported the tempo of Coll on Televised Mind clapping hands. A few minutes later, the intensity went up another notch as the audience broke loose from the first riffs of Boys in the Better Landthe key piece of their first album Dogrel. During Jackie Down the Linethe first single from their third and most recent album Skinty Fiathousands of cellphones lit up like so many stars announcing a most promising destiny for Fontaines DC.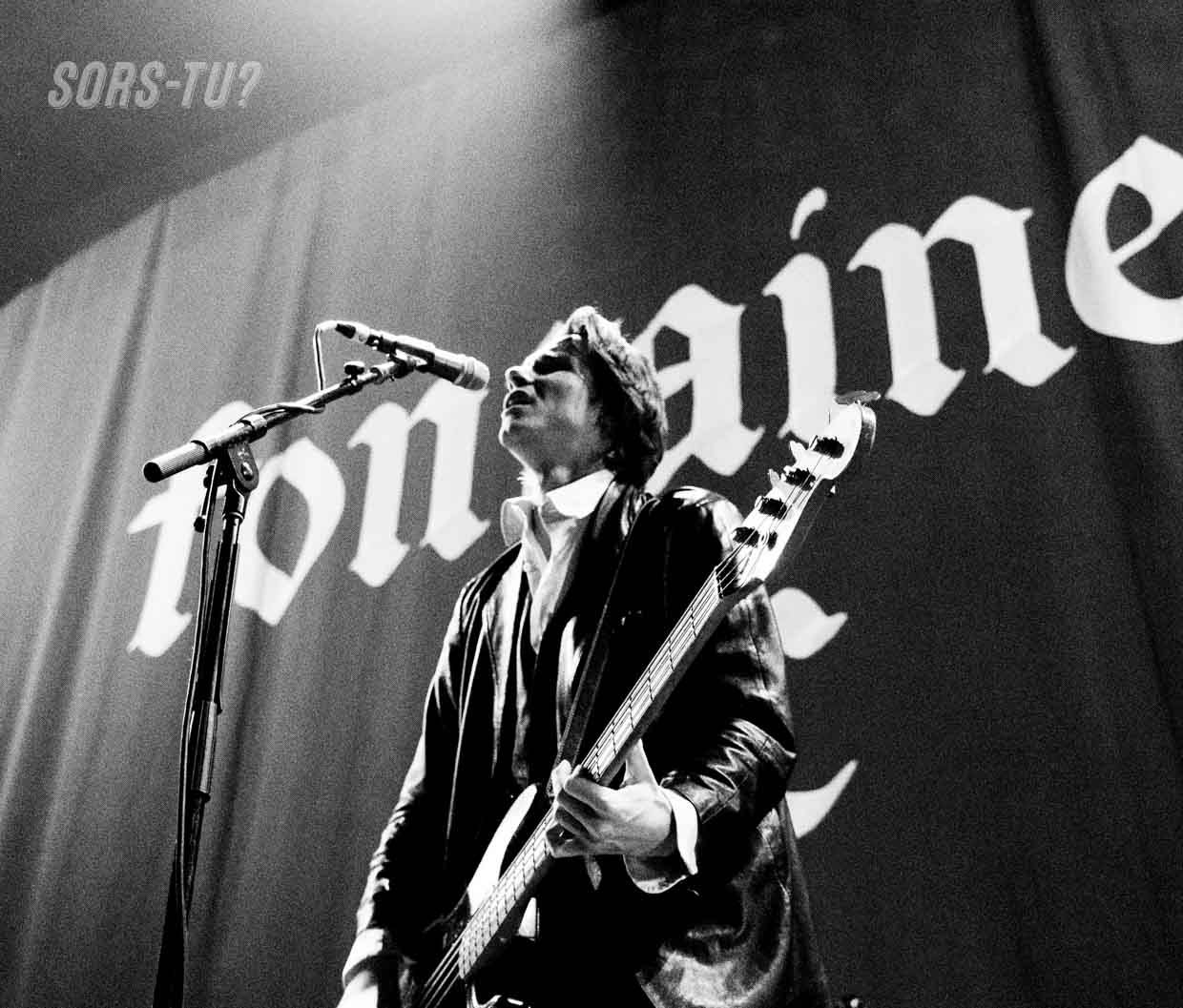 We bet it will. Relatively little known on this side of the Atlantic, they have the opportunity to tour amphitheatres in 21 cities in North America. If they give themselves as they gave yesterday, no one doubts that they will fill up with fans.
The confidence of rockers who have nothing left to prove
As if entrusting the first part to colleagues who risk stealing the show from you was not enough, it was a recording of The Streets that served as an introduction to the Sheffield band. Arctic Monkeys are definitely not afraid to put themselves in danger. You had to see the young twenties get excited on Who's Got the Baga title halfway between electro and hip hop, to wonder how their proposals were going to be received.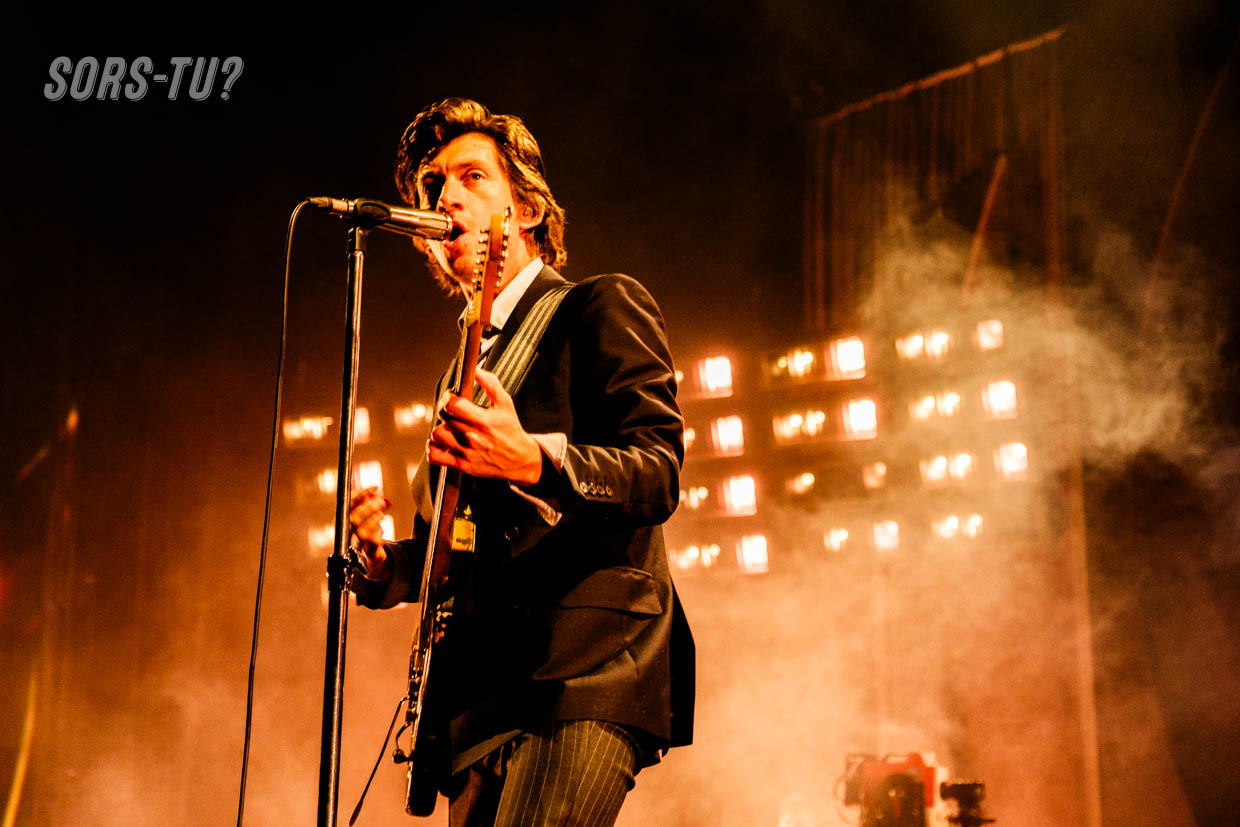 Add to that that Arctic Monkeys has taken, since Tranquility Base Hotel & Casino, a crooner and orchestral tangent, which is reminiscent of the sound of The Last Shadow Puppets also hosted by Alex Turner. It made you wonder if we were going to be served rock, and if the audience wanted it.
The answer is yes, definitely. We attended a rock concert by musicians who no longer have anything to prove. In perfect possession of their means, it's very heavy and uninhibited rock that they served us in all the sauces. Heavy guitar riffs, incisive drums, guitar solos embellishing the bridge, everything you need to make even the tracks from the last two albums, which are essentially stripped down, sound heavy. Arctic Monkeys is, on stage at least, still very much a rock band, a guitar band.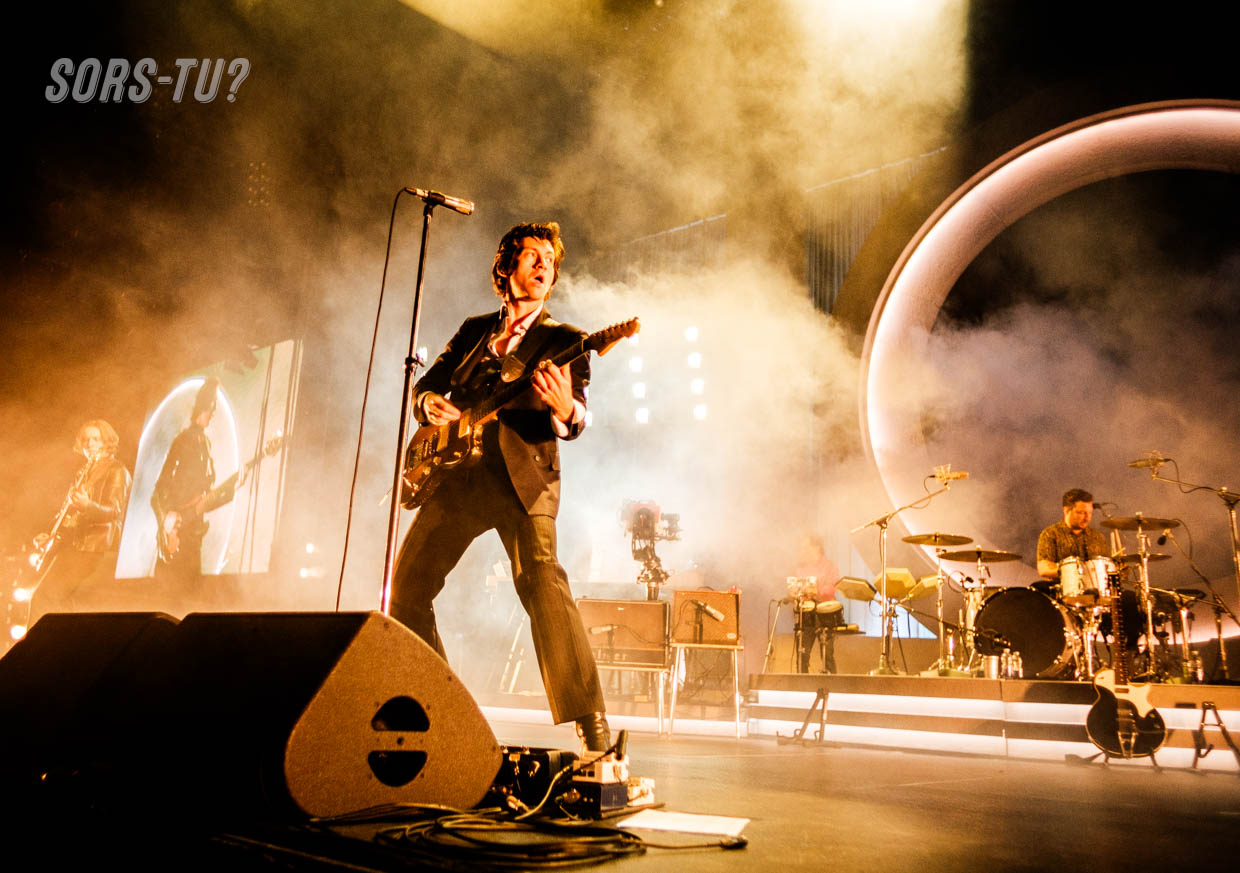 The codes of rock are changing – a choir that is as improvised as it is spontaneous
Standing from the first notes of Sculpture of Anything Goes, the audience never sat down during the nearly 90 minutes that Alex Turner, Jamie Cook, Matt Helders and Nick O'Malley lasted on stage. The older ones showed the younger ones how to nod From the Ritz to the Rubble And I Bet You Look Good on the Dancefloorthe younger ones proved to the older ones that choirs and rock shows can coexist.
The young crowd has repeatedly improvised as a chorister, singing as one recites texts listened to in a loop for afternoons on end, on the titles snap out of it, Fireside, Why'd You Only Call Me When You're High?, arabellaand obviously Do I Wanna Know and RU Mine?. You guessed it, the album AM released in 2013 will have been the cornerstone of an intergenerational musical communion. Many of the spectators had just entered primary school when this album was released, while the others were waiting for another brick following that of Whatever People Say I Am, That's What I'm Not released in 2006. It is not surprising that the atmosphere was so electrifying… it was fueled by the energy of those who have dreamed of this moment since their earliest childhood, and those of those nostalgic for their beautiful years of youth .
A sign that rock codes are changing, a giant disco ball came down from the roof just after There'd Better Be a Mirrorball played at the start of the encore. If it's to make rock live longer, so much the better. It is by renewing ourselves that we remain relevant, and Arctic Monkeys knows this more than anyone. Two other tracks from their album AM we completed the encore with ardor until Turner finished RU Mine? a capela to calm the spirits of those who spent a goddamn beautiful evening.
Arctic Monkeys were the first major band of the internet age and have remained relevant over time. Alex Turner sings on Star Treatment that he wants to be "one of The Strokes", we bet that many of them now see themselves as one of the Arctic Monkeys. It was definitely an evening not to be missed.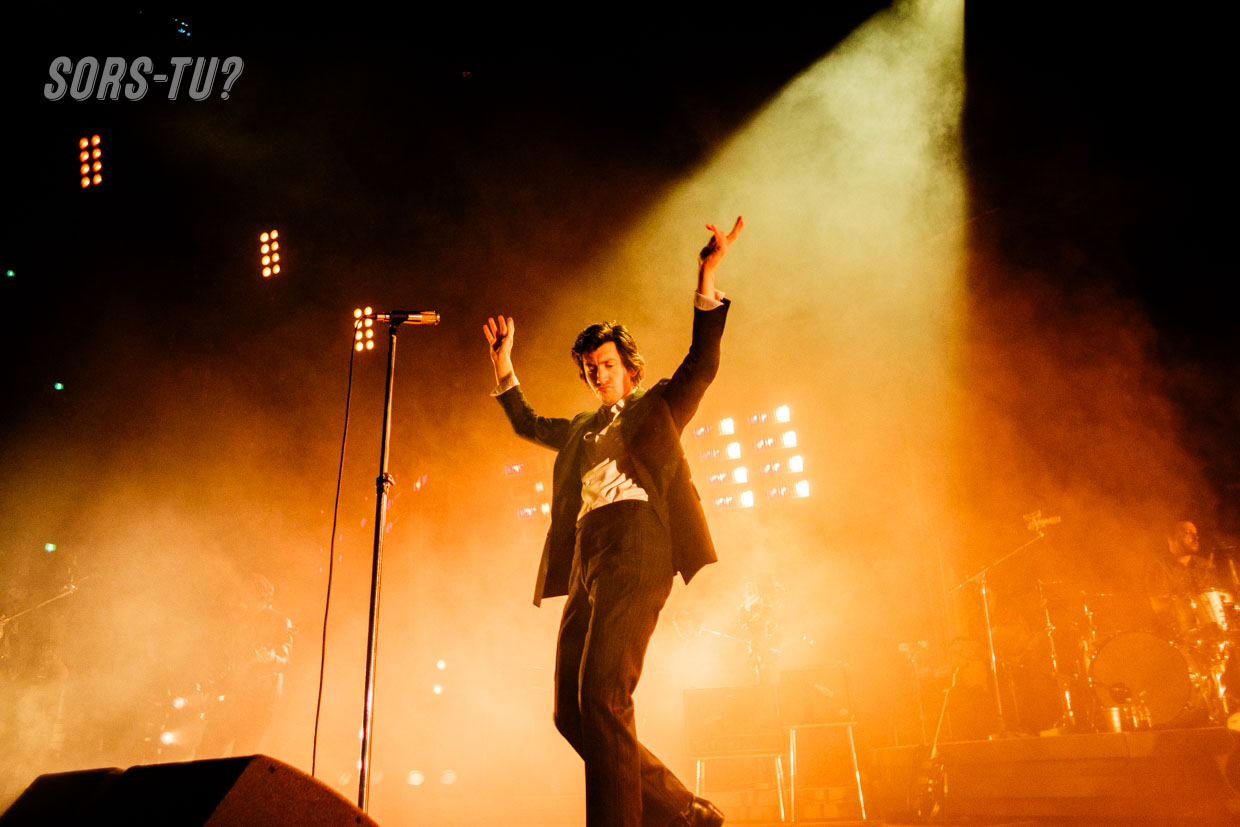 Song Charts (Arctic Monkeys)
Sculptures of Anything Goes
Brianstorm
snap out of it
Don't Sit Down 'Cause I've Moved Your Chair
Crying Lightning
Fireside
One Point Perspective
Why'd You Only Call Me When You're High?
arabella
From the Ritz to the Rubble
Do Me a Favor
Pretty Visitors
Fluorescent Teenager
Suck It and See
knee socks
Do I Wanna Know?
I Bet You Look Good on the Dancefloor
bodypaint
There'd Better Be a Mirrorball
505
RU Mine?
Song Charts (DC Fountains)
A Lucid Dream
Televised Mind
Nabokov
bigshot
Roman Holiday
Boys in the Better Land
Jackie Down the Line
I Love You