Throughout Ariana Grande's career, her albums — or more recently, films — that she's currently working on coincides with very different signature beauty looks.
The most recent Positions era was defined by a modern take on '60s-inspired glamour, with sky-high hair and cut-crease eye looks. Her earlier Dangerous Woman era was all about larger-than-life ponytails and a signature plumped-up pout.
In November 2021, Grande began her entrepreneurial era, officially launching her cosmetics brand, rem beauty and experimenting with yet another new look.
With the brand's intergalactic, spacey vibes, there are plenty of more trend-driven offerings, such as its frosted lavender Interstellar Highlighter Topper. Though with the launch of the Sweetener Foundation, rem is loving to remind makeup lovers that it's important to love (and nourish) your skin.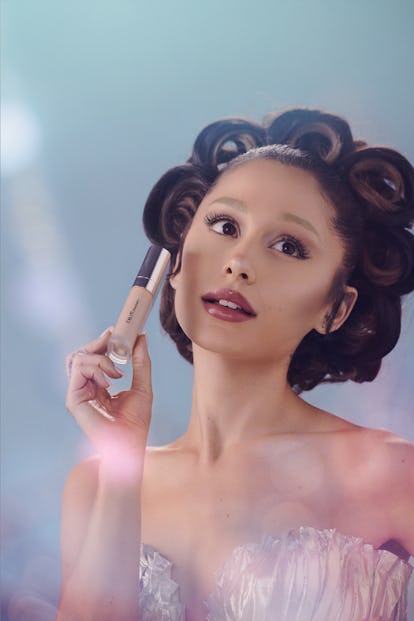 "Before we launched, I secretly tested the Sweetener Foundation for about two years and wore it on every episode of The Voice," Grande shares with Bustle. "To me, beauty is so personal and specific to one's own self. It's not about following trends or what's 'in' or 'out,' in my opinion."
Below, Grande delves into rem's new foundation, the ways that her makeup routine has changed since becoming a blonde, and more.
Tell us more about rem's new Sweetener Foundation.
My team and I wanted to create a product that has a skin-like finish, but can also be layered to create a full coverage, full beat look, so that anyone can wear it the way they want to. Its build-ability is one of my favorite things about it. A small pump will provide a light layer, evening out your skin tone, while a larger pump can give you a full coverage, full glam moment.
We also wanted to create a long-wearing foundation that actually benefits your skin as you wear it. It's super-charged with our proprietary rem hydrasmooth essence, raspberry leaf extract, hyaluronic acid spheres, niacinamide, and more, which all work together to soothe and brighten your skin while protecting it and also just looking so gorgeous.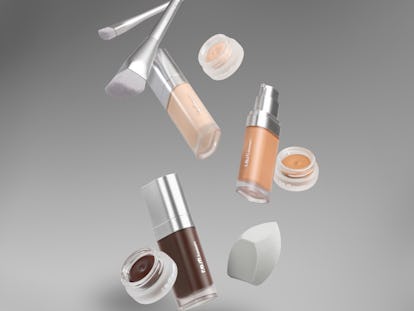 Do you have any tips for making foundation last all day?
I would recommend using a great primer first — of course, our rem beauty Lunar Magic Blurring Primer is my favorite. It's silky smooth and softens my skin and pores, and really helps even out the texture of my skin. And like our foundation, it's packed with skin-loving ingredients that keep the skin feeling super hydrated.
You had a signature beauty look for many years and recently switched it up. What prompted the change?
My makeup look has changed with me over the course of my life, but I feel like we are supposed to grow and try new things as we evolve.
"Sometimes I look back and I really can't believe the beauty trends I used to enjoy — but I know that it is the most beautiful thing to not stay the same and to be able to learn new things and grow."
We are all constantly learning and growing, so I know I'm not alone. To me, beauty should be about whatever feels most authentic and beautiful to you.
How has your makeup routine changed since going blonde?
Since I've been blonde, and actually in the months leading up to blonde, I started experimenting more with different contouring and highlighting techniques than when I had my dark hair and eyebrows, and definitely more subtle, natural eye looks.
I've also started getting into iridescent products. I love the fembot Liquid Eyeshadow so much paired with the warm tones in our babydoll palette.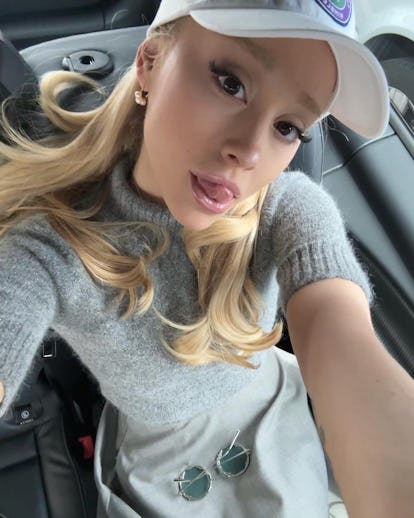 What's the best hair or makeup trick you've learned while on set or touring?
The most important thing I have learned from both touring and from being on so many long, consecutive days on set over the years is to protect your skin. When you're wearing makeup over long periods of time, if you're not using the right products for your skin, it can really take a toll.
I used to have really frequent breakouts when I was younger, working every day on set and using the wrong products. Making sure you have effective skin care ingredients in both your skin care and makeup routines is key to keeping your skin bright and healthy.