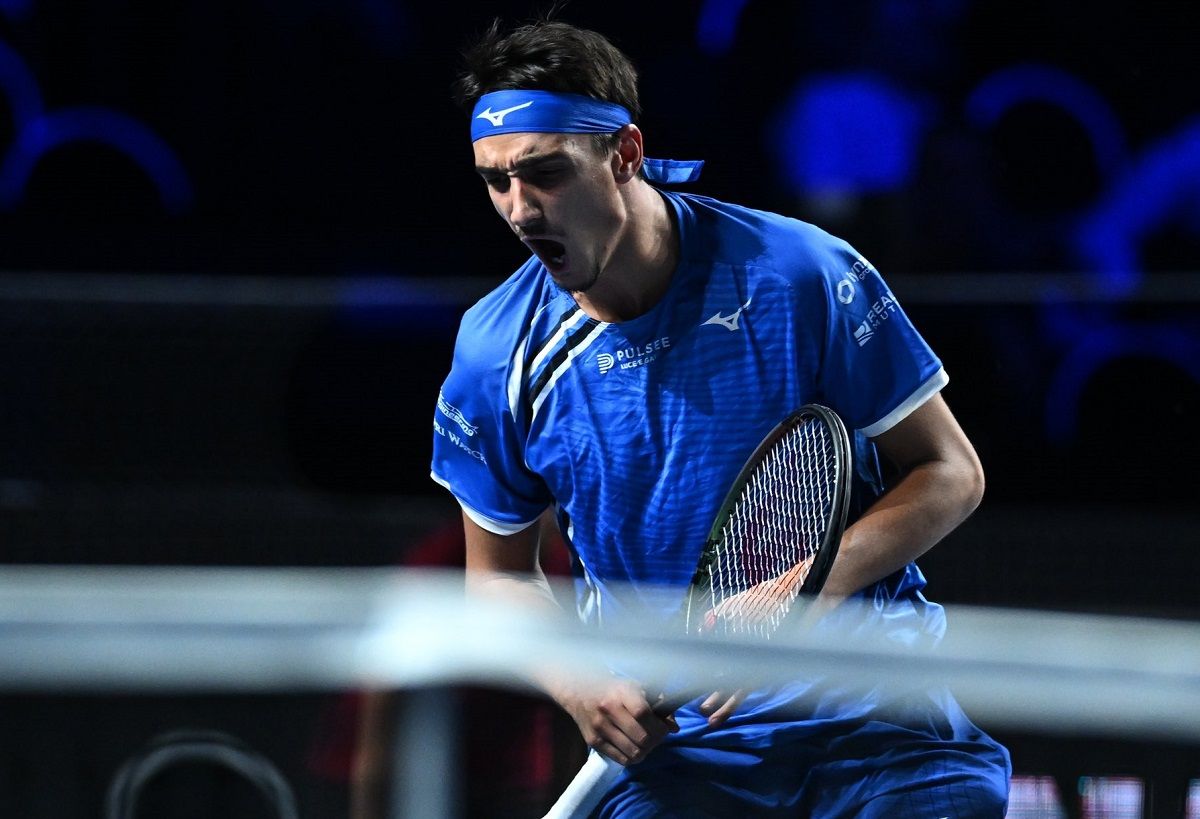 Lorenzo Sonego pictured – Photo Getty Images
Lorenzo Sonego arrives in the second round of the tournament ATP 250 of Sofia.
The blue defeated the Spaniard this morning Bernabe Zapata Miralles class 1997 and n.78 ATP with the result of 63 64 after 1 hour 19 minutes of the game.
In the second round Lorenzo Sonego will challenge Holger Rune class 2003 and n.31 ATP.
First Set: Sonego brekkando the Spaniard started very well in the second game (at 30) and missing a ball for the double break on 3-0.
The blue then conceded only three points in the remaining three rounds of serving, winning the fraction for 6 to 3 without any worries, winning the last point of the set with a very long exchange.
Second set: The decisive moment came on 4 all when the Iberian badly lost to 0 the bat by committing a double fault on the break point.
In the next game, at 5 to 4, Lorenzo got off to a bad start by committing a double fault and a mistake in law but recovered well, he won 4 consecutive points and at the first useful match ball he closed the game 6 to 4.
ATP Sofia

Lorenzo Sonego
6
6
Bernabe Zapata Miralles
3
4
Winner: Sonego
4 ACES 1
1 DOUBLE FAULTS 2
37/51 (73%) FIRST SERVES 31/51 (61%)
32/37 (86%) 1ST SERVE POINTS WON 18/31 (58%)
8/14 (57%) 2ND SERVES POINTS WON 13/20 (65%)
0/0 (0%) BREAK POINTS SAVED 1/3 (33%)
10 SERVICE GAMES PLAYED 9
13/31 (42%) 1ST SERVE RETURN POINTS WON 5/37 (14%)
7/20 (35%) 2ND SERVE RETURN POINTS WON 6/14 (43%)
2/3 (67%) BREAK POINTS CONVERTED 0/0 (0%)
9 RETURN GAMES PLAYED 10
10/11 (91%) NET POINTS WON10 / 20 (50%)
16 WINNERS 16
5 UNFORCED ERRORS 17
40/51 (78%) SERVICE POINTS WON 31/51 (61%)
20/51 (39%) RETURN POINTS WON 11/51 (22%)
60/102 (59%) TOTAL POINTS WON 42/102 (41%)
219 km / h MAX SPEED 199 km / h
204 km / h 1ST SERVES AVERAGE SPEED 180 km / h
158 km / h 2ND SERVES AVERAGE SPEED 140 km / h