A writer, to tell the theme of precariousness in France, decides to infiltrate a cleaning company.
Sky Cinema Due proposes the film today Between two worlds – Ouistreham. The French drama film hit theaters on April 7, 2022. The duration is one hour and 46 minutes. The film is based on book by Florence Aubenas titled The Quai de Ouistreham.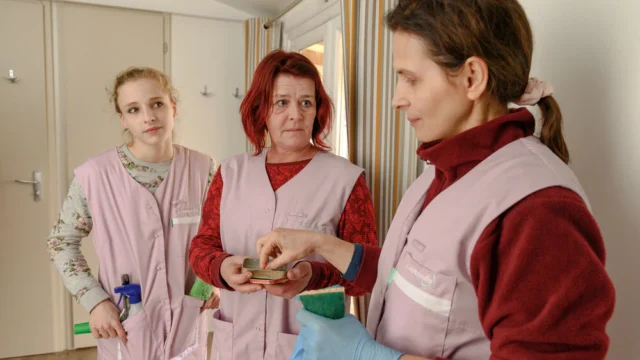 Between two worlds – Ouistreham: direction, protagonists, where it is shot
The direction is by Emmanuel Carrère, writer, director and screenwriter. The protagonists are Juliette Binoche who plays Marianne Winckler and Aude Ruyter in the role of Lucie. Jérémy Lechevallier and Hélène Lambert instead they are Eric and Chrystèle respectively.
The shooting of the film took place in France. The scenes were in fact shot in Caen, Giberville, Bayeux, Bavent, Louvigny.
The music I'm from Mathieu Lamboley. Patrick Blossier he took care of the scenography while
Albertine Lastera he took care of the editing. There film script is instead of Florence Aubenas, Emmanuel Carrère and Hélène Devynck.
The film is produced by Ciné France Studios in collaboration with Curiosa Films, France Télévision Distribution. Instead, it is distributed by Theodora Film.
The original title is Ouistreham but the film is also known as Between two Worlds.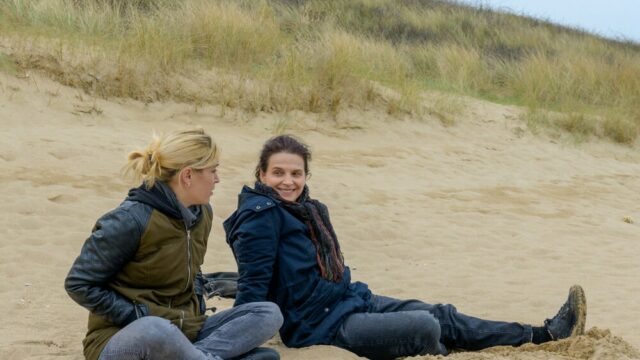 Between two worlds – Ouistreham: plot of the film broadcast on Sky Cinema Due
The protagonist of the narrated plot is the writer Marianne Winckler who is going to write a new novel on the theme of precariousness in France. To create a work that is as close as possible to reality, he decides to move to a small town in the North to start research.
Without revealing their identity to anyone Marianne, showing a fake resume, manages to get hired as a cleaning lady. Thus she begins to work on board the ferries that cross the Channel.
Final spoiler
With the passage of time Marianne befriends her colleagues, different by age, by experience, by work experience, thus discovering a new cross-section of reality.
These women indeed they work many hours a daywith grueling rhythms is one extremely low salary. However, they are obliged to keep this job because, at least for the moment, they have no other alternatives.
Despite all the difficulties there is a great sense of self among the female workers solidarity, respect and mutual support.
But Marianne is particularly impressed by Christèle, a single mother who has a lot of willpower and who tries to never give up in the face of obstacles.
Will Marianne manage not to be discovered and to complete her next novel?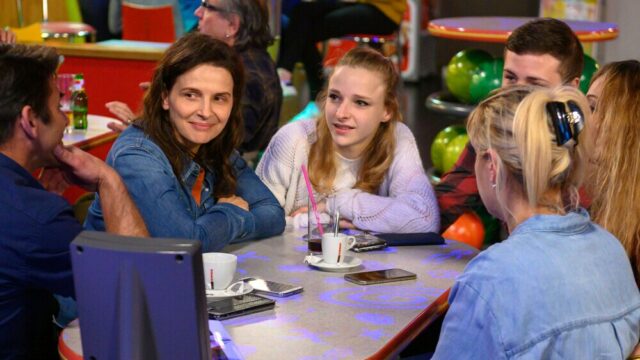 Between two worlds – Ouistreham: the complete cast of the film
Below is the full cast of the film Between two worlds – Ouistreham and the related characters played by the actors:
Hélène Lambert: Chrystèle
Louise Pociecka: Louise
Steve Papagiannis: Steve
Aude Ruyter: Lucie
Juliette Binoche: Marianne Winckler
Jérémy Lechevallier: Eric
Kévin Maspimby: Kévin
Faïçal Zoua: Faïçal
Arnaud Duval: M. Mathieu
Didier Pupin: Cédric
Léa Carne: Marilou
Nathalie Lecornu: Nathalie
Joël Graindorge: Joël
Clémentine Tehua instead it is Clémentine
Wendy Quéguiner: Wendy
Epiphanie Leloup: Epiphanie
Chrisfield Brasseur: Jimmy
Patricia Prieur finally it is Michèle