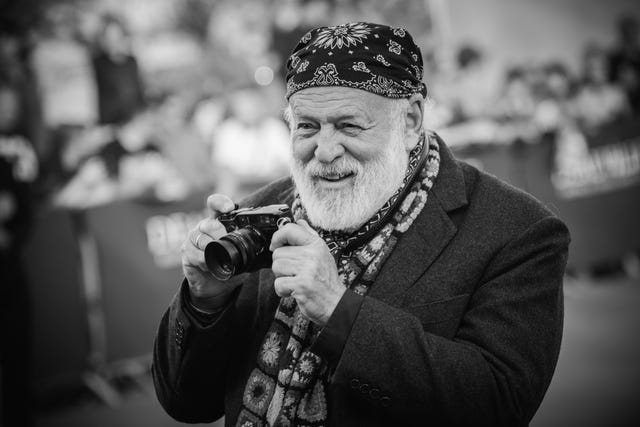 Francois G. DurandGetty Images
Bruce Weber rose to international prominence for the first time in the early 80s thanks to the success of photos which combined a classic style with a more visceral basis of desire, humor and sexuality. His ability to build a seamless sense of romance and drama has created central public images for fashion houses such as Ralph Lauren, Calvin Klein, Versace and, more recently, Abercrombie and Fitchand earned him an enduring presence as a contributor to top-tier journals in the industry.
Over the course of his career, Weber has worked in various forms – he has directed seven short and feature films, published more than 21 books and held more than 60 exhibitions around the world – extending his lifelong exploration of the nature of human relationships.
Bruce Weber, biography

Bruce Weber was born and raised just outside Pittsburgh, in the farming and mining town of Greensburg, Pennsylvania. Her love affair with the camera started early, spending her teenage Sundays doing art projects and shooting 8mm films in the backyard. In 1966, after a couple of years of art studies at Denison College in Ohio, Weber moved to New York University to study acting. It was there that Bruce Weber built his first small darkroom and began shooting portraits for early stage actors and actresses: this proved to be an excellent training for his future as a fashion and portrait photographer.
In 1974, Harry Coulianos, then artistic director of GQ, hired Bruce to shoot a shoot in New Jersey. The I work with GQ will prove to be a pivotal turning point in Bruce's career, giving him a chance to accomplish male photo shoots that would have a broad impact in the years to follow, contributing to change the perception of masculinity in the world.
Calvin Klein, Karl Lagerfeld and Ralph Lauren all used his talents to define their brand image. Weber's chiseled models are sexy but innocent, sculptural yet relaxed and create an image of clean athleticism in full American style. And the human factor in Weber's fashion images that it is dominant rather than clothing; and his choice of models defines his style as much as his carefully controlled lighting. Bruce brought life and vitality to her editorials for GQ and other men's magazines, often also including women, children and animals, which helped to project a comprehensive view of the American way of life.
Bruce Weber, the most famous shots
For Anna Wintour at Vogue, Bruce photographed everyoneby Nelson Mandela with David Bowie and Iman in South Africa to Dakota Fanning and Natalia Vodianova with a live bear in the atrium of the Chateau Marmont in 2011. Also famous are her shots of Madonnaa very young man Richard Gere and, more recently, Roberto Bolle. From the 1990s to the present, Bruce has continued to make an important contribution to magazines at the highest levels of the industry. His most relevant photography books include, A house is not a home, Blood sweat and tears And The golden retriever photographic society which Weber defined as the most personal of his collections: a book that aims to celebrate the human-animal bond, highlighting how the relationship with one's pets can foster creativity.
His works have been exhibited, among others, at the Whitney Biennial in New York, at the Palazzo Fortuny in Venice, at the Musée l'Elysee in Switzerland, at the Florence Biennale, at the National Portrait Gallery in London and at the Corso Como Gallery in Milan. The photos of him are housed in a permanent exhibition at the Victoria and Albert Museum of London and the Museum of Modern Art in Paris.
Bruce Weber director

Bruce Weber is also a director and often his film work begins with a photo. While photographing the Olympic wannabes for Interview in 1984, Bruce met Andy Minsker, a young boxer from Oregon, and began interviewing him on camera. Although he initially intended to make a short film, he decided to continue the story. The result was Broken Nosesa documentary nominated for a Grand Jury Award at Sundance in 1988.
While completing work on Broken Noses, he met the legendary jazz trumpeter and singer Chet Baker and started filming it, always with the mind to create a short film based on their seated portrait. But filming with Chet continued until the presentation of Broken Noses at Cannes that year, with Bruce ultimately assembling the travel, recording sessions and interviews footage into his second feature film, Let's Get Lost. The film debuted in Venice (where it won the Cinecritica prize) and was subsequently nominated for the Grand Jury Prize at Sundance and the Oscar for best documentary.
Chop Sueya kaleidoscopic portrait of wrestler Peter Johnson, was released in 2001 as the anti-war impressionist film A Letter to True in 2004. He also directed seven short filmsincluding The Beauty Brothers, Backyard Movie, Wine and Cupcakes, and The Boy Artist.
This content is created and maintained by a third party, and imported onto this page to help users provide their email addresses. You may be able to find more information about this and similar content at piano.io