The image that moved the internet in 2017 went viral again as the international celebrity's baby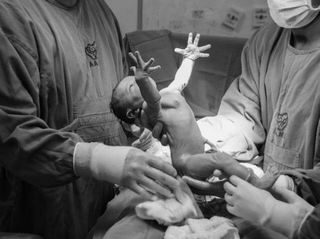 The photo of a baby with open arms went viral on the internet this Thursday afternoon (19). The image posted on Twitter has the following message: "How beautiful the baby is thanking you that he was reincarnated as Rihanna's son." It didn't take long for the publication to yield thousands of likes and shares.
Believe me: there are people who think it really is the singer's son, but most understood the joke and had fun with the image. What not everyone knows is that the baby in the picture is a girl from Campo Grande, Liza, who is now 5 years old and has been enchanting everyone since her birth.
This is the second time the same photograph has gone viral. Liza was able to move everyone with her arrival into the world on July 27, 2017, when photographer Jéssica Barbosa recorded the moment and mother Lívia Miranda published the image on her social networks that year.
Days after the birth and the commotion on the internet, the mother spoke of the surprise in an interview with Side B. "Only joy can describe this moment. I am very happy to be a mother and to be able to admire the way Liza arrived," she said.
The photographer, who is a friend of Liza's family, shared the same sentiment. "This time, the emotion was different, and when Liza opened her arms, I felt that she was thanking her for such a beautiful arrival. It was exciting," Jessica said.
Now, the image continues to explode on the internet, with more than 173 thousand likes and 14 thousand shares in less than 24 hours.
In a good mood, the mother also shared the image on her social network and continued the joke: "Liza becoming a meme and desperate not to be Rihanna's baby", she joked.
Still in the publication, several people shared images of babies in unusual poses at birth, with an extra dose of cuteness.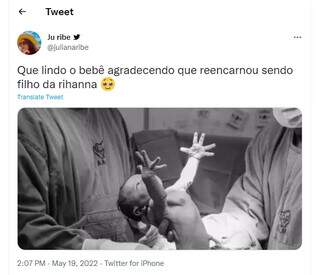 follow the Side B on Instagram @ladobcgoficial, Facebook and twitter. Do you have a guide to suggest? Send it on social media or Direto das Ruas via WhatsApp (67) 99669-9563 (call here)