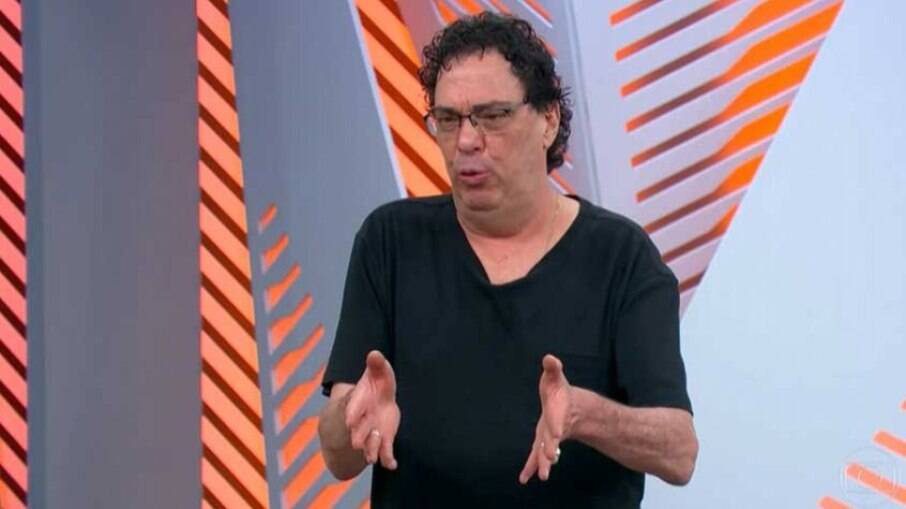 Starting this Thursday, the life of Walter Casagrande Jr. will be detailed in "Casão – in a game without rules" (Globoplay). It's not the first time he's opened up. The Corinthians idol and one of the creators of Corinthian Democracy has already revealed himself in books and reports.
Born into the post-hippie generation, as he likes to emphasize, freedom is his motto. A double-edged sword. When he didn't know how to use it, he fell into chemical dependency. But, today, this free spirit is what allows him to look at his trajectory with pride and without fear of expressing opinions.
You were always an open book, in a rare way. What is the Casagrande chapter that we haven't seen yet?
Let's do it by steps. I've always been open because it's my philosophy of life. I come from the post-hippie movement. So I have a really high instinct. I spent many years not knowing how to deal with the size of the freedom I have inside me. That's why I got into several robberies. Today I have the same instinct, but I manage to have the limit. I play open with people. Especially in relationships, because I don't like to feel trapped.
'Elza & Mané': documentary repairs injustices and reviews the sad end of Garrincha dribbled by alcoholism
So things happened a lot because I didn't know how to deal with my freedom. I was sinking to chemical and compulsive dependent. And then it went to shit, right? And you asked what you will see differently. You will see everything different there (in the series). Because what comes out in the media about me are my comments about football, my political opinions, my history with drugs, recovery… But nobody knows what my childhood was like, nobody knows what my adolescence was like. Nobody knows what was going through my head or what I suffered, what I experienced. Nobody knows why I'm so free. In the 1980s, the "Day 15 vote" campaign on the Corinthians shirt became famous.
In 2022, there was a mobilization for young people to take their voter registration. In football, clubs joined, but didn't we see active players?
The outdated here participated to summon the youth to take the title. Now, the moderns… They don't care. I've lost a little bit of the desire to be demanding the voice of a player who has no answer. With the exception of Richarlison, Paulinho who was Vasco's, and someone else that I may not know about, they are closed in their little world. They just want to be celebrities, have followers, post beautiful clothes.


Recently, there have been attacks on players at airports and even bombings on buses. Why don't the athletes themselves mobilize as a class to defend themselves?
I'm not accepting. The problem is, they are. The only guy I've seen hitting that is Roger Machado, (coach) from Grêmio. There needs to be a national mobilization. Mainly from the main players. You can't ask that from the Serie B or C guys. Who has to do that are those in Europe, who don't care about the problems of Brazilian society. These guys had to have a strong voice to try to protect their own comrades here. The vast majority are celebrities, with activities on social networks. These days guys are self-centered, they post any crap on social media to increase followers. But if someone posts like this "We have to fight racism in Brazilian society" they will be attacked, they will lose followers. And that they don't want.
Is football less tolerant?
Football gives visibility. But, in reality, it is Brazilian society that is sexist, is racist, is homophobic. People are able to make racial slurs, be homophobic and assault women because the president himself does it. So, those who are equal to him are endorsed and are talking, attacking, and are armed. It's all the way the devil likes it, right? As Belchior's song says. What happened before? It was the same. Only these people didn't have the courage to put their faces out.
How did Brazilian football deal with these issues when you were a player?
In my day it was very veiled. There were jokes with black people or making fun of another player saying homophobic things. The guy reacted, he was pissed. So the situation was funny. There were a lot of these jokes within a football team. In all clubs. But I've always had a different formation from the vast majority of players. I was raised by three women. So I grew up knowing the female universe. I played, but it was with less intensity. Socrates too. Because we had other interests, which were fighting for democracy at the time of the dictatorship and supporting Corinthian Democracy.


How is it for you, who wore the national team shirt for so many years, to see it used by this political side in anti-democratic acts?
When these shirts started to appear from the team that is against democracy, I recorded a video with the shirt I had worn in the 1986 World Cup and said: "I played with this shirt and today it was kidnapped by anti-democratic, racist, sexist people and homophobic." And that shirt was never on that side. He has always been on the side of freedom and democracy. She was the decoration of Diretas Já. These colors were also part of the decoration of the painted faces. So, nowadays, one of our duties is to rescue the yellow jersey. It's reaching the captivity of these guys, saving the yellow shirt of the Brazilian team and bringing them to the side of democracy and freedom. Because that's the message she's always given."
How is your expectation with the selection in the Cup?
Brazil spent four years playing against the same guys. It is Peru, Venezuela, Bolivia, Ecuador, Chile, Argentina and Uruguay. Two Copa America and the Qualifiers. Then they say: "Brazil is the favorite, they took the first place in the Qualifiers by a long shot". Gee, we're so much better than them. Can you have a base of the level that the team is playing by always beating Bolivia, Venezuela, Ecuador? I have no idea of ​​the potential of the Brazilian team, to tell you the truth. What I can compare is: I look at Eurocup and I see European championships, like the Champions League and the Premier League. Then I see Libertadores, Copa America and Campeonato Brasileiro. Gee, that's another football there. We don't play football today.
Then they say: "Ah, but the Brazilian players work in Europe". Everything is fine. There they play with intensity. But when they come here, the Brazilian team is slow, it takes time to shoot at the goal, they don't have creativity. It has improved now with Vinicius Junior on the rise, Antony on the rise. They are skilled players, from that Brazilian school that swings, that goes up.
But as long as we don't play with a European team… And we're not going to play, because the first will be Serbia at the World Cup. So how will we know? How can I say that I have good expectations, that Brazil is doing well? I can't speak it. I am not boastful. I'm a commentator. I get paid to review the game and comment. And I analyze it very coldly. It's ok, the guys respect our selection, they have a certain caution. But if Brazil doesn't get there with intensity and aggression, they won't be able to reach a final.
You were always critical of Neymar. Do you think he can lead Brazil in Qatar?
The impression people have is that I have always criticized Neymar, but from the day he debuted at Santos until the last day at Barcelona I only praised him. When he went to PSG, I said he was making the wrong choice. Because PSG don't have a shirt, they don't have a history and he thought he was going to solve it. Then I started to see other things about Neymar. In 2017, I told him he was spoiled. The world fell.
His father wrote a letter, a super prejudiced text because of my past of chemical dependency. And then, in the World Cup, the guy just threw himself on the ground and rolled. It was debauchery and joke around the world. Since then, Neymar has had many injuries, he has chosen the wrong moments for parties. His World Cup was in 2018, when he was four years younger, with only an injury he had had months before. He had explosion, change of direction, speed. Today, because of the injuries he had and also the lack of seriousness in his behavior as a whole, he no longer has a start and an explosion. He has experience, dribbling and technique. He can throw a ball. But you don't see Neymar picking up the ball anymore and going on top of the opponent and swinging, going to the bottom and diagonally. Today, Vinicius Junior does this. And Antony on the other side. So, Brazil can be champion, yes. Because the selection is experienced. But it won't be through Neymar. I don't see Neymar as the player who can make the difference to win the Cup. I think it could be the whole team.
At the 2018 World Cup, you celebrated finishing the tournament sober. What message do you want to give on December 18, at the end of the Qatar World Cup?
It depends. I can say "Congratulations, Brazil. We made the right choice." Or I can say "P…, we're going to spend another four years in hell". It will depend because the election is in October. My message will depend on the vote. The one I can give today is: "Guys, let's analyze it properly. Pay attention to what we've been living for four years. Choose your vote right for the right place. You can choose between hate and love. Between a dictatorship and a democracy . Then choose right".