Dark magic, human sacrifice and a new Battle Pass-based system in the biggest free update ever for Conan Exiles: Age of Sorcery.
There are successful games that nobody talks about, if not a few fans through mostly monothematic channels. One of them is Conan Exiles of Funcomwhich in these days has welcomed the free Age of Sorcery expansion, the largest downloadable content in the four years of the game's life and the bearer of fundamental innovations for the future of the project.
But why do so many play it, but no one seems to talk about it? The reason is to be found in the disastrous launch, from which it then rose brilliantly, and for its all-encompassing gameplay, able to imprison you in the world imagined by writer Robert Ervin Howard for months and at least hundreds of hours. Video game writers are forced to try so many different products, so it becomes really hard to promise so much dedication to a single experience like Conan Exiles. For the same reason, the only ones to carry on the flag of this immense game are those who have chosen to dedicate their free time totally or almost entirely to it. A bit like it was with the MMOs of the past, including World of Warcraft and the more recent Final Fantasy XIV, which also ask for a monthly subscription as proof of loyalty.
So let's find out because Conan Exiles: Age of Sorcery is a small revolution.
Better alone or badly accompanied?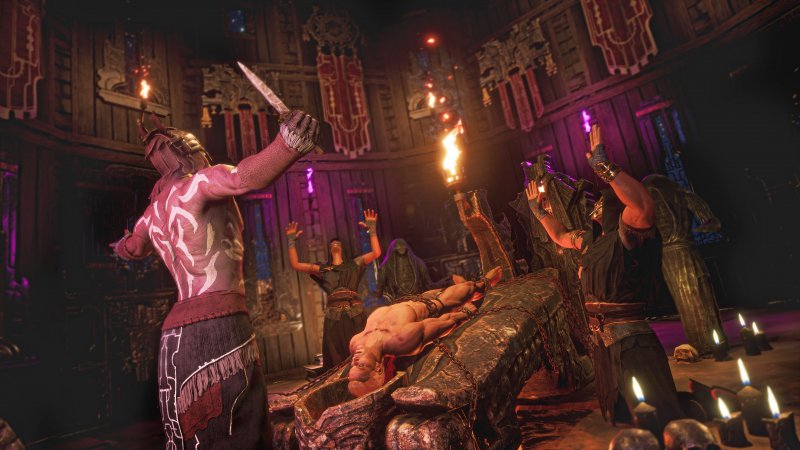 Conan Exiles is not an MMO and it doesn't need an offering every thirty days, it's sort of reminiscent of it like Rust and Ark: Survival Evolved were. In these games, you choose the server and literally start living it. In the case of Conan Exiles, the player will take on the role of an exile left to rot in the Exiled Lands, where he will be saved by Conan himself. Immediately after the quick introduction, you are left to your fate practically in your underwear, indeed without even those, with the aim of arriving at the end of the compelling, but very expanded story while rebuilding a life in this fascinating other when digital. Just like Ark and Rust, it is possible to choose whether to play the solitary experience, which friends can still join, or jump into a shared world, these divided between PVE servers and PVP servers, so where players can fight and stamp their feet. between them.
It is only in PVP that you have the full experience: imagine different tribes of players challenging each other with weapons in hand and diplomatically, building ever larger and more complex fortified villages. But there is nothing wrong with preferring a more relaxed and friendly gaming experience, indeed it is the PVE the best starting point to learn how to play Conan Exiles without the constant dangers of a disputed land. It is always possible to create another character on a server with totally different rules.
It is not even mandatory to join and be part of a community: the Conan Exiles map is among the largest in circulation, there is enough space to live the life of the hermit, build a tower on a distant mountain and specialize in the construction of some primary asset, to then resell it as a passing merchant to the other players. But don't hope for a world full of players: each server can host a maximum of seventy users at the same time so the numbers are always quite low, guaranteeing that solitude at the base of every great adventure.
A brutal game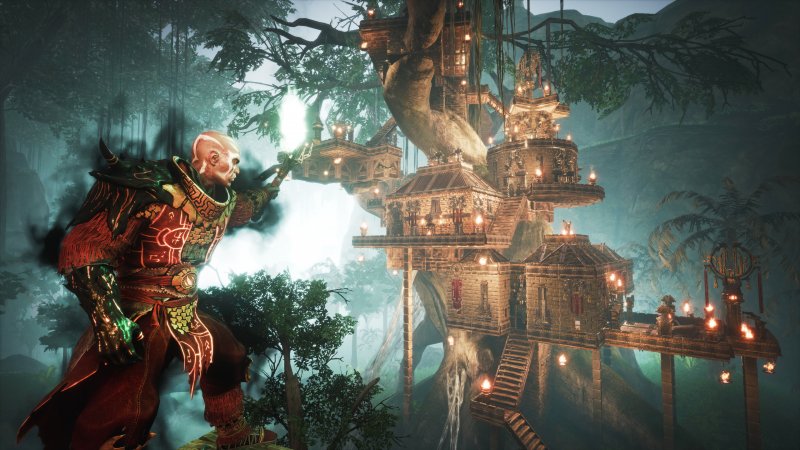 The survival aspect is actually brutal, the crafting is complex, but less than that of Ark, the simple combat system but over the years it has been stratified properly, and with the new arcane arts introduced with Age of Sorcery, things are further improved (but expect a proliferation of wizards and sorcerers trying the new content in the short term). Fortunately for the balance of the game, the new spells are powerful but also very slow, moreover they will often require a rather complex preparation that could also include a human sacrifice (classic NPCs are fine but even better can make another player's sacrifice) . Your neighbors will surely be pleased to see you furnish the garden with all the tools necessary to earn enough corruption and cast the most powerful spells, the most jaw-dropping summons including a winged horse.
The era of witchcraft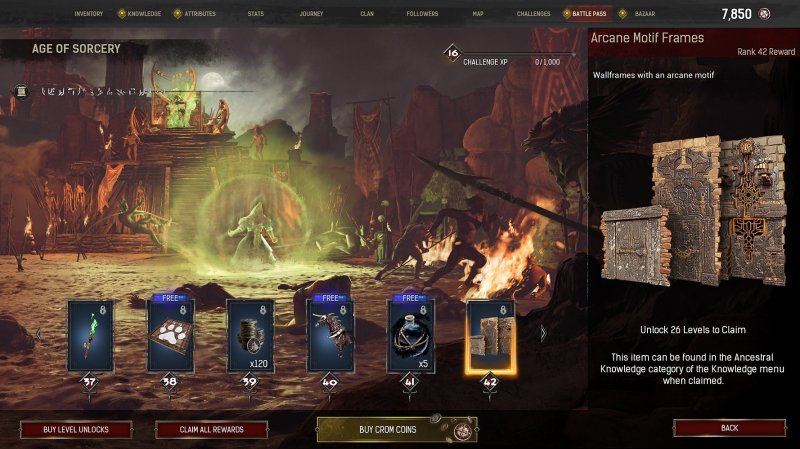 The update Age of Sorcery, which we remember being completely free, also introduces the first Battle (Season) Pass of the game which officially renounces further paid expansions, which are progressively cutting off users, to embrace a system that has already proved successful in many other titles , as well as being particularly appreciated by the public. Each season (Era) will introduce new features and offer new challenges and rewards, as always small for those who prefer not to pay and abundant for those who will open the wallet. The problem with a change that we fully support, is that the old expansions continue to be paid, but better so than a clear change towards free-to-play that would also have led to a general deterioration in the integrity of the gameplay.
Experience matters!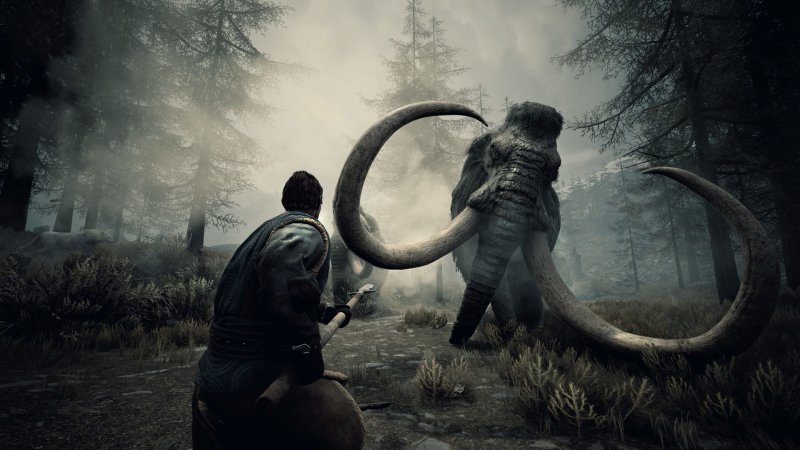 With Age of Sorcery, the perk and skill system has been heavily revised for a more engaging character progression; the construction mechanics have been completely modified which now also includes a creative room that will allow you to fly around the construction site and build with extreme precision; they have also been implemented hundreds of fixes for many of the most annoying bugs. Despite the exceptional progress and a rather interesting current gen version, Conan Exiles remains a very edgy experience: the graphical interface has become increasingly heavy and it is not uncommon to encounter a certain instability of the servers that can lead to annoying crashes. both on PC and on the most recent consoles. Nothing particularly dramatic, but that's not where you'll find the cleanest game around.
The experience, however, deserves to be tried, preferably in the company of some friends with whom you can help yourself to face the initial difficulties, and with whom you can build a first fundamental shelter faster. These four years of Conan Exiles have not only served to improve this game, but also to build the experience needed to create a totally new one. The recently announced Dune Awakening, currently under development in the Funcom offices, seems to want to exploit the same concept, but in the dunes of Harrakis. And if from scratch they have managed to create an experience like Conan Exiles, perhaps the best is yet to come.