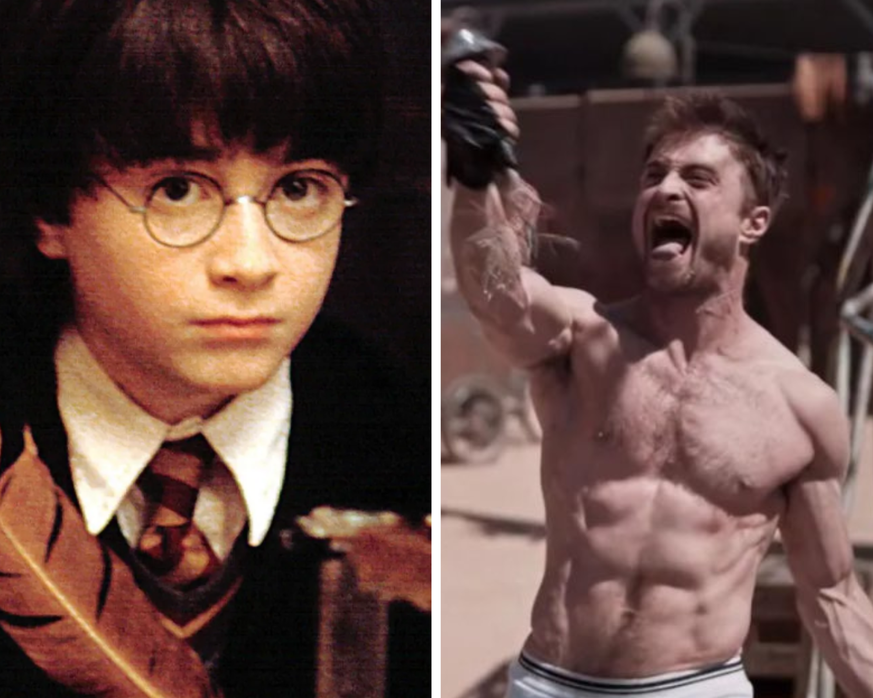 Spoiler alert: Harry Potter has become "shredded". image: captures
People
Daniel Radcliffe has clearly worked on his six pack, and revealed his new ultra-fit figure in the comedy series Miracle Workers from TBS.
04.09.2023, 18:4704.09.2023, 21:31
The Web is not recovering. Harry Potter, her Harry Potter, no more just this little schoolboy gifted for broomstick sports. The 2023 version of "Radcliffe's body" seems to have followed Tibo InShape's program point by point, and it's in the final episode of the comedy series Miracle Workers from TBS that the public was able to (re)discover it.
On the networks, viewers not only pointed out the 34-year-old actor's inflated pecs and trapezius, or even his ultra-visible slabs of chocolate. No, Internet users are much keener observers than that. They also noted the funny and crazy side of the Briton, who uncompromisingly plays Sid, a "Mad Max style" postapocalyptic warrior who fights robots and bad guys in a desert. In the scene in question, crazy to say the least, the actor tears his shirt and his falzar in Magic Mike mode – except that he screams at the same time. Finishing in white briefs, the actor ends up cutting through the air like a Nimbus.
Nothing to do with the Hogwarts schoolboy, who is still very serious, even when he plans something bad, like using the Marauders' Map to get to Hogsmeade.
On Twitter (X, for those in the know), threads and reactions followed: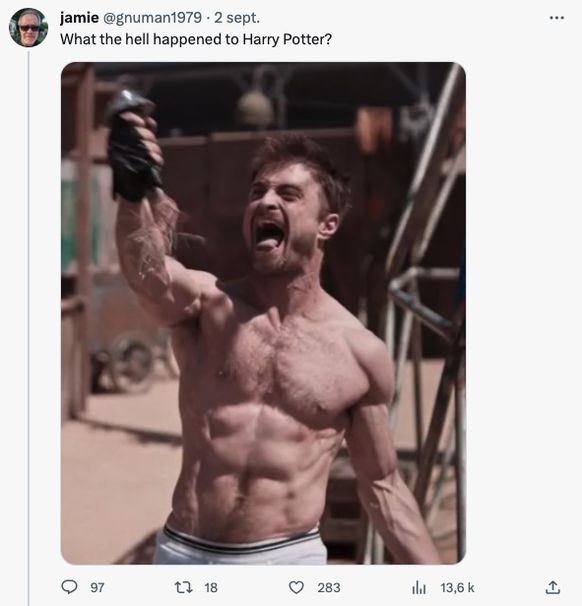 "But what happened to Harry Potter?» No more chocolate frogs. Hello prots.
"Oh my God, I love this show!! I don't know how I discovered him, but it introduced me to Jon Hamm, and how funny Daniel Radcliffe really is!"
"Daniel Radcliffe, the famous Harry Potter with the screaming Wolverine claws… Marvel now has its new Wolverine!!!"
"Damn, Daniel Radcliffe is really crazy"
As a reminder, the actor had already revealed himself in 2008 in the West End play Equus. But since then, he has kept his shirt screwed to his modesty.
Thanks to his partner
Daniel attributed the dramatic physical change to his longtime girlfriend, actress Erin Darke, 38, with whom he had a child.
"Since I started dating her, I've put on a little more muscle."
Daniel Radcliffe to the media E!
However, the star of Doctor Frankenstein wanted to remain humble: it's not that he trains more than anyone; it is that "when we (red: we stars) do it, we always get photographed. Oh well, yes, there might be a bit of that.
Miracle Workers │The Trailer👇
Video: youtube
What does the Harry Potter cast look like 20 years later?
Even more magic? Here are more Harry Potter articles:
Nothing to see, but…
A family of bears visits a village in Italy
Video: watson
It is one of the most anticipated games of the year. Starfield arrives on PC and Xbox this September 6, 2023 and we were lucky enough to be able to explore it.
After decades of being around the medieval universe, which I'm not particularly fond of, Bethesda decides to take us to a place without limits. A place where everything is possible and where every story can have meaning. Far from swords and armor, I finally boarded the Starfield shuttle, the one that took me on a solitary adventure, because I wanted to, in search of answers to my questions, and with my wish to helping people.