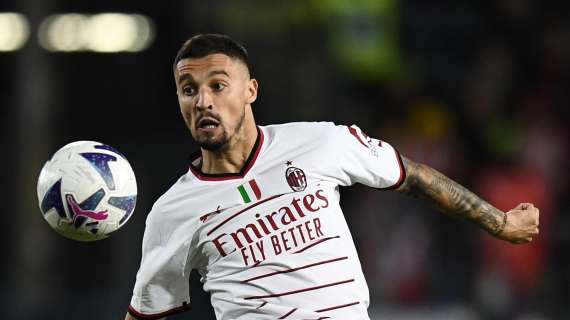 MilanNews.it
© photo by www.imagephotoagency.it
Big match coming to Milan coached by Stefano Pioli, who will face the hosts Chelsea at 9pm tomorrow at Stamford Bridge in London. The Rossoneri, at the moment, lead the standings of Group E with four points (an external draw with Salzburg and an internal victory against Dinamo Zagreb), while the Blues are the bottom with one point (a defeat with the Croatians and a draw at home with the Austrians). A performance, that of the Londoners, which cost dearly to Thomas Tuchel, sacked and replaced by the former Brighton Potter coach. Given the ranking, therefore, it is predictable that Chelsea will have all the necessary motivations to redeem a very bad start tomorrow and Milan, in an injury emergency, is called to a great team test.
DEST AND DANCE-TOURE OWNERS, BENNACER CAPTAIN – To replace the absent Mike Maignan, Davide Calabria and Theo Hernandez there will be respectively Ciprian Tatarusanu, Sergino Dest and Fode Ballo-Toure, author of the 1-2 goal in Empoli. In the middle confirmed the starting couple Kalulu-Tomori. In the median there will be the Bennacer-Tonali tandem, with the Algerian who will wear the captain's armband.
KRUNIC RIGHT – With Junior Messias and Alexis Saelemaekers in the pits, Rade Krunic is called to overtime and will move to the right out. With the Bosnian, on the trocar, there will be Charles De Ketelaere and Rafael Leao, player in the wish list of the English team. In front, leading the Rossoneri attack, will be the ex of the day: striker Olivier Giroud.
LIKELY LINE-UP AC MILAN (4-2-3-1): Tatarusanu; Dest, Kalulu, Tomori, Ballo-Touré; Tonali, Bennacer; Krunic, De Ketelaere, Leao; Giroud. Coach: Pioli.
var banner = []; var now = Math.round(new Date().getTime() / 1000); var bannerok = new Object(); for (var zona in banner) { bannerok[zona] = new Array(); for (i=0; i < banner[zona].length; i++) { var ok = 1; if (banner[zona][i]['scadenza']>0 && banner[zona][i]['scadenza']<=now) ok = 0; if (banner[zona][i]['partenza']!=0 && banner[zona][i]['partenza']>now) ok = 0; if (typeof azione !== 'undefined' && azione !== null) { if (banner[zona][i]['pagine'] == '!index' && azione == 'index') ok = 0; else if (banner[zona][i]['pagine'] == 'index' && azione != 'index') ok = 0; }
if (ok == 1) bannerok[zona].push(banner[zona][i]); }
bannerok[zona].sort(function() {return 0.5 - Math.random()}); } banner = bannerok; var banner_url="https://net-storage.tcccdn.com"; var banner_path="/storage/milannews.it/banner/" function asyncLoad() { if (azione == 'read' && TCCCookieConsent) { var scripts = [ "https://connect.facebook.net/it_IT/all.js#xfbml=1", ]; (function(array) { for (var i = 0, len = array.length; i < len; i++) { var elem = document.createElement('script'); elem.type="text/javascript"; elem.async = true; elem.src = array[i]; var s = document.getElementsByTagName('script')[0]; s.parentNode.insertBefore(elem, s); } })(scripts); } setTCCCookieConsent(); } if (window.addEventListener) window.addEventListener("load", asyncLoad, false); else if (window.attachEvent) window.attachEvent("onload", asyncLoad); else window.onload = asyncLoad; function resizeStickyContainers() { var stickyFill = document.getElementsByClassName('sticky-fill'); for (i = 0; i < stickyFill.length; ++i) stickyFill[i].style.height = null; for (i = 0; i < stickyFill.length; ++i) { var height = stickyFill[i].parentElement.offsetHeight-stickyFill[i].offsetTop; height = Math.max(height, stickyFill[i].offsetHeight); stickyFill[i].style.height = height+'px'; } } document.addEventListener('DOMContentLoaded', resizeStickyContainers, false); // layout_headjs function utf8_decode(e){for(var n="",r=0;r