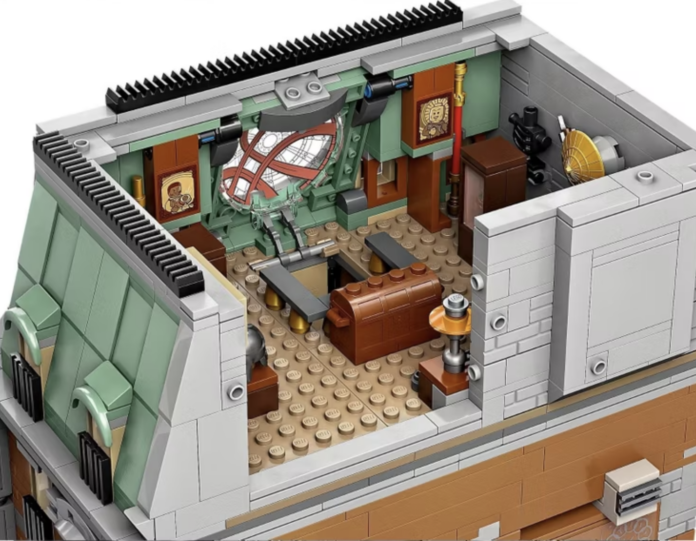 First revealed at the virtual event LEGO'S LEGO-CON 2022 before being put in the catalog in the official LEGO store, here is a set dedicated to Doctor Strange in the Multiverse of Madnesswhich depicts the "Sanctum Sanctorum" and will be available from August 1, priced at $ 249.99.
Measuring 32cm high, 31cm wide and 26cm deep, the Sanctum Sanctorum is a sizable set. Not only does it feature Strange, Sinister Strange and Dead Strange (each starring Benedict Cumberbatch), Wong (Benedict Wong), Scarlet Witch (Elizabeth Olsen) and Mordo (Chiwetel Ejiofor) to recreate moments from Multiverse of Madness, but also features Iron Man (Robert Downey Jr.), Spider-Man (Tom Holland) and Ebony Maw (Tom Vaughan-Lawlor) to recreate the opening scenes of Avengers: Infinity War. In addition to a highly detailed replica of the Sanctum, the set also features moving portals, flight mounts, and little nods to the wider MCU such as graffiti of the Ten Rings logo.
Doctor Strange in the Multiverse of Madness will see Benedict Cumberbatch return in the role of Stephen Strange. Directed by Sam Raimithe sequel will also see Wanda Maximoff / Scarlet Witch (Elizabeth Olsen) take on a co-star role later WandaVision.
The screenplay of the film will be signed by Jade Bartlett And Michael Waldron. In addition to Cumberbatch and Olsen, there will also be in the sequel Benedict Wong (Wong), Rachel McAdams (Christine Palmer), Chiwetel Ejiofor (Karl Mordo) e Xochitl Gomez (who will play the new entry America Chavez). The cast was also confirmed Patrick Stewart in the role of Charles Xavier. Doctor Strange in the Multiverse of Madness has been in the cinema since May 4, 2022. Filming started in London in November 2020 and will also take place in New York, Los Angeles and Vancouver. In the sequel he should also appear in a cameo Bruce Campbellfetish actor of Sam Raimi. At the moment, however, there is no confirmation on the matter.