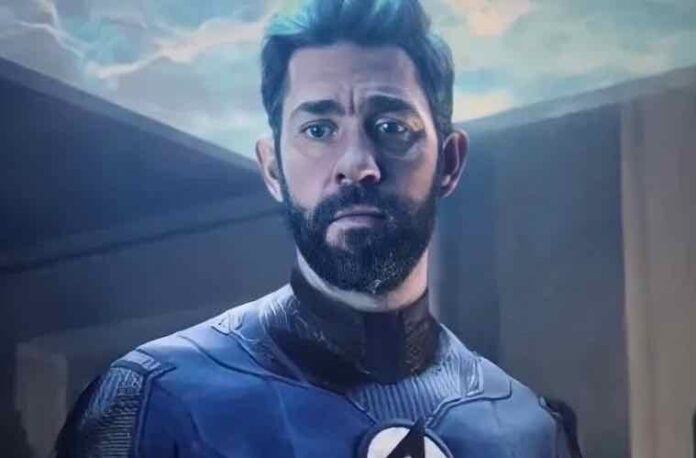 In Doctor Strange in the Multiverse of Madness we have seen Stephen Strange confront the Illuminati. In the film, the actors who made up this formidable team are all members, in different ways, of the Marvel world, from Hayley Atwell in the role of Captain Carter, a Patrick Stewart returned briefly as Charles Xavier, or even Anson Mount who returned to play Black Bolt after his brief appearance as the character in Inhumans.
One of those cameos in particular, namely that of John Krasinski as Reed Richards of the Fantastic Fourhas been something of an award for years of fan-casting, based largely on the fact that Krasinski looks quite like the comic book character and that it would be fun to picture him as Mr. Fantastic alongside Emily Blunthis wife in real life, like Sue Storm.
This version of Reed Richards meets a grisly death at the hands of Elizabeth Olsen (who he never met while filming, apparently), so he definitely won't be back, but anyone hoping Krasinski's casting is a foretaste of the former Office star's future Marvel adventures should start looking for a way to entering another universe … because this is not happening.
As reported by Comic Book Resources, the commented version of Doctor Strange in the Multiverse of Madness reports statements by Sam Raimi who notes that choosing Krasinski as Reed Richards was a decision made by the head of Marvel Studios Kevin Feige specifically motivated why "Fans dream of who could be the perfect Reed Richards"—Which means that Krasinski was cast for this very reason and not for something he himself brought to the character as an interpreter. It must also be said that Richards does not last so long that it would have been superfluous to choose an actor for his precise talents.
Raimi also specifically says that Feige wanted "that dream" to come true in this "alternate universe," which seems to imply that Reed Richards' canonical version of the main universe will not be John Krasinski. This seems obvious, since Marvel wouldn't have spoiled the MCU's big reveal of Mr. Fantastic's identity that way, but it is also indicative that Marvel wants to make the film of the MCU. Fantastic Four a real deal for fans, and not yet another bad film adaptation for the first Marvel family.
We know that the Marvel Studios they are looking for a great name to replace Jon Wattsthe director of the trilogy of Spider-Man which was originally tied to the project, and that big name won't necessarily want to get stuck with Mr. Fantastic's John Krasinski.
Doctor Strange in the Multiverse of Madness will see Benedict Cumberbatch return in the role of Stephen Strange. Directed by Sam Raimithe sequel will also see Wanda Maximoff / Scarlet Witch (Elizabeth Olsen) take on a co-star role later WandaVision.
The script of the film will be signed by Jade Bartlett And Michael Waldron. In addition to Cumberbatch and Olsen, there will also be in the sequel Benedict Wong (Wong), Rachel McAdams (Christine Palmer), Chiwetel Ejiofor (Karl Mordo) e Xochitl Gomez (who will play the new entry America Chavez). The cast was also confirmed Patrick Stewart in the role of Charles Xavier. Doctor Strange in the Multiverse of Madness has been in the cinema since May 4, 2022. Filming started in London in November 2020 and will also take place in New York, Los Angeles and Vancouver. In the sequel he should also appear in a cameo Bruce Campbellfetish actor of Sam Raimi. At the moment, however, there is no confirmation on the matter.