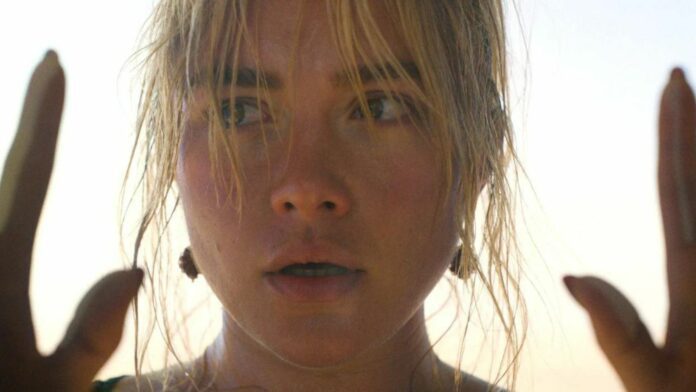 Warner Bros. Pictures just tweeted a new psychological thriller animated poster featuring Florence Pugh, Don't Worry Darling directed by Olivia Wilde. The film will hit theaters in September 2022.
Don't Worry Darling tells the story of a woman who begins to discover terrifying truths involving the organization her husband works for while living in a company paid for by the company. The film stars Florence Pugh, Harry Styles, Chris Pine, Olivia Wilde, Gemma Chan, KiKi Layne And Nick Kroll. Katie Silbermanformer screenwriter de The revenge of the losers (2019), wrote the script, while Carey Van Dyke And Shane Van Dykerelated to the legendary Dick Van Dykesign the subject.
In the movie Alice Chambers (Pugh) and her husband Jack (Styles) apparently spend an idyllic life in Victory, a neighborhood built for the employees of Jack's company. But cracks begin to appear revealing something far more sinister lurking beneath that heavenly facade, Alice can't help but wonder exactly what they're doing to Victory and why.
READ ALSO: Don't Worry Darling, Florence Pugh on the verge of a nervous breakdown in the first trailer…
The animated poster just released for Don't Worry Darling show a unsettling moving image synchronized with a disturbing soundtrack. The image depicts a perfect mountain neighborhood. Alice Chambers (Pugh) appears to be greeting her husband Jack (Styles) as she prepares to drive out of the driveway in her luxury car. Above them is a plane that is slowly crashing. However, the blue sky overhangs them like a body of water. Suddenly the picture is disturbed and flips upside down for a short while before returning to normal. The animation is accompanied by a soft and disturbing ballad that seems to be sung by the lead actress Pugh.
Don't Worry Darling will be released in theaters on 23 September.
Here is official poster of the film here: