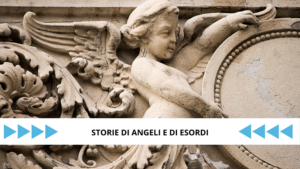 What were the most interesting beginnings in Italian fiction and poetry between 2021 and 2022? Duino & Book has invited some writers who have just made their debut in bookstores to Storie di Angeli e di Esordi. On 1 and 2 July from 7.00 pm two days full of meetings with emerging literary voices will be held in the Piazzetta of the Fisherman's Village, ranging from myth, autobiographical narratives, generational literary works, training, volumes of poetry and essays. A new beginning, to create a path that looks at the post-pandemic, decline this year's festival and start a way to overcome the crises, in search of new ways of living by getting excited with literature and thinking about the role of young people and women , starting from the myth and going through history. Through the interviews with the authors, we also intend to focus on the concept of the word where it crosses that of community, with a focus that places Europe at the center and the promotion of cross-border culture to offer a future of peace and international integration. An opportunity also to remember the importance of Nova Gorica and Gorizia united in the sign of European Capital of Culture in 2025, hoping that this important recognition represents a new beginning for our territory as well.
On the first day of meetings, Beatrice Achille will alternate who, interviewed by Giuseppe Nava, will present Medeatiche (Vydia publisher, 2022) a work of poetry that traces the myth of the Argonauts, Primož Sturman who will converse with Martina Vocci on Bestiario di confine (Bottega errante, 2022 ), a book that enters the narrative folds of the concept of border and Giuseppe Nibali, author of Animali (Italo Svevo 2022), a novel on the theme of generations in comparison, in conversation with Camilla Giorio. The final day will open with the presentation of Salvamento (Bollati Boringhieri, 2022), a coming-of-age novel by Francesca Zupin interviewed by Camilla Giorio and will continue with Le transgressive. The courage to say NO (Battello Stampatore, 2021) by Giuliana Cadelli and the interview with the author by Carlo Selan and Francesco Cervino to conclude by leafing through the Album (Nottetempo, 2021) by Elisa Donzelli, a collection that moves through private events , family, personal and news. The writer will talk about it with Giuseppe Nava.
Stories of Angels and Beginnings is part of the wider review Stories of Angels IX edition: 200 events to celebrate life and the territory that from 1 to 30 July offers conferences, presentations, concerts, shows, meetings, walks, fairy tales and books in Duino, San Giovanni in Tuba, Villaggio del Pescatore, Aurisina, Sistiana (Castelreggio) and many other places in the region.
Event organized as part of the 9th Duino & Book Stories of Stones, Angels and Wines 2022 project funded by the Autonomous Region of Friuli Venezia Giulia (Promotion of Cultural Activities – 2022 project initiatives for manifestations of dissemination of humanistic culture).
Duino & Book is promoted by the Ermada Flavio Vidonis Group and takes place with the contribution of the Autonomous Region of Friuli Venezia Giulia and with the patronic hall of Cepell – Center for book and reading, Il Maggio dei Libri, Duino Città che Legge, Algy Magnifico Lettore project and in collaboration with Lions Club Duino Aurisina, Ajser 2000, Le Vie delle Foto, Kärntner SchriftstellerInnenVerband KSV – Association of Carinthian writers and Poiéin APS Association with the support of BCC Staranzano and Villesse and the Autonomous Region of Friuli Venezia Giulia and in partnership with Mibact – Superintendence of Archeology , fine arts and landscape of Friuli Venezia Giulia, Municipality of Prepotto, Municipality of Capriva del Friuli, Municipality of Dolegna del Collio, Municipality of Sequals, Municipality of Gorizia, City of Wine, University of the Third Age, Bologna Museums, Kärntner Kulturstiftung KKS.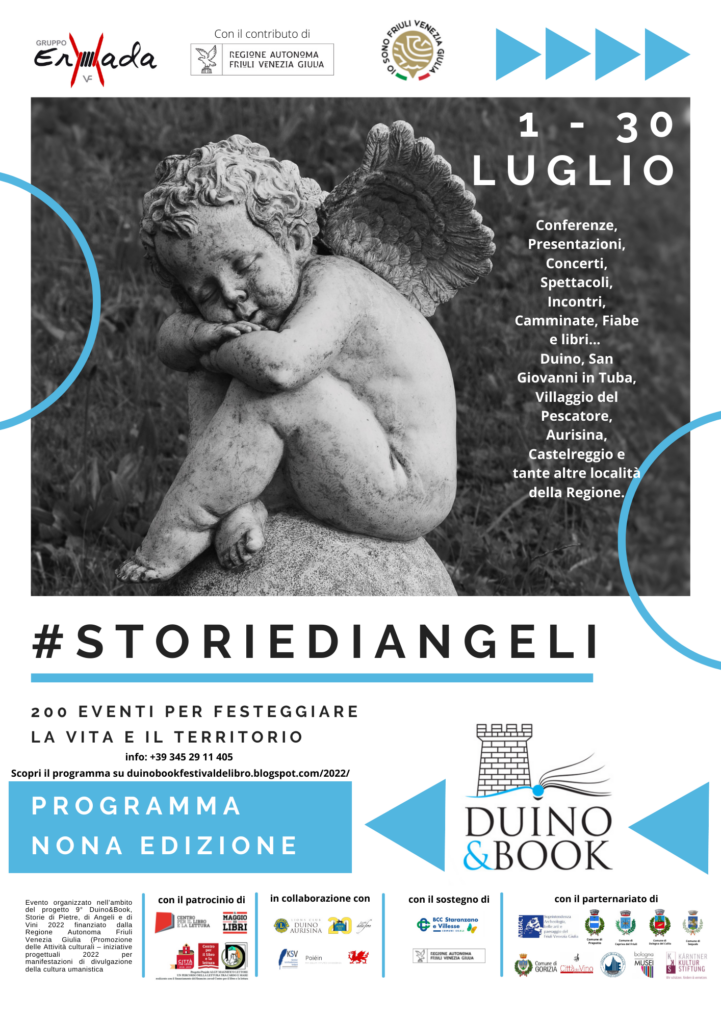 Program
Friday 1 July 2022, from 7.00 pm PIAZZETTA DEL VILLAGGIO DEL PESCATORE
Medeatics
With Beatrice Achille. Interview by Giuseppe Nava
The legend of Medea had many modifications in the details and variations in ancient times: she was remembered above all as a great sorceress and murderer of her children out of jealousy and outraged love. The volume in verse by Beatrice Achille Medeatiche, published by Vydia publisher, is among the most interesting debut poetic works of 2022. Almost a journey into the past, into the myth built with words, returned to the present.
Following
Border bestiary
With Primož Sturman. Interview by Martina Vocci
Eleven stories crossed by characters as complex as the geographic margin they inhabit. Loves that mix identities, dreams of borders that resurface, smugglers who move between Italy and Yugoslavia … Sturman with Bestiario di Confine (Bottega errante, 2022) enters the narrative folds of the concept of border and brings out all the limits and potentials of the middle lands. Trieste, the Mediterranean, the Karst, Gorizia between historical periods such as fascism, the seventies and today's world are the places and times where a succession of men and women move between absurd, grotesque and vivid events. This Bestiary becomes a metaphor for any political boundary of our Europe, of our world, because everywhere the cross-border dimension brings with it a traumatic historical memory and a complex relationship with the concept of political, cultural, private identity.
Animal
With Giuseppe Nibali. Interview by Camilla Giorio
Animal (Italo Svevo, 2022) by Giuseppe Nibali speaks of generations compared. The protagonist of his debut novel – released in April by the Italo Svevo publishing house – is Giuseppe, a young advertising man of thirty with a stormy past. His mother, drug addict, died of an overdose when he was a child; his father, a former professor of philosophy and a prominent member of Potere Operaio, left Bologna and his son to return to his native Naxos. When Sergio is hit by a stroke, Giuseppe joins him in Sicily to be close to him and, in some way, try to make up for the past time.
Saturday 2 July 2022, from 7.00 pm PIAZZETTA DEL VILLAGGIO DEL PESCATORE
Rescue
With Francesca Zupin. Interview by Camilla Giorio
Salvamento (Bollati Boringhieri, 2022) is a coming-of-age novel, the debut work of the Trieste-born Francesca Zupin. Giulio is a frail thirteen-year-old book lover when, in a long summer shared at the campsite, he falls in love with Stella, the daughter of his widowed father's new partner. Stella is different from him: strong, refined, rebellious. In the years to come, living together in the same house, the two boys go from being a bit brothers to boyfriends, but not without suffering: the family opposes them, in particular Giulio's father, irascible and disappointed, who always has favorite one of his friends: Bobo, fast on the bikes and with words, who feels like a new Rimbaud. Stella has always been attracted to Bobo too, but their relationship never turned into a real relationship. Stella, always looking for someone to save her from Bobo and herself, seems to have found her perfect candidate in Giulio. Yet she, one step away from the wedding, she renounces the tranquility to pursue the emotion.
Following
The transgressives
With Giuliana Cadelli. Interview by Carlo Selan and Francesco Cervino
Men have always feared women, they fear their knowledge, their beauty, their nature, and have always, in every corner of the world, stemmed and relegated them to stereotyped and secondary roles. The book The transgressives. The courage to say NO (Battello Stampatore, 2021) presents some female figures of the Greek and Roman symbolic imaginary, characters from myth, goddesses, heroines, seers, sorceresses, women connected to wisdom, prophecy, seduction, who have crossed the imposed boundaries them from a male world. These pages lead us to the discovery of the "indomitable" – including Antigone, Deianira, Circe, but also Elena and Pandora. Women who have had the courage to fulfill themselves beyond the roles preordained by human societies.
album
With Elisa Donzelli. Interview by Giuseppe Nava
Elisa Donzelli moves her debut album collection (Nottetempo, 2021) through private, family and personal events, and other news stories. In the background, an unconscious adherence to that Italy of the seventies and eighties that betrayed the great legacies and failed in the eyes of those who were born during terrorism and grew up in Berlusconi's twenty years. Her personal memory draws a pattern, as if connecting dots. Events of the news and history – terrorism, the Gulf War, the rise of Forza Italia to the government, the murder of Marta Russo, the geological instability – intersect with places and personal encounters, forming the awareness of an identity feminine singular and at the same time common to the generation born after '68. In Elisa Donzelli's poetry, the clear and wise verse challenges the distance between the ages, between the living and the dead.