Investing.com – The IPO will come this week and the company will sell shares for 3 days.
In the statement made on the public disclosure platform, Ebebec will collect the request for 3 working days between August 29 – September 1, 2023. In the Ebebek public offering, shares with a total nominal value of 40 million TL will be offered for sale at a fixed price of TL 46.5.
The allotment rates specified in the Alibaba Public Offer Prospectus are as follows:
Domestic Individual Investors: 19,200,000 lots (48%)
Company employees: 800,000 lots (2%)
Domestic Institutional Investors: 10,000,000 lots (25%)
Foreign Institutional Investors: 10,000,000 lots (25%)
Equal distributions will be made to individual investors and employees of the Company, and the number of funds that can be distributed according to the potential call amount are as follows: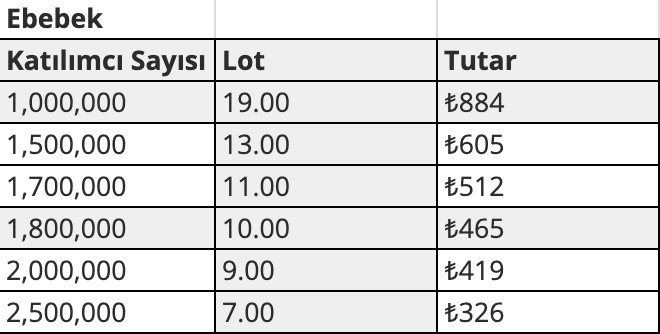 There is information that Abebek is in line with the Public Offering Participation Index. The company's post-public offering open rate is expected to be 29.41%, while the size of the public offering after the sale of all its shares is expected to be around 1.8 billion TL.
Halil Erdogmus, CEO of Ebebek Group, made the following statement regarding the public offering process:
"We are aware of the value we deliver to investors and our growth potential. We have proved our leadership position in this sector with our successful growth for 23 years, industry experience, strong brand value and attentive customer service. Our financial performance reflects not only our success in Turkey, but also our ability to expand into international markets. With the IPO, we aim to further expand this strong base, accelerate entry into new markets and create value with our investors."