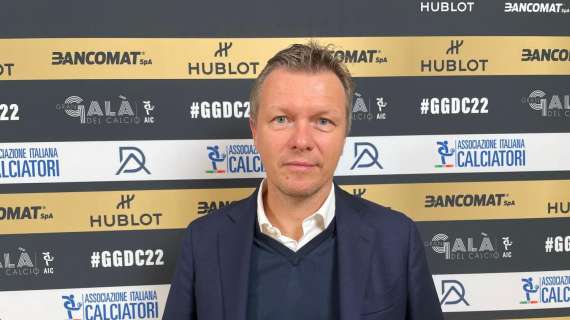 © photo by Antonello Gioia
Alessandro Alciatojournalist for Amazon Prime Video, gave an exclusive interview to the microphones of MilanNews.it at the end of the press conference for the presentation of the 2022 Gran Galà del Calcio.
Great comeback in Empoli, now Chelsea-Juve-Chelsea with many injuries: how does Milan arrive at these challenges?
"The Empoli final said that Milan, apart from injuries, have the right mentality, which leads them not to give up until the last ball. The match against Chelsea is a challenge that can tell a lot about the Rossoneri's moment. because the Blues are a difficult team to face; in the last two games, Potter has changed 4 game modules and it is difficult to prepare a match against them. Winning at Stamford Bridge would be a great sign for Milan both for the bad luck that is having in injuries both for what good is showing the new Chelsea manager ".
In the misfortune Pioli has been able to enhance several players … Will it be Dest's turn too?
"It is a possibility, even if it would be better if no one were injured to see another player blossom. This too, however, explains how well the transfer market has been done by Maldini and Massara: when a player who is not too busy is called in question then explodes definitively. I see them all as positive signs and as an explanation of the excellent work done on all levels: from Maldini to Massara to Pioli on the pitch ".
Where would Leao place in the ranking of the best outsiders in the world?
"I don't know how to give a certain position, but at the top. If you ask me this question in a couple of years he will be in the top three. Every year he gets stronger. Every year he puts himself more and more at the service of the team and, in this way sense, I think it was very important to have Ibrahimovic in the locker room, who put him in line when needed. Last year, these days, many criticized Leao and Pioli said that, someone who trains like this, could not struggle yet at long in the game … Shortly thereafter the Leao we all know exploded ".
Are you optimistic on the renewal front?
"I don't know, maybe not so much today … But even there I would trust, if I were a Milan fan, Paolo Maldini: up to now he has practically not missed a shot."
With Ibrahimovic injured, is Giroud playing an 'Ibra-like' technical and mental role?
"Yes. Giroud has nothing to prove, we knew what he could have given to Milan. He won the World Cup, he knows how to live certain important nights and decisive challenges. In his career he often started as a reserve player and then became a starter, so he's one who has everything and is not afraid of what can happen ".
Who, on the other hand, has to prove is De Ketelaere?
"Yes, he has to prove, but it is also true that, when he arrived, there was talk of him as the savior of the homeland, as the strongest footballer in the world, as the one chased for so many months and the one who, automatically, should have given who knows what … He is a young player and there were too high expectations for him. He had a good start and people expected to see – making a hyperbole – the new Messi … Not like that, you have to give him time ".
The same time, for example, that was given to Tonali …
"World-class player, but there were no doubts. One who reduced his salary to stay at Milan, one who had Gattuso and Pirlo as idols, one who had set out to reach the Rossoneri as a goal … It's clear that he can give a lot. On the other hand, the class was already visible when he was playing for Brescia.
Is Inter Milan just a bad period?
"A billion dollar question. I always believe that there is a concurrence of guilt in such a situation. One thing that struck me is the alternation between the goalkeepers: Onana plays with Barcelona, ​​Handanovic in the league; and certain errors do they can also explain with the frustration of knowing not to play. In recent years, at PSG for example, the alternation of goalkeepers has never led to anything good; now Donnarumma, who is certainly a starter in France, is doing great performances also in the national team. In the meantime, there is a problem to be solved which is the alternation of goalkeepers, in addition to everything else … I repeat: there is a concurrence of faults, not a single culprit ".
So, according to her, Inzaghi cannot be the only culprit …
"I never agree on speaking of a coach as the only culprit, unless he makes really sensational mistakes but that's not the case with Inzaghi. Could he have done better? Yes, but he is by no means the only culprit."
What is missing at Juventus, AC Milan's next opponent in Serie A?
"Definitely the unity of purpose. There is something wrong with the various team members, the coach and the management. If they all manage to row in the same direction, I believe that Juve's season can turn around, but if they continue to there be discontent, divisions, drafts from the locker room then it will be difficult for Juve to get back on track for good. "
var banner = []; var now = Math.round(new Date().getTime() / 1000); var bannerok = new Object(); for (var zona in banner) { bannerok[zona] = new Array(); for (i=0; i < banner[zona].length; i++) { var ok = 1; if (banner[zona][i]['scadenza']>0 && banner[zona][i]['scadenza']<=now) ok = 0; if (banner[zona][i]['partenza']!=0 && banner[zona][i]['partenza']>now) ok = 0; if (typeof azione !== 'undefined' && azione !== null) { if (banner[zona][i]['pagine'] == '!index' && azione == 'index') ok = 0; else if (banner[zona][i]['pagine'] == 'index' && azione != 'index') ok = 0; }
if (ok == 1) bannerok[zona].push(banner[zona][i]); }
bannerok[zona].sort(function() {return 0.5 - Math.random()}); } banner = bannerok; var banner_url="https://net-storage.tcccdn.com"; var banner_path="/storage/milannews.it/banner/" function asyncLoad() { if (azione == 'read' && TCCCookieConsent) { var scripts = [ "https://connect.facebook.net/it_IT/all.js#xfbml=1", ]; (function(array) { for (var i = 0, len = array.length; i < len; i++) { var elem = document.createElement('script'); elem.type="text/javascript"; elem.async = true; elem.src = array[i]; var s = document.getElementsByTagName('script')[0]; s.parentNode.insertBefore(elem, s); } })(scripts); } setTCCCookieConsent(); } if (window.addEventListener) window.addEventListener("load", asyncLoad, false); else if (window.attachEvent) window.attachEvent("onload", asyncLoad); else window.onload = asyncLoad; function resizeStickyContainers() { var stickyFill = document.getElementsByClassName('sticky-fill'); for (i = 0; i < stickyFill.length; ++i) stickyFill[i].style.height = null; for (i = 0; i < stickyFill.length; ++i) { var height = stickyFill[i].parentElement.offsetHeight-stickyFill[i].offsetTop; height = Math.max(height, stickyFill[i].offsetHeight); stickyFill[i].style.height = height+'px'; } } document.addEventListener('DOMContentLoaded', resizeStickyContainers, false); // layout_headjs function utf8_decode(e){for(var n="",r=0;r