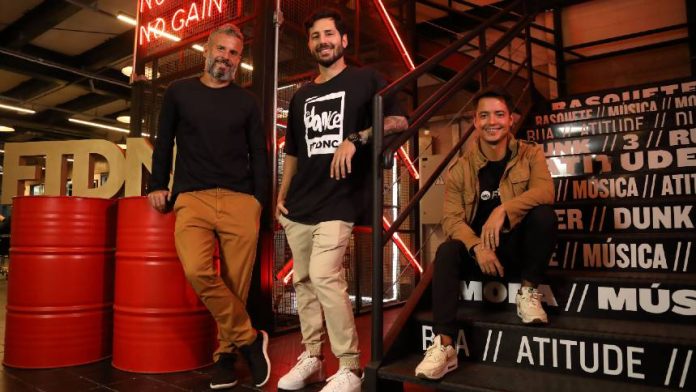 Gustavo Furtado (left), general manager of SBF Ventures, and Fábio and Bruno Duarte, founders of FitDance
In June 2021, the SBF group created SBF Ventures to consolidate an ecosystem of sports assets around Centauro and Nike. This last operation, through Fisia, a unit structured in 2020 to be the exclusive distributor and take care of the American brand's business in the country.
The first pillar of this ecosystem came in December 2020, with the purchase of NWB, owner of content channels such as Desimpedidos and Accelerados. And the strategy gained momentum this year, with two new businesses: sportstech OneFan and live sports marketing company X3M.
Now, the group valued at R$ 5.3 billion is making a new move to maintain the rhythm of its acquisitions. Literally. In an exclusive advance step to the NeoFeedSBF Ventures announces this Tuesday, May 10, the purchase of 100% of the Brazilian dance platform FitDance.
"We wanted to create a more intimate connection with this dance audience, which is a physical activity and, now, an Olympic modality", says Gustavo Furtado, general manager of SBF Ventures, to the NeoFeed. "And FitDance talks to a very large and engaged audience within this universe."
Founded in 2014 by brothers Fabio and Bruno Duarte, who are still operating, FitDance accumulates data that show a good connection with this audience. There are more than 10 billion views since its creation and its audience has 15 million people, in more than 50 countries.
These numbers follow the trail of four lines of business. The first is the Academy, a training platform that gives instructors the right to teach classes using the methodology and brand seal and has already trained more than 10,000 professionals.
Based on this model, FitDance offers more than one million classes per year, in around 15 thousand gyms, in six countries. In addition to Brazil, the platform is present in Argentina, Mexico, Chile, Uruguay and Portugal.
With 3 thousand users, the second line is Plus+, a streaming application with live and recorded classes, with monthly subscriptions between R$22.90 and R$29.90. The FitDance Network, on the other hand, unites channels on platforms such as YouTube and TikTok with special projects for brands such as Coca-Cola and Samsung.
These three models are powered, in most cases, by choreographies of great hits that are taught in the same rhythm as the releases of these songs, through partnerships with record labels and artists. Katy Perry, Shawn Mendes and Iza are some of the names that have already "entered this dance".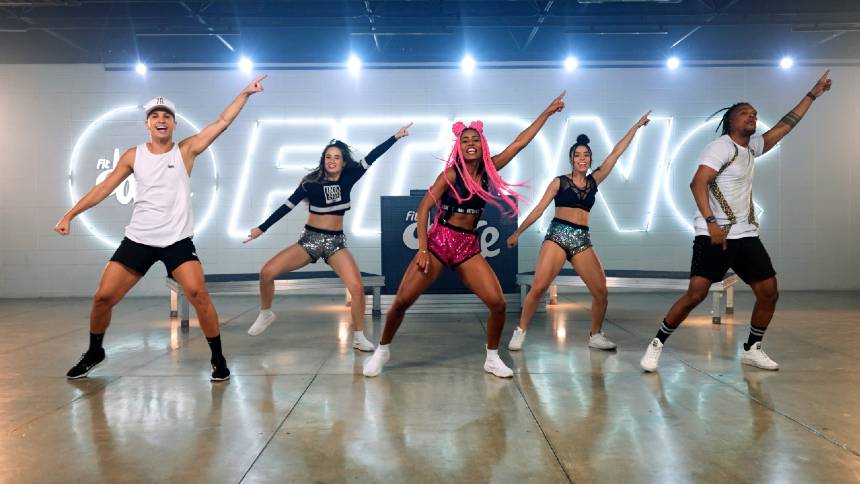 The latest source of revenue is FitDance Style, a line of casual and lifestyle clothing and accessories. In the estimation of SBF Ventures, the sum of these aspects brings a potential market of more than 35 thousand gyms and 20 million practitioners.
"And we can see new revenue avenues materializing as we integrate FitDance with the other business units", says Furtado.
One of these avenues is to give more muscle to the clothing brand, with the creation of products and distribution through the Centauro and Nike channels in the country. "One of Nike's focuses is to expand the dialogue with the female audience and FitDance can help a lot in this process", says the executive.
He also sees good possibilities in cross-selling special projects with the NWB channels, as well as events in partnership with Centauro, Nike and X3M.
"At the same time, Plus+ has 3,000 paying users," he says. "This can be the gateway to a loyalty program that brings advantages in the relationship with the other companies in the group."
ecosystem
The search for assets to go beyond the Centauro sporting goods retail chain began to take shape in February 2020, when SBF disbursed an estimated amount of R$900 million to manage Nike's channels and distribution in Brazil, which spawned the creation of Physia.
"We saw the need to create other ways to connect with consumers who, on average, visit our stores twice a year", explains Furtado.
The balance of this investee had a first thermometer in 2021, when the group reported a net revenue of R$ 5.1 billion, up 114% over 2020. On the other hand, its shares closed the year with a devaluation of 24.2% . In 2022, the papers accumulate a 3% indentation.
With Centauro and Nike, and the acquisition of NWB, for R$ 60 million, the group decided that, in order to incorporate new companies, it was necessary to create a separate unit, with an exclusive focus on selecting assets, identifying synergies, scaling these businesses and integrate them into your ecosystem.
"There was a big risk of these companies being crushed by two very established brands", says Furtado. From this realization, SBF Ventures was born, whose team of 20 people includes business, technology and human resources professionals.
With agreements financed by SBF's cash, SBF Ventures' thesis involves three main points: the size of the market that the new business allows to attack; a relevant community around the brand; and adding new skills to the group.
The format of the deals depends on the maturity of the asset. It can involve from majority shares to 100% of the business, as long as the group has a relevant stake to influence the operation's strategy. From this perspective, SBF Ventures does not co-invest with other funds.
"This puzzle is not 100% assembled", says Furtado. "But this year, the focus will be on capturing synergies from the assets we already have. This does not mean that we will discard if a company appears sexy on the way."
At the NWB, one of the formats being tested is social commerce, with the association of digital influencers to sell articles from Centauro and Nike. The NWB is also developing a running channel, called Corrida na Veia, which will have associations with the Centauro brand.
On the radar of X3M, owner of racing events such as XTERRA and UPHILL Marathon, are projects such as the creation of street racing franchises with Nike and Centauro, as well as fitness events associated with Centauro.
In 2021, the SBF group reported a net revenue of BRL 5.1 billion, up 114% over 2020
As a result of a partnership with Sportecha, OneFan, in turn, begins to gain scale by offering a platform white label for football clubs to create superapps and enhance the relationship with their fans.
The tool is the engine behind the official apps of teams like Flamengo, Atlético Mineiro, São Paulo, Fortaleza and Coritiba. And it recently added Corinthians to this portfolio, with the launch of the Universo SCCP application.
"The fan-partner programs have a very restricted audience", says Furtado. "Our idea is to unlock new sources of revenue for clubs, reaching a wider fan base, with different types of services and subscriptions."
Even far from the battles between the generalist marketplaces, the SBF group is not alone in the race to build a sports ecosystem. In this field, one of the rivals is Magazine Luiza, for whom the company lost the dispute for Netshoes, in 2019.
By integrating Netshoes into its ecosystem, including its logistics network, physical stores and other operations, the Trajano family network meant that the company, known for its history of losses, ended 2021 with a record profit of BRL 135 million.
Another competitor is Track&Field, which has been investing in creating communities through the Trainer and TFSports platforms. In addition to online and face-to-face classes and events, these tools have been used to test the sale of products through personal trainers registered in their databases.