Samosa is one of the indispensable pastries of Indian cuisine. You can also try samosas prepared with potato or rice filling with different fillings.
Samosa is one of the delicious tastes of Indian cuisine. It consists of a mixture of boiled rice or mashed potatoes, onions, peas, lentils, ginger, hot peppers, spices and greens. Samosa recipe for those who want to make samosa at home…
Samosa is one of the most famous dishes of Indian cuisine. The filling for samosas, which contains various spices ranging from mustard seeds to coriander, turmeric to cumin, varies depending on the region. So how to make samosa? Here is the Indian Cuisine Pastry Samosa Recipe…
When it comes to Indian cuisine, the first taste that comes to mind is samosa. It is made from a mixture of boiled rice or mashed potatoes, onions, green peas, lentils, ginger, hot peppers, spices and green vegetables. Samosa can be vegetarian depending on the filling. Samosas are made in different shapes in South India.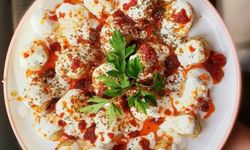 Delicious recipe that vegetarians will love: Lentil Ravioli

Material:
For the dough:
500 grams flour
1 tbsp mustard
1.5 glasses of water
1 teaspoon salt
For interior mortar:
1 cup oil
1 teaspoon cumin
1 teaspoon ground turmeric
1 teaspoon ground coriander
1 teaspoon ground red chilli
3 potatoes
1/2 cup boiled peas
3 sprigs of fresh coriander
to fry:
2 cups oil
Samosa Recipe
Add flour, mustard and salt in a deep bowl and mix.
Add 1.5 cups water and knead a dough of earlobe consistency.
Boil peas and potatoes separately.
Peel the boiled potatoes and mash them.
– Heat oil in a pan, add spices and cook till the smell goes away.
Add mashed potatoes, finely chopped coriander and salt to the roasted spices and mix.
Roll the dough into a thin sheet and cut into 3 finger thick strips.
At the end of each strip add the potato mixture you have prepared and add some boiled peas.
Wrap it in the shape of an amulet.
For frying, heat the oil well and fry till it turns golden from both the sides. Leave it on a paper towel for some time to absorb the oil.
Mix dried mint with curd and serve with samosas.
Source: NTV