Those who followed the Marc Jacobs show in New York were surprised at how unrecognizable Bella and Gigi Hadid were on the runway, presenting a look without eyebrows and the sides of their hair, shaved.
But anyone who thinks the Hadid sisters actually shaved their eyebrows and sides for the production is wrong. To achieve this effect, the team uses a cap that mimics human skin, made of silicone by a makeup artist specializing in special effects. Noël Jacobini, who, combining his technique with that of the hairdresser Duffy, who made a geometric fringe for finishing, a perfect result.
Cyberpunk style makeup for the catwalk
To bring the final touch to the entire composition, makeup artist Diane Kendall, marked her presence and contribution with a grayish brown eyeshadow applied all over the eyelid and a shimmering eyeshadow in the corner of the eyes, to bring an aspect of depth and open the eyes. eyes of the models in this fall collection, as well as skin-toned mouths and pale eyebrows.
---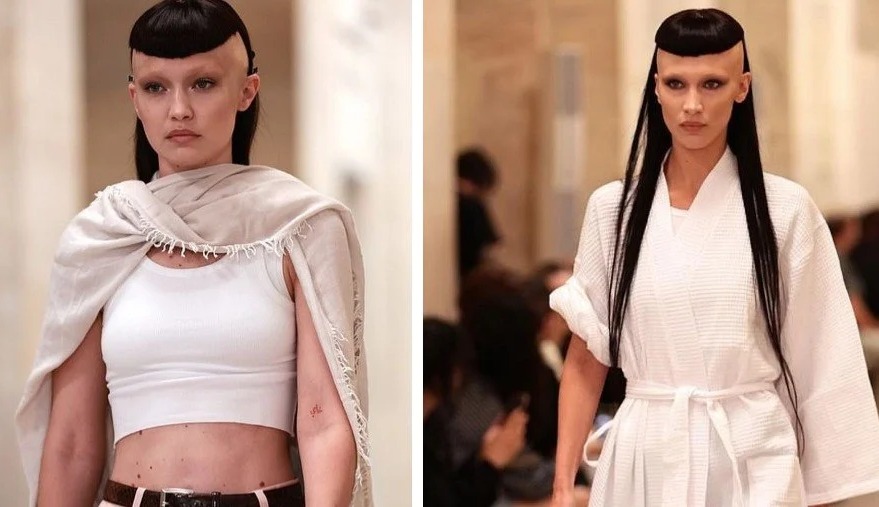 Hadid Sisters for the parade at the New York Public Library. (Photo: Reproduction/In Magazine)
---
The show was inspired by the androgynous and futuristic look, sisters Bella and Gigi wore key pieces in the collection, such as, for example, Gigi Hadid's knit coat, which featured platform heels and a denim wash to complete the look. Bella Hadid, on the other hand, took the breath away from the guests when she appeared in a black dress that was not at all basic, being very voluminous and futuristic, in addition to having a pair of gloves – a big trend this year.
The parade took place at the New York Public Library and ended up having the public approached by the sisters, who used their social networks to show a little behind the scenes of the event – including the moment when they apply the cap responsible for the shaved side aspect. This movement, as highlighted by Nicole Phelps, from Vogue Runwayrecalls the fiction film blade Runner from 1982.