– I am counting on the awareness of the European elite regarding the transformation; EU technocrats need to understand that pushing through the climate package is a catastrophic mistake – Jacek Sasin, Deputy Prime Minister, Minister of State Assets tells "Dziennik Gazeta Prawna". He referred to a report prepared by experts from Bank Pekao SA, which shows what price Poland will have to pay for the Fit for 55 package.
– This cost is staggering, it may reach as much as PLN 2.4 trillion by 2030. It is as much as PLN 900 billion more compared to the emission reduction scenario by 40%. (Fit for 40) Sasin said.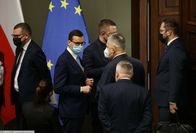 – To illustrate this data even better, I will add that the total cost for each Polish citizen will be approx. PLN 64 thousand. PLN – he added. – So if the current increases in electricity prices, felt so much by Poles, cause a shock, what will happen in the coming years? After all, this cannot be calculated in any way. We are aware that rising energy prices are one of the costs of our membership in the European Union. But today the price is too high, assessed the Deputy Prime Minister.
Pole based on coal
He admitted that Poland is facing a huge challenge related to the necessity to carry out a costly reconstruction of the Polish power industry.
See also: He accused Tusk. He met with a decisive reaction

– Today our energy industry is based on coal in 70 percent. Meanwhile, the EU does not expect us to make some cosmetic changes, but a gigantic and extremely costly revolution. In my opinion, the cost of the climate package is unbearable by Poles, assessed Sasin.
Less ideology and more pragmatics
Asked, how these calculations may affect Poland's negotiating strategy on Fit for 55, Sasin replied: "There is no doubt that Brussels' position needs to be verified."

– I would advise our partners in Brussels – less ideology, and more pragmatics and understanding of the postulates that we have been putting forward for a long time. EU technocrats must understand that pushing through this climate package is a catastrophic mistake "- emphasized the deputy prime minister. It will not be possible to carry it out at the cost of such enormous costs. Our government understands this. Now is the time to awaken the Brussels elite. We are aware that the necessary investment outlays are beyond the sole responsibility of companies, households and the state – he added.
– Potential EU funds will only partially cover the costs of transformation, and let us remember that for the time being they are being blocked by Brussels – noted Sasin. In his opinion, "European technocrats are aware that the intensification of climate ambitions will hit poorer countrieswhich do not have developed green technologies and have higher levels of CO2 emissions. "
– Therefore, by implementing this policy, the richer countries of Western Europe will be in a privileged position. On the other hand, other countries, including Poland, will be exposed to a significant decline in competitiveness and impoverishment of societies. It has nothing to do with European values. I am counting on the awareness of the European elite, he stressed.

Source: