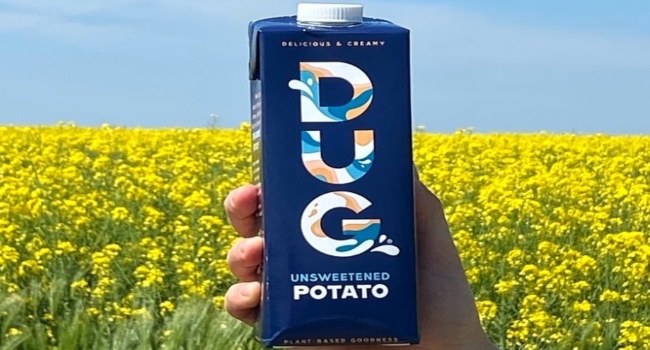 The vegetable drinks market continues to expand (after soy, rice, almonds, coconut and oats) and is increasingly profitable (it is estimated to be worth around 541 million dollars). However the potato milk which comes from Dug, a Swedish brand of vegan products that imitate milk-based products, is an absolute novelty: it is obtained from potatoes.
How is it made and what does it contain?
The brand was born in 2017 when the start-up Veg of Lund, in collaboration with Professor Eva Tornberg of the University of Lund, worked on the hot mixing of the potato to be able to obtain from the tubers a creamy drink that resembles cow's milk in consistency and color. Not just potatoes though: actually Dug contains a rather small percentage of 6% in a classic 500ml brick.

For the rest, potato milk is mainly composed of water with the addition of vitamins, minerals, proteins, sugars and fibers: the nutrients are obtained from other foods such as pea proteins and chicory fibers; then there are sugars (maltodextrin, fructose and sucrose), fats derived from rapeseed oil and again emulsifiers (sunflower lecithin), natural flavors, mineral salts and vitamins (D, riboflavin, B12, folic acid).

Furthermore, being free of lactose, soy, gluten and nuts, it can also be consumed by intolerant or allergic people to certain foods. Currently sThree different types are available in the shop: that original, ideal for breakfast and for cooking; the "barista" one, creamier and suitable for the preparation of hot drinks with foam, and the version unsweetened sugar free.
Why is it the most sustainable plant-based drink?
Why potatoes? On the official website there is an entire section dedicated to the answers, including the fact that these tubers can also be grown in space, (in 1995 potatoes were the first food grown in space aboard the space shuttle Columbia), which are rich in antioxidants and one of the most sustainable foods on the planet.
However, among the innovations that this drink brings to the market, one of the most important is undoubtedly its reduced environmental impact: iPotato milk has a very low carbon footprint, estimated at between 0.27 t and 0.31 kg of CO2e / kg; reit requires much less land, almost half the amount needed to grow oats, and in terms of water consumption it requires almost 56% less than almond milk, for example.
"We have a good product that we are proud of," said Thomas Olander, CEO of Veg of Lund, "Our choice to use potatoes as a base has meant for us to create a truly sustainable drink. Potatoes don't need much to grow, which makes them a more sustainable crop than others like soy, almonds or oats. Not to mention the fact that Dug milk has a lower impact for about 75% less than the animal dairy industry ".

The product triumphed ai World Food Innovation Awards 2021, ranking first and second in two important categories (Best allergy-friendly product And Highly Commended). The drink also met the taste of US actress Drew Barrymore who tasted it live on her CBS show "The Drew Barrymore Show" stating how delicious it was – despite co-host Ross Mathews not at all of the same idea. D.fter the success achieved in Sweden (in May 2021) therefore, and the placing on the market in the UK through the Amazon platform (it can also be found on Ocado, Waitrose, Whole Foods Market and some famous London markets). In Europe? There is still no news about it but given the success of vegetable drinks on this market, nothing is precluded.