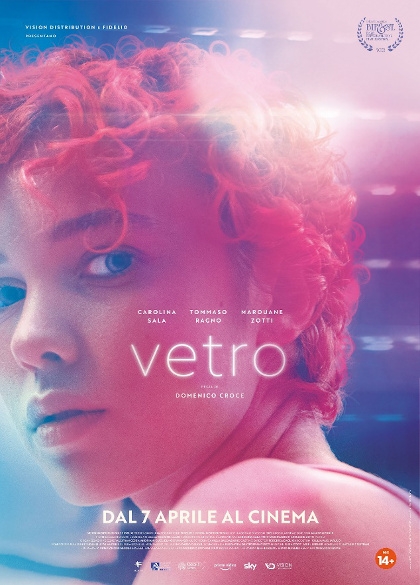 She (Carolina Sala) never leaves her room; her only contact with her outside is her father (Tommaso Ragno) with whom she talks through the door and who convinces her to join a social network in which to share her drawings. Here she will meet a boy (Marouane Zotti) who will try to get her out of her shell. Meanwhile, the girl begins to spy on her neighbors until she is convinced that the policeman she lives opposite her is hiding a secret.
Glass, Domenico Croce's first work, entirely set in a single location, the protagonist's room and with practically only Carolina Sala on stage; it is a strange hybrid product that courageously seeks new paths and that, miraculously and despite stumbling blocks.
Despite a less successful second part, as they say in these cases, one cannot but support with all one's strength this courageous attempt to beat streets not very frequented by our cinema, with a film that definitely veers towards the thriller while contaminating itself with other genres. and suggestions.
Many, of course, have brought out the voyeurism of The window on the courtyard even if to us the most obvious reference seems to be Kimithe latest film (still unpublished by us) by Steven Soderbergh if only for the colored hair (albeit differently) of the respective protagonists.
In fact, in both films we have a female protagonist who for different reasons never leaves the house; Zoë Kravitz in Kimi for agoraphobia, Carolina Sala for a condition that is typical of hikikomori.
Inevitable then, in both films, the reference to the recent lockdown and, as regards Glassa broader reflection on anxieties and fears that have made more and more people feel inadequate compared to the world and decide to lock themselves up inside a room.
From this point of view Glass he suffers from an imbalance which ends up being his biggest flaw.
The first part is entirely centered on the protagonist, on the timid story of love and seduction that begins with a boy met online and on his days spent spying on neighbors; all directions that the director manages to blend perfectly.
Until the moment when the inevitable twist arrives.
At this point Glass changes skin and takes the path of thriller with continuous twists.
Carolina Sala and with her the spectator are forced to question everything that has happened up to that moment and the events that have happened suddenly change their appearance.
The protagonist begins to rework what she has lived up to that moment, the film offers us some scenes that change their meaning and as in the best thrillers we are forced to come to terms with what we have seen and to ask ourselves what really happened.
Not everything comes back in this continuous whirlwind of twists, which in the end proceeds a little too much to accumulate with perhaps too much haste and without worrying too much about consistency.
Small flaws, however, for a film to which we wish all the luck it deserves products that beat streets not very frequented by our cinema and that demonstrate what can be done even with just one room and one actress (or almost).
EMILIANO BAGLIO
Tags: