Add: 24.08.2023 – 11:46
Updates: 24.08.2023 – 11:46 / Editor: ozge celin, Source: uav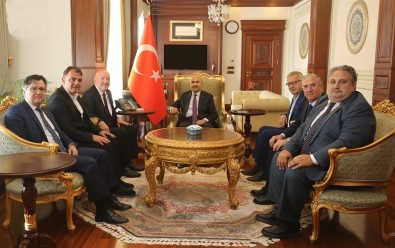 BGC President Nuri Kolayli, who briefed about Bursa Journalists' Association and Bursa Press during the visit, pointed out that the first printing house in Anatolia was established in Bursa after Erzurum, and the first local newspaper was Hudavendigar, which was based in Bursa. Posted by the governor. Office. Emphasizing the importance of local media in the development of democracy, BGC President and General President of Turkish Journalists' Confederation Nuri Kocaly pointed out that Bursa has well-established press organizations and, in parallel, the strongest local media is in Bursa.
Stating that the Bursa Journalists Association, with its 550 members, provides services to the members of the press working in the sectors and sectors, Kocaeli gave information about the Press Culture Palace, which was brought to Bursa by BGC. BGC President Kolayli said, "We provided the construction of the Press Culture Palace by giving our society's land to the contractor in exchange for the flooring. Within the Besin Culture Palace, there is the Bursa Press History Museum, approved by the Ministry of Culture, owned by the Bursa Journalists Association, Ugur Mumcu Event Hall, BGC Nilufer Stage, BGC Center, BGC Tavern, Exhibition Hall, Akçılık Library, and BGC Tavern. The shopping units that we have built together with Nilufar Municipality. are taking We will be happy to welcome you to our building when your schedule is suitable.
Speaking on the visit, Bursa Governor Mahmut Demirtas said that accurate and fair journalism is of great importance in the press sector.
Bursa Governor Demirtaş said, "I would be very happy to serve Bursa by working in cooperation with our press. In the last 3 years in Mardin, we have done important works with our team, especially road and environmental investments. We will do our best to serve our citizens in Bursa," he said.
Bursa Journalists Association President Nuri Kolayli as well as Vice President Fuat Kars, Vice Presidents Ihsan Altıkardeş and Hakan Isıkent, General Secretary Tevfik Fikret Sonmez and General Secretary Sinan Tunç participated in the visit.