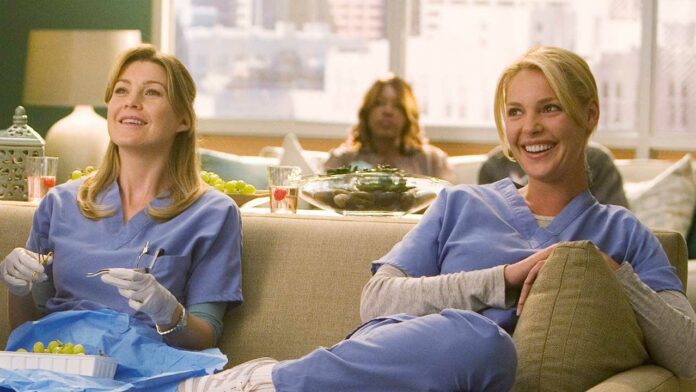 It's been 12 years since Katherine Heiglat the time one of the main protagonists, decided to leave Grey's Anatomy due to differences with production. The interpreter of Izzie Stevens left the series at the end of the sixth season, amid a thousand controversies, after having publicly denounced the grueling working hours on the set, which also included 17-hour days. For this reason she was long considered "ungrateful" and included in the famous "black list" of Shonda Rhimes, creator of the show, who over the years has always shown resentment for what happened.
After all these years, Ellen Pompeo she returned to talk about her colleague in a new episode of the podcast Tell Me, defending her statements and calling her a "heroine" for what has been said.
"I remember Heigl denounced on a talk show the grueling working hours we were forced to do on set. She was 100% right. If she had said it today, she would have been considered a hero. She was ahead of her time. She was deemed ungrateful for expressing those controversies, but she was telling the truth. She wasn't lying at all. She was brave to say it "
https://www.youtube.com/watch?v=1oLGctGlZnQ
Ellen Pompeo was then joined in the podcast by another colleague of di Grey's Anatomy Kate Walsh (interpreter of Addison Montgomery), who wanted to add: "There is nothing natural or human about that shooting method. It is designed for machines, as if we were a camera or a microphone that goes and goes and goes. It is not a healthy habit ".
Heigl opened the matter in 2009, hosted by David Letterman, where he called it cruel to have to work 17 hours a dayand that he wasn't afraid to repeat it on TV because he hoped the producers would be embarrassed to subject the cast to such conditions.
The relationship between Katherine Heigl and the producers of Grey's Anatomy they had deteriorated for other reasons as well. In 2008, for example, the actress – who for the role of Izzie had already won a Emmy and various awards – she withdrew from the Emmy run, urging the Academy not to reconsider her for future nominations.