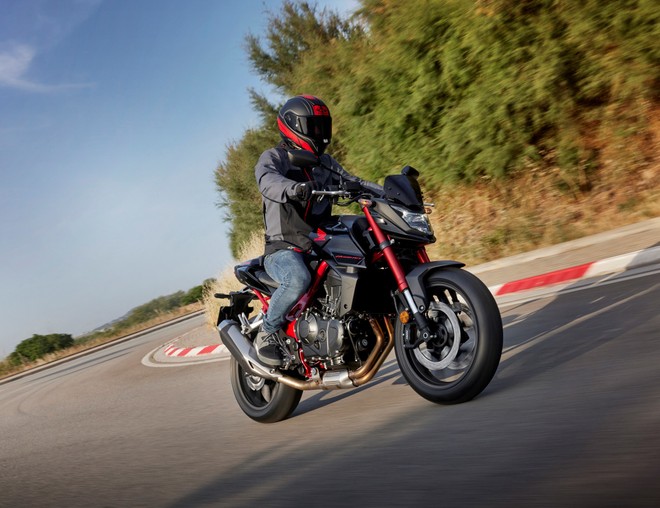 Hondaat Intermot Cologne, took off the veils on the new CB750 Hornet. There was much anticipation for the return of the Hornet, a model that has been a great success in the past. In June we had the opportunity to see the first sketches of the new Japanese naked and, now, we can finally discover all its secrets. Compared to the Hornet of the past, the new model is profoundly differentstarting with the engine.
TWIN ENGINE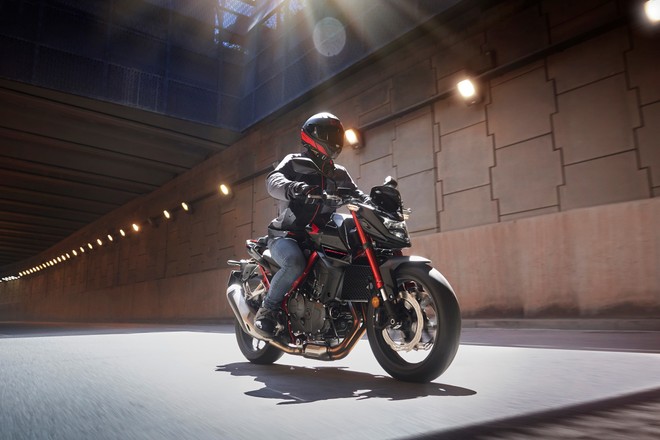 The Japanese manufacturer has decided to put aside the 4-cylinder, preferring to use a twin cylinder. A choice that could make Hornet fans turn up their noses. He thought about explaining the reason for this choice Fuyuki HosokawaTest Project Leader, Honda R&D, Japan.
We knew it was essential to maintain the Hornet's typical nastiness at high revs, but that at the same time, as the next generation Hornet for modern times, we wanted the engine to deliver a really substantial feel of torque, accompanied by the limp sound that makes for immersive also the low and medium revs. Our goal has always been to combine these delivery characteristics with maximum agility and handling, to make every moment of driving, even in the city, really fun and rewarding. To achieve the kind of performance and agility we wanted, we knew we needed to develop an all-new "short stroke" twin-cylinder engine with 270-degree crank. This type of powertrain would not only have developed that kind of delivery at high revs, but also a consistent torque at low and medium revs, ideal for driving both in the urban sections and for dashing out of the corners on the open road.
Coming to the specs of the new powertrain, the 755cc twin is capable of delivering 92 hp (67.5 kW) of maximum power at 9,500 rpm and 75 Nm of maximum torque at 7,250 rpm. Thanks to the weight (with full tank of petrol) of 190 kg, the new Hornet has a power to weight ratio of 2.81 kg / kW. The engine is combined with a 6-speed gearbox with assisted clutch and slipper. There top speed reaches 205 km / h.
Honda declares consumption of 23 km / l according to the WMTC cycle. The tank has a capacity of 15.2 liters (potential range of 340 km). On the electronics front, the new Honda Hornet can count on the Throttle By Wire (TBW) technology it includes 4 driving modes (one of which is fully customizable) that mix 3 levels of HSTC traction control (Honda Selectable Torque Control, integrated with anti-wheelie) and 3 levels of power and engine brake adjustment.
There SPORT mode uses power level 3 (P), engine brake level 1 (EB) and traction control level 1 (T) HSTC to ensure maximum performance with minimum intervention.

There STANDARD mode is an intermediate setting that uses level 2 of all parameters, power (P), engine brake (EB) and traction control (T).

There RAIN mode uses power level 1 (P), engine brake level 2 (EB) and traction control level 3 (T) HSTC.

There USER mode it allows the rider to freely select all three parameters, effectively creating a totally customized Riding Mode.




The new 2-wheeler of the Japanese manufacturer can also count on a new steel frame with diamond structure (weight of 16.6 kg). Then we have a 41mm Showa SFF ‑ BP upside-down fork and Showa shock with ProLink linkage. The braking system is composed at the front of a double 296 mm disc with Nissin 4-piston radial mount calipers. Behind, however, we find a single 240 disc with single-piston caliper.
The front wheel is fitted with a 120 / 70ZR17 tire, while the rear wheel is fitted with a 160/60 ‑ ZR17 tire.
The new Hornet also has a lot of technology. We find, in fact, a 5-inch color display which in addition to offering all the main information on the bike, allows you to use the connectivity of the Honda Smartphone Voice Control system for Android and iOS devices. Lighting is guaranteed by full LED headlights.
PRICE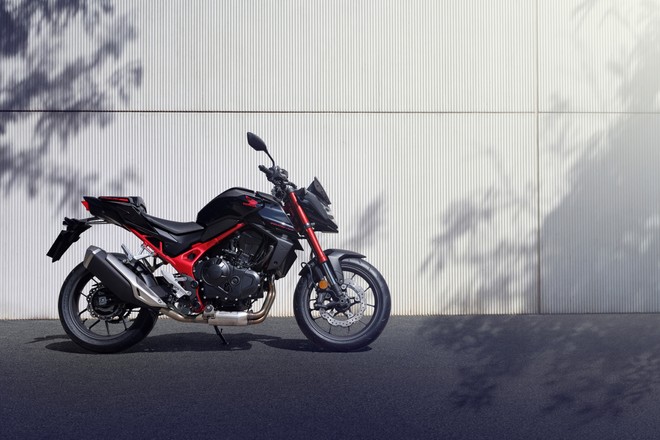 The new Honda CB750 Hornet will be available in the colors:
Pearl Glare White with Metallic Red Flame frame and Red anodized fork

Graphite Black with Metallic Red Flame frame and Red anodized fork

Matte Iridium Gray Metallic

Mat Goldfinch Yellow
The price? In Italy we leave from 7,990 euros. The new Hornet is also available in a drivable version with an A2 license.