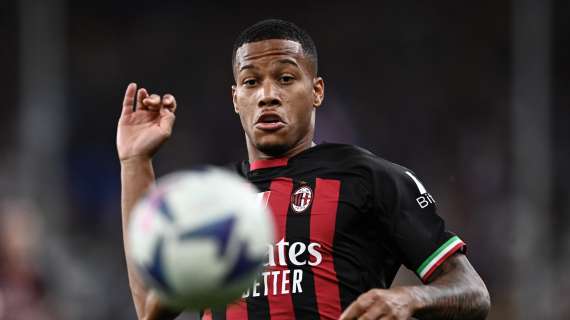 MilanNews.it
© photo by www.imagephotoagency.it
Interviewed by Nieuwsblad, the Belgian newspaper, Aster Vranckx talked about his moment between being called up for the Belgium Under 21 team and arriving at Milan. These are his words:
About the period in Germany: "Things didn't go as expected in Wolfsburg."
If the old coach had stayed …: "I can't really answer, I don't know. In football, things can change quickly. The new manager told me that at the moment he saw better other players and that they would have priority. He also told me that he considered me a good player and all these things, but he couldn't give me the minutes of play I wanted. "
On the transfer to Milan: "I had to look for a solution and I liked the Milan project a lot. They work a lot with the young players and they immediately showed me that they really want to give me possibilities. Although obviously I have to work a lot, that's how it works in a great club. of work ".
On the call-up to the next European Championships: "When I make a decision, I always support it 100%. If it arrives, it arrives. If it doesn't arrive, I will be very sorry. But I won't regret going to Milan, that's for sure."
On the relationship with the other Belgian Milan: "I hang out with Charles a lot, he even gave me some advice. I'm very happy for these guys and my time will come."
On Belgium: "I want to become a Red Devil as soon as possible, but I don't tell myself immediately: within two years I have to be there".
On the role in U21: "I'm still one of the leaders of the group anyway, now that I've been given the captain's armband I have to prove it even more. Not that I'm the kind of person who wants to set the rules off the pitch. times, I was captain, but usually I played with a bigger team and the captain was someone bigger than me. "
var banner = []; var now = Math.round(new Date().getTime() / 1000); var bannerok = new Object(); for (var zona in banner) { bannerok[zona] = new Array(); for (i=0; i < banner[zona].length; i++) { var ok = 1; if (banner[zona][i]['scadenza']>0 && banner[zona][i]['scadenza']<=now) ok = 0; if (banner[zona][i]['partenza']!=0 && banner[zona][i]['partenza']>now) ok = 0; if (typeof azione !== 'undefined' && azione !== null) { if (banner[zona][i]['pagine'] == '!index' && azione == 'index') ok = 0; else if (banner[zona][i]['pagine'] == 'index' && azione != 'index') ok = 0; }
if (ok == 1) bannerok[zona].push(banner[zona][i]); }
bannerok[zona].sort(function() {return 0.5 - Math.random()}); } banner = bannerok; var banner_url="https://net-storage.tcccdn.com"; var banner_path="/storage/milannews.it/banner/" function asyncLoad() { if (azione == 'read' && TCCCookieConsent) { var scripts = [ "https://connect.facebook.net/it_IT/all.js#xfbml=1", ]; (function(array) { for (var i = 0, len = array.length; i < len; i++) { var elem = document.createElement('script'); elem.type="text/javascript"; elem.async = true; elem.src = array[i]; var s = document.getElementsByTagName('script')[0]; s.parentNode.insertBefore(elem, s); } })(scripts); } setTCCCookieConsent(); } if (window.addEventListener) window.addEventListener("load", asyncLoad, false); else if (window.attachEvent) window.attachEvent("onload", asyncLoad); else window.onload = asyncLoad; function resizeStickyContainers() { var stickyFill = document.getElementsByClassName('sticky-fill'); for (i = 0; i < stickyFill.length; ++i) stickyFill[i].style.height = null; for (i = 0; i < stickyFill.length; ++i) { var height = stickyFill[i].parentElement.offsetHeight-stickyFill[i].offsetTop; height = Math.max(height, stickyFill[i].offsetHeight); stickyFill[i].style.height = height+'px'; } } document.addEventListener('DOMContentLoaded', resizeStickyContainers, false); // layout_headjs function utf8_decode(e){for(var n="",r=0;r