A particular job, which becomes fundamental in those moments of extreme delicacy in which everything is at stake. We are talking about the activity of the sharpshooterwhose specialization sees this professional involved in interventions aimed at interrupting a kidnapping or fire actions by a madman or a terrorist against one or more people.
His role requires high skills ranging from a considerable technical competence to an excellent psycho-physical balance, necessary to measure distances, direct the shot in conditions of high tension without ever giving in to physical or mental fatigue. How does the marksman prepare for his job? He explains it to us on IlGiornale.it the major marshal Massimo Vicini who points out that "The possession of certain requisites combined with an excellent physical preparation are fundamental".
Let's start with a basic distinction. What is the difference between the Police Sniper and the Military Sniper?
"The two tasks certainly have in common the bases that concern the use and use of the precision weapon supplied, but the different uses require different priorities, responsibilities and risks. The Police Sniper generally operates in an urban context where there are numerous civilians to be safeguarded. The Military Sniper often operates in a theater of war on opposing sides. Therefore running greater risks ".
What are the activities that a sharpshooter does daily to keep fit?
"Excellent physical preparation and the possession of special requirements are required. Surely the Military Sniper may be required to have greater physical prowess, given the need to infiltrate a hostile environment, even traveling long distances, also transporting the necessary sustenance for a medium-long period of stay ".
How much endurance can it take in terms of hours during an intervention? How far can you go?
"The first markup asked of the selected shooter is to observe his own shooting sector, communicating or engaging as soon as possible any identified threat. This service requires physical and mental endurance which is increased through training. The Police Sniper, in order to ensure maximum efficiency, is more likely to be replaced after an average long service period of 8/10 hours per day. The Military Sniper, in consideration of the place of employment (operating theater often infiltrated into enemy territory), can rarely receive the change on the spot for tactical / operational reasons. Therefore its use in the place of observation can have longer durations ".
How important is the "weight" of responsibility during an intervention? Do you feel it? Or do you just think about acting at that moment?
"The carabiniere, upon enrollment, is subjected to psycho-aptitude examinations in order to verify his suitability. The same, from the moment of his enlistment, is aware of his responsibilities living with them. Similarly, during an operation, he must manage his emotional reactions in order to remain lucid. The selected shooter undergoes a further medical and psycho-aptitude examination to ascertain their specific suitability to perform this particular service. These selections, very severe, have the purpose of identifying a whole series of character peculiarities that are badly reconciled with the assignment (impulsiveness, emotionality and so on). Certainly, the 'weight' of responsibility is felt, but this strengthens the firmness and concentration in carrying out one's service, with the awareness that any mistake can be fatal ".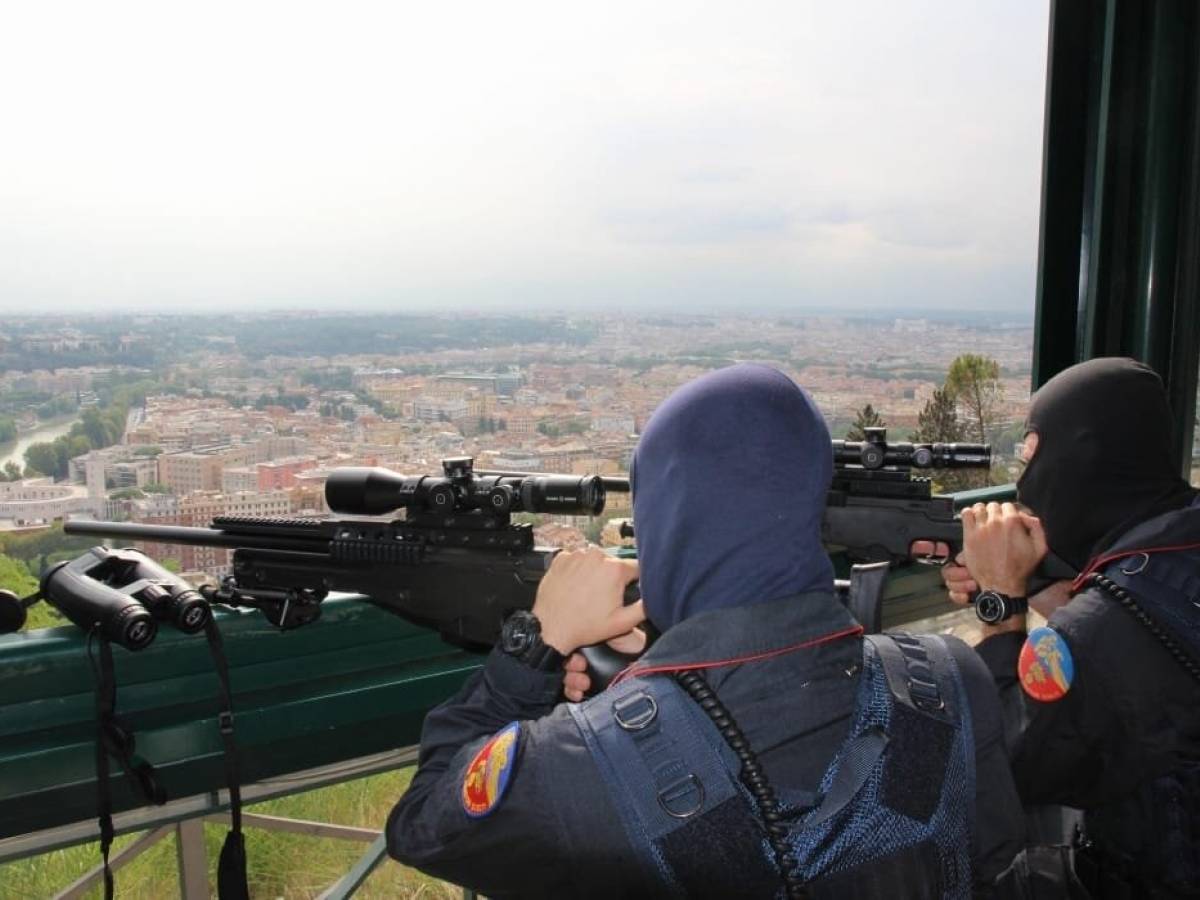 Have you ever thought of dying in those situations?
"In my career, even before that as a sharpshooter, I have carried out many interventions, from the riskiest to the least risky ones, but for both, as for all interventions, I have always measured the risks and the possible different consequences that could arise. I believe that this is the characteristic of all carabinieri who, from the moment of their enlistment, consciously accept the risk that they try to mitigate with training, professionalism, preparation and analysis of variables and various factors ".
At the end of an intervention, how long do you carry with you the memory of what has been done?
"It depends on the type of intervention and the outcome of the latter. The 'Post Traumatic Stress Disorder' is now a fact that has been extensively studied and this alone makes it clear that the memory will remain and that it depends on the individual operator to know how to live with it ".
Why did you choose to undertake this type of business?
"I started this activity because I am passionate about the specific subject and especially about precision shooting with all its variables related to ballistics and the studies that need to be followed".
Does your work affect your private life?
"No. I always try to leave professional issues out of my private and marital life. Indirectly, of course, the long time I dedicate to the service and which I take away from the personal sphere affects me, but it does not weigh on me at all. This is part of the DNA, or so it should be, of all those who dedicate themselves daily to safeguarding the safety and security of others. Having done my job well and professionally on a daily basis, dedicating myself with passion and determination to add these goals, is a reason for me to be very proud and satisfied. A real daily reward, never a burden ".