Story
IE's Francisco Salzillo travels to the United States after winning the 'challenge'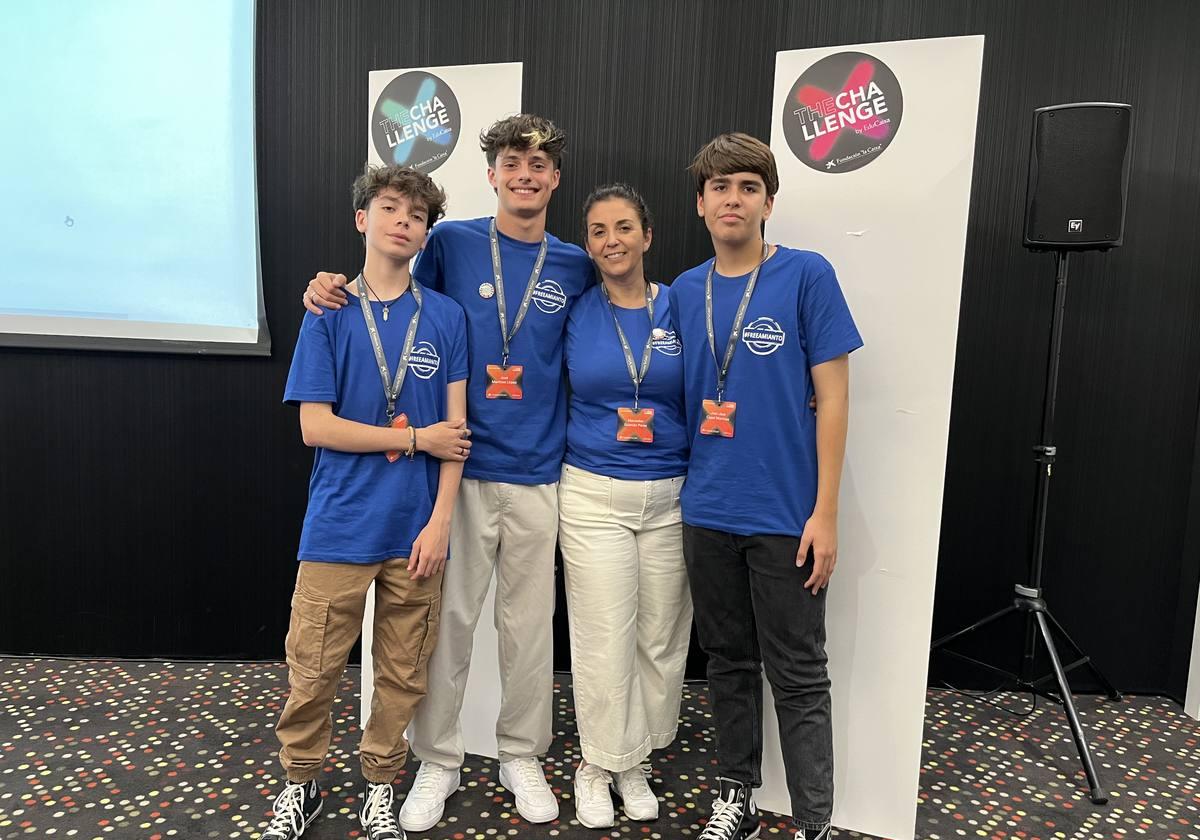 Monday, 22 May 2023, 00:49

Innovation is the wheel that turns the society. Companies and public administrations devote great material and economic efforts to create new technologies, products, systems or processes that, even though they may seem insignificant, are precursors to great scientific, technological, economic or social progress.
To keep the wheel moving, this innovative character must be inculcated in new generations through initiatives that foster their entrepreneurial character and make them protagonists of these changes. This is exactly what 'The Challenge' 2023 Awards, organized by 'La Caixa' Foundation, aims to do. Through Educaixa, the entity's program focused on education, the awards seek to encourage quality learning based on challenges in which students and their teachers develop innovative projects, improve their skills and adapt to real professional contexts Are. The ultimate goal for these young people to be part of the "generation of change that will shake the foundations of the world" is that they stand out from the unit.
The 'Challenge' is a competition for youth in the third and fourth years of the ESO, Basic Vocational Training, Baccalaureate and Intermediate training cycles. Groups made up of three or four students had to carry out a project contributing to one of the 17 Sustainable Development Goals and which was modeled in one of the six available travel programs: Young Entrepreneur, Communication, BeCritical, Emociona, STEAMxChange and big data. , The 103 finalist teams from Spain and Portugal met at the beginning of May at the campus of 'The Challenge' organized by Edukaixa in Barcelona.
For three days, individual teams, together with their teachers, improvised their projects with the help of 'educoaches', young people specializing in one of the available routes. Participating students also received workshops, talks and experiences to train skills, foster relationships between them and share learnings.
Following this meeting, the 'La Caixa' Foundation recently announced 17 winning teams, composed of 64 students and 17 teachers, who will travel to the United States this summer as prizes. Among the winners, the region was present, thanks to the Francisco Salzillo Institute from Alcantarailla, chosen for its '#Freeamianto' project.
a material that affects health

The history of IES Francisco Salzillo begins in 2022 with 'The Challenge'. Language and literature professor Mercedes Guzman, along with other members of the faculty, began last October when she began encouraging her students to launch projects in which they develop communication. and fostering social-emotional skills, scientific research and entrepreneurship, and fostering critical thinking. One of these projects is '#Freeamianto', created by three Fourth ESO students (Enrique López, José Martínez and Juan José Capel), focused on the SDG 'Health and Well-being'.
The choice of this material hazardous to health as the main subject of the project was not an accidental choice. The students thought about it thanks to their previous participation in another European project, which they did together with young people from another city in Italy "It was the same problem we had with that company in Spain," says Mercedes Guzmán. was the one who built it." which also explains how it triggered the students' memory of "a demonstration by parents of the Jacinto Benavente school in which they requested the removal of the ceiling of a sports hall made of asbestos".
From that point on, the students conducted extensive research work in which they studied the health consequences of this material and a survey was conducted by the institute "to find out whether young people knew what asbestos was," the teacher emphasizes. gives. On the other hand, they analyzed the possible solutions available and the members of society with whom they could ally themselves to eradicate the problem. In this sense, he had videoconferencing with Italian students with whom he had previously collaborated to learn about their experience with an asbestos removal company, and he also had meetings with members of the Sewer City Council's environmental department. met with other works. All this information was clearly and concisely recorded on a web page and summarized in a one and a half minute video.
an unexpected prize

After going through the 'Challenge', where she presented '#Freeamianto' in front of various experts, all she had to do was wait for the jury's decision, which has been "incredible" for Mercedes Guzmán. «In the Barcelona campus, 103 projects have participated which have great strengths. There are many very original ideas and you don't expect yours to be selected. The students were in a cloud as they have worked hard and this is a great reward", he highlighted.
Although the heroes of the victory are these young people, this award also confirms that the center is on the right track. In the face of classic memorization, IES Francisco Salzillo has promoted a new methodology in several subjects that integrates project-based learning. This new way of consolidating knowledge is important to Mercedes Guzmán, who values ​​it as "more important education". They absorb concepts and unconsciously develop a range of skills, such as teamwork or related material, for example, that they will need both in high school and university, or even when they have a job. The whole process has been very enriching for me."
Presentation at the United Nations
The efforts of these three students and their teacher will be rewarded this summer. Four of them, along with the other 16 winning teams from centers in Spain and Portugal, will travel to the United States for a training stay in which they will get to know some of the most prestigious universities in New York and Boston, such as the Massachusetts Institute of Technology. Technology, Yale and Columbia. Although it already sounds interesting, these people from Alcantarailla will experience an even more special moment: they will have to present their project at the United Nations Headquarters.
This content is exclusive to subscribers
Enjoy unlimited access and exclusive benefits
Already a subscriber? log in