Rossella DiLucca came to the big screen, directed by Paolo Sorrentinoin the acclaimed film It was the hand of God. Now, he brings Marilyn Monroe to the theater in the successful show Marilyn – Secrets of a borderline from Antimo Buonanno. The actress embarks on a dramatized journey that undresses Marilyn Monroe in the purest sense of the term and brings out her frailties and weaknesses, revealing a person's desire to get out of the trap of stardom and show first the little girl and then the woman, whose existence, was absolutely devastating. Less diva and more woman whose soul was of little interest so as to be worth less than a kiss in Hollywood.
Interview with Rossella Di Lucca: the actress talks about Marilyn – Secrets of a borderline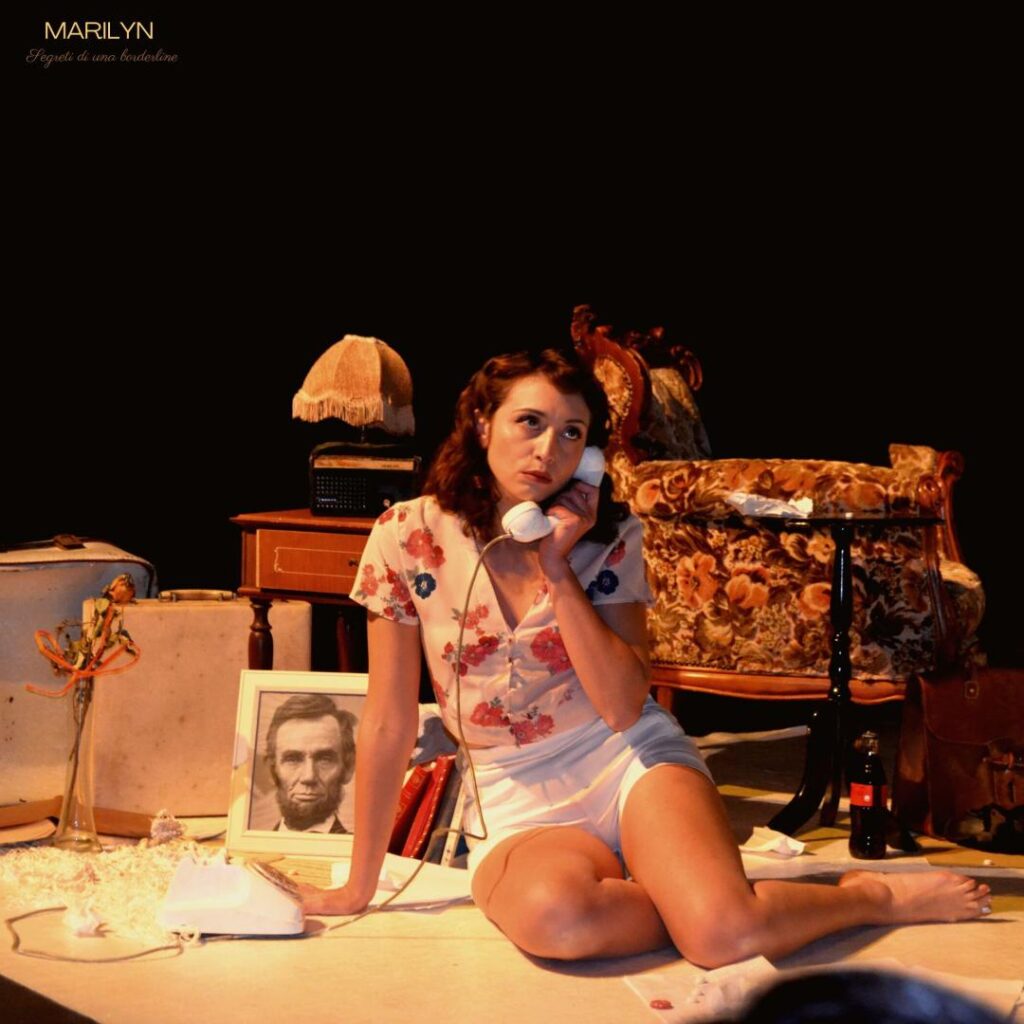 Welcome, Rossella. How did the play Marilyn – Secrets of a borderline that you recently staged come about?
The show was born, years ago, from an idea of ​​Antimo Buonanno, the author of the screenplay. When he offered me the role, I accepted without second thoughts. It was a challenge, a character like Marilyn is not easy to stage but today after some time I am convinced that accepting the challenge was one of the best things I could do as an actress.
How did you document yourself to tell Norma/Marilyn in the best way?
Much has been written about Marilyn's secret story and in the last year intimate news has had more prominence thanks to the large platforms.
I started from reading many of his biographies, personal manuscripts and pages written by others. Then I studied his character in front of the camera, through his films and interviews. But the most creative and interesting side was undoubtedly imagining her out of her spotlight, in her intimacy, getting to know her drama as a woman and artist.
What challenge does this represent for you?
Difficult but interesting. A show that always gives me and surprises me every time I bring it on stage.
A world is hidden behind this poignant woman. But what fascinates you about an icon like Marilyn and an incredible human being like Norma?
Marilyn is a fascinating and controversial myth, the aura of mystery that has been created around her death is still a cold case today. But what fascinates me goes beyond the myth, it's what makes a legendary icon like her so distant and perfect, a deeply human woman. Fragile, stubborn and admiration-seeking. Marilyn, in an interview, says "we must always tell all little girls that they are beautiful" as if it were a recommendation for herself, for the Norma child who, on the contrary, has been deprived of everything. Well, perhaps this fascinates me about her, beyond the conflict between a real person and a mask, a denied childhood that however her life has given back to her making her become a great Hollywood star.
Did you get to watch Andrew Dominik's Blonde with Ana de Armas? What did you think of this project?
I saw the film 15 minutes after its release, I couldn't resist. It struck me a lot, seeing a Marilyn that I already knew and that I had already staged translated into images moved me. I shuddered at every step of her life. I think Ana de Armas was enchanting and before her, also Michelle Williams in "A week with Marilyn".
Rossella, what are the stories you want to tell to give women a voice and courage?
As a woman and actress I seek and like to play female characters, being a woman brings with it many facets and as an interpreter it is very stimulating.
In December and January, I will be on stage with texts and women written by Fortunato Calvino, a playwright of great sensitivity, who manages to perfectly translate the concept of female courage. The first will be "The denied resistance" set during the 4 days of Naples and tells the courage of women and femminielli who fought for freedom; the other is "Stories of ordinary violence", a story of domestic violence, and of a love that often turns into a cage, set in the 60s, but a highly topical issue that still shakes society today.
What are the new awarenesses that your job gives you, every day?
The awareness that matures day by day in the very life of each person and that perhaps we actors know a little better because sometimes it is life itself that reveals itself on stage. You recognize it between the jokes and the plots, between the interweaving of the characters, between the lights of the stage or the room, which automatically ignite the emotions and humanity of each of us.