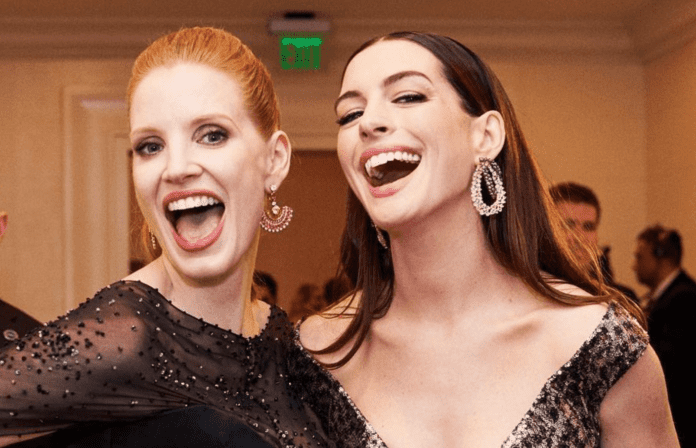 Shooting will begin shortly, precisely on 25 May Mothers' Instinctthe announced thriller directed by Olivier Masset-Depasse which will star the two Oscar-winning actresses Jessica Chastain And Anne Hathaway.
English-language remake of the acclaimed Belgian film Duellesdirected in 2018 by Masset-Depasse (with a record of 9 Magritte awards!), Mothers' Instinct is based on the novel Derrière la Haine by Barbara Abel. Set in the 1960s, the film follows two best friends and neighbors Alice (Chastain) and Celine (Hathaway) as they struggle with their idyllic suburban life, with manicured lawns, successful husbands and children they have the same age. The perfect harmony of their lives is suddenly upset by a tragic accident. The sense of guilt, suspicion and paranoia combine to dissolve the bond between the two and start a psychological battle that will test their maternal instincts, showing their darker side.
READ ALSO: Anne Hathaway hates her name: "Call me what you like, but not Anne!"
The script for the remake is entrusted to Sarah Conradtwhile the Neonthe Oscar-winning distribution company Parasite, has grabbed US rights. Hathaway and Chastain will produce, along with Kelly Carmichael for the Freckle Films label.
Anne Hathaway will soon be present at the next Cannes Film Festival with the film in Official Competition Armageddon Time by James Gray, in which he stars opposite Anthony Hopkins and Jeremy Strong. After receiving her first Oscar for portraying her in Tammy Faye's eyes, Jessica Chastain instead she will soon be engaged alongside Ralph Fiennes in the drama The Forgivenas well as in the series George & Tammy for Paramount + and in the Netflix movie The Good Nurse with Eddie Redmayne.