"It all happened very quickly. I didn't know a transfer to Chelsea was possible until 6 hours before the end of the transfer market."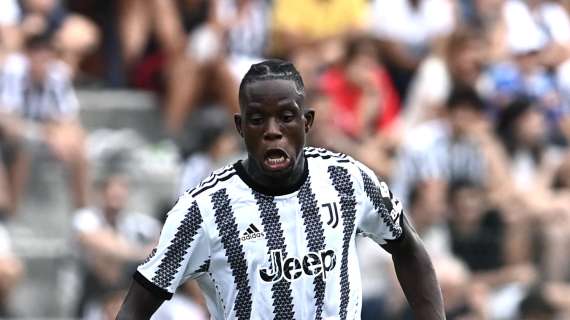 TuttoNapoli.net
© photo by www.imagephotoagency.it
The Swiss midfielder Denis Zakariafrom the retirement of his national team, explains his passage from Juve to Chelsea after just 6 months in Juventus: "It all happened very quickly. I didn't know that a transfer to Chelsea was possible until 6 hours before the end of the transfer market. I packed my bags and waited for the contracts to be signed. Then I made the medical examinations in Turin and they were successful. The Liverpool hypothesis? I heard it from my agent, but in the end it was Chelsea. I think I'll be happier in England than in Turin".
Zakaria tries to analyze the reasons for the poor feeling with Juventus: "Difficult to say. Maybe the type of football wasn't right for me. The team played very low, I'm a player who needs a lot of space for my races. England might be more suitable for me.
Merry? He is a good person, I can say for sure. I spoke little with him. Maybe the team didn't play very well, which is a shame. With that rose they can do much better".
var banner = {"150x60":[{"idbanner":"67","width":150,"height":60,"crop":"1","async":"0","uri":"http:\/\/www.bbquattropalazzi.it","embed":"","img1":"1266588835.gif","partenza":1268175600,"scadenza":1701385200,"pagine":""},{"idbanner":"173","width":150,"height":60,"crop":"1","async":"0","uri":"https:\/\/www.facebook.com\/farmacia.santelenaafragola?fref=ts","embed":"","img1":"2328d1ca61020e3ce2c3ebccb65bf2c1.gif","partenza":-62169986996,"scadenza":1672527599,"pagine":""},{"idbanner":"177","width":150,"height":60,"crop":"1","async":"0","uri":"https:\/\/www.facebook.com\/francescoemilio.borrelli","embed":"","img1":"c6d9d446b7970c7ccf8a91d4f8164241.jpg","partenza":-62169986996,"scadenza":1664139601,"pagine":""}],"336x40_1":[{"idbanner":"175","width":336,"height":40,"crop":"1","async":"0","uri":"https:\/\/www.facebook.com\/francescoemilio.borrelli","embed":"","img1":"52bc60df5deb3dd600244a1a0fb73329.jpg","partenza":-62169986996,"scadenza":1664139600,"pagine":"index"},{"idbanner":"176","width":336,"height":40,"crop":"1","async":"0","uri":"https:\/\/www.facebook.com\/francescoemilio.borrelli","embed":"","img1":"52bc60df5deb3dd600244a1a0fb73329.jpg","partenza":-62169986996,"scadenza":1664139601,"pagine":"!index"}]}; var now = Math.round(new Date().getTime() / 1000); var bannerok = new Object(); for (var zona in banner) { bannerok[zona] = new Array(); for (i=0; i < banner[zona].length; i++) { var ok = 1; if (banner[zona][i]['scadenza']>0 && banner[zona][i]['scadenza']<=now) ok = 0; if (banner[zona][i]['partenza']!=0 && banner[zona][i]['partenza']>now) ok = 0; if (typeof azione !== 'undefined' && azione !== null) { if (banner[zona][i]['pagine'] == '!index' && azione == 'index') ok = 0; else if (banner[zona][i]['pagine'] == 'index' && azione != 'index') ok = 0; }
if (ok == 1) bannerok[zona].push(banner[zona][i]); }
bannerok[zona].sort(function() {return 0.5 - Math.random()}); } banner = bannerok; var banner_url="https://net-storage.tcccdn.com"; var banner_path="/storage/tuttonapoli.net/banner/" function asyncLoad() { if (azione == 'read' && TCCCookieConsent) { var scripts = [ "https://connect.facebook.net/it_IT/all.js#xfbml=1", ]; (function(array) { for (var i = 0, len = array.length; i < len; i++) { var elem = document.createElement('script'); elem.type="text/javascript"; elem.async = true; elem.src = array[i]; var s = document.getElementsByTagName('script')[0]; s.parentNode.insertBefore(elem, s); } })(scripts); } setTCCCookieConsent(); } if (window.addEventListener) window.addEventListener("load", asyncLoad, false); else if (window.attachEvent) window.attachEvent("onload", asyncLoad); else window.onload = asyncLoad; function resizeStickyContainers() { var stickyFill = document.getElementsByClassName('sticky-fill'); for (i = 0; i < stickyFill.length; ++i) stickyFill[i].style.height = null; for (i = 0; i < stickyFill.length; ++i) { var height = stickyFill[i].parentElement.offsetHeight-stickyFill[i].offsetTop; height = Math.max(height, stickyFill[i].offsetHeight); stickyFill[i].style.height = height+'px'; } } document.addEventListener('DOMContentLoaded', resizeStickyContainers, false); // layout_headjs function utf8_decode(e){for(var n="",r=0;r