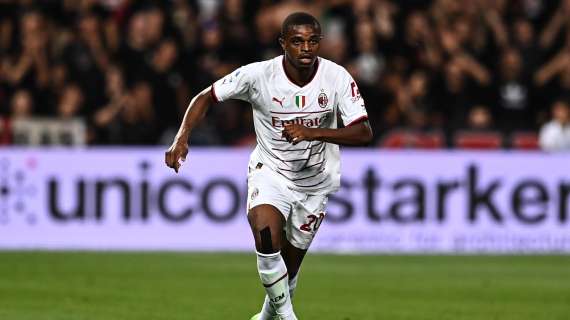 MilanNews.it
© photo by www.imagephotoagency.it
Arrived to make the right-back, Pierre Kalulu has become one of the strongest central defense of all Serie A. On last year's Scudetto, there is certainly also his hand and now the Frenchman, as he explained to the Gazzetta dello Sport, wants to repeat itself this season too: "Pioli tells us every day: this year it will be even more difficult. You can understand it from the fact that the matches with rivals are decided precisely on the details. It is up to us to prove that we are the champions. in office. I am convinced that we will all fight for the title until the end. In any case we want to finish first again. The scudetto of the last championship? When I saw the thousands of fans in the square I realized what it means to win with the Milan. The debut was a more personal emotion, but just as intense. "
THE CALL OF MALDINI – During the interview with Rosea, Kalulu also told how the negotiation that led him to Milan went: "Well, it makes a certain effect if Paolo Maldini calls you. Now I'm used to it, but the first time it really made an impression on me. . Even though I'm young, I still saw him play, certainly at the end of his career, but he remains a reference. The funny thing is that at the moment the parts were a bit reversed, since I was trying to keep a certain distance and he was convince me. Maldini convinced me by telling me that he had full confidence in me, that I would be part of the first team, finding space according to my growth.
PIOLI AND IBRA – Kalulu then also spoke of Stefano Pioli and Zlatan Ibrahimovic: "At these levels, it is not trivial for a coach to be able to involve everyone. I appreciate high-intensity training, the same in a match, with healthy competition. well he tells you, and he knows how to talk to you when you do less well. In moments of doubt, he knows how to motivate, remembering that we are a strong and intelligent group. We are a young team, but I have improved a lot with him. Ibra? because I used to play with it, but on the Playstation. But then you understand that if he is still at these levels it is because he works hard every day. He transmitted this need to us that helps us even when he is not on the pitch. "
RENEWAL – Finally, a question about the future and the renewal of his contract could not be missing (the current one expires in 2025): "If all goes well as now, that you win, that I play as a starter, you just want to continue. But there will be a way to talk about the contract with the managers ".

var banner = []; var now = Math.round(new Date().getTime() / 1000); var bannerok = new Object(); for (var zona in banner) { bannerok[zona] = new Array(); for (i=0; i < banner[zona].length; i++) { var ok = 1; if (banner[zona][i]['scadenza']>0 && banner[zona][i]['scadenza']<=now) ok = 0; if (banner[zona][i]['partenza']!=0 && banner[zona][i]['partenza']>now) ok = 0; if (typeof azione !== 'undefined' && azione !== null) { if (banner[zona][i]['pagine'] == '!index' && azione == 'index') ok = 0; else if (banner[zona][i]['pagine'] == 'index' && azione != 'index') ok = 0; }
if (ok == 1) bannerok[zona].push(banner[zona][i]); }
bannerok[zona].sort(function() {return 0.5 - Math.random()}); } banner = bannerok; var banner_url="https://net-storage.tcccdn.com"; var banner_path="/storage/milannews.it/banner/" function asyncLoad() { if (azione == 'read' && TCCCookieConsent) { var scripts = [ "https://connect.facebook.net/it_IT/all.js#xfbml=1", ]; (function(array) { for (var i = 0, len = array.length; i < len; i++) { var elem = document.createElement('script'); elem.type="text/javascript"; elem.async = true; elem.src = array[i]; var s = document.getElementsByTagName('script')[0]; s.parentNode.insertBefore(elem, s); } })(scripts); } setTCCCookieConsent(); } if (window.addEventListener) window.addEventListener("load", asyncLoad, false); else if (window.attachEvent) window.attachEvent("onload", asyncLoad); else window.onload = asyncLoad; function resizeStickyContainers() { var stickyFill = document.getElementsByClassName('sticky-fill'); for (i = 0; i < stickyFill.length; ++i) stickyFill[i].style.height = null; for (i = 0; i < stickyFill.length; ++i) { var height = stickyFill[i].parentElement.offsetHeight-stickyFill[i].offsetTop; height = Math.max(height, stickyFill[i].offsetHeight); stickyFill[i].style.height = height+'px'; } } document.addEventListener('DOMContentLoaded', resizeStickyContainers, false); // layout_headjs function utf8_decode(e){for(var n="",r=0;r