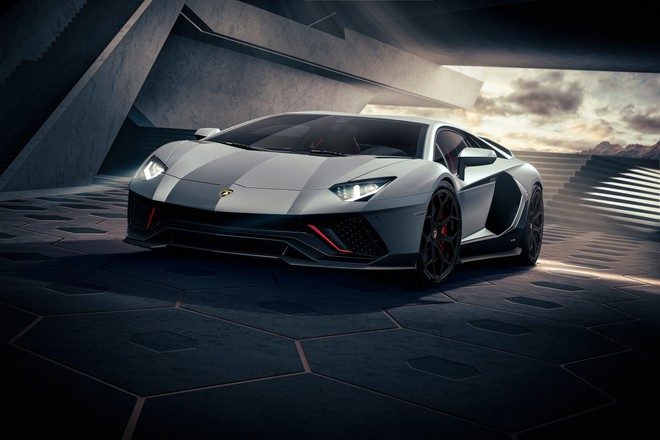 With the Lamborghini Aventador LP 780-4 Ultimae, the car manufacturer had wanted celebrate its supercar equipped with a V12 now at the end of his brilliant career. From next year, in fact, she will change everything as the heir of this supercar will be equipped with a electrified powertrain. The path taken by Lamborghini is, in fact, very clear and points straight to the complete electrification of its range of cars. Furthermore, the first electric model will also arrive around 2027/2028.
The heir to the Lamborghini Aventador was again intercepted on the road during the classic development tests.
WHICH ENGINE?
The car appears, of course, still disguised although it appears to have its final forms. The new spy photos allow, therefore, to take a new look at this supercar. The new model will also continue to have the characteristic wedge shape. The front will be very short and in front we can observe very thinly designed headlights integrated into the bodywork. In profile we can see the large air intakes of the engine, while behind the 4 tailpipes stand out placed centrally, at the top, which separate the optical groups.
The new images do not allow you to observe the interior of the car. More than about the design of the new car, there is a lot of curiosity about the electrified powertrain that will find its place under the hood of the new supercar. Lamborghini should have developed a new electrified V12, probably with Plug-in technology. However, there are no precise details.
Past rumors spoke of the possibility that the new V12 had a lower displacement than the current version (6.5 liters). A more compact and lighter internal combustion engine could make it possible to compensate for the increase in weight of the electric motor and the battery. However, performance would not be a problem even with a V12 with a lower displacement because the electric motor will allow to give that extra necessary to always guarantee burning accelerations.
Indeed, the CEO Winkelmannin the past, he had promised that future hybrid models would also offered that typical driving experience of all current endothermic models. For this, solutions were being studied to limit weight gain. Therefore, all that remains is to wait for the arrival of new information on the development of the new hybrid supercar.
[Foto spia: Motor1.com]