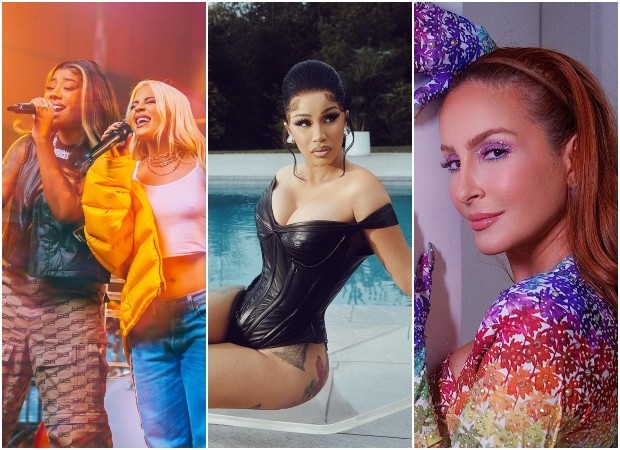 ludmilla and Luisa Sonza are together in Lud Session. The duo joined forces in Breakfast, All Because You Lied, Cliff and Role.
Luan Santana is back with the project Luan City Alameda Bruna Santana. The album's inspiration is the sister of the country singer, who gives the work its name. Listen here!
Claudia Leitte launched the first part of the project Live at Prainha da Claudinha. "The consumption of music and almost everything today is very fast, and that on the internet is even more frenetic. That's why we chose to deliver the album in stages, precisely so that each track and each special moment of this show is perceived and understood by the public", said the singer.
DJ Zulu launched the partnership moves with Pokah and MC GW. "She is a very dear artist and I respect a lot and I am very honored to have her participation in my first EP. The song is very angry and still has the participation of my partner MC GW, who gave the final touch to make general dance!", said the DJ. Check out!
It was always pagoda it's the new album Attitude 67. With fourteen incredible tracks that talk about love, infidelity, second chances and fun, the album features partnerships with Mumuzinho, Ferrugem, Matheus Fernandes and Menos É Mais. Listen here!
MORE RELEASES
Cardi B, Kanye West and Lil Durk joined forces in partnership Hot Shit (listen up); Juliette launched baby (check out); Ivete Sangalo released the EP Monkey Sessions (here); For Purpose releases the EP Meet 2 (listen now); Zeeba launched Your Yes But No with Pedro Calais and Mariana Nolasco (check out); Roberta Campos released the single Garibaldi with Diego Ojeda (listen up); Gaab released the EP World Pt.1 (here); Kevin O Chris released exit 7 (check out).
Mad Dogz joined forces with MC Danny and Jerry Smith in sit go (here); Pixote released the third part of the project Pixote House Music (check out); Duel it's the new single from John Blanc and He Indian (listen up); Haikaiss launched the INTIMIDATED in partnership with UCLAN (listen now); Day and Lara launched two singles with Clayton and Romario (here); the rap trio 3030 released the single Expectations (here).
Felipe Amorim, DJ Lucas Beat and Ventura teamed up on the remix of in the little ear (here); moon France released his solo debut album A (check out); Ícaro & Gilmar released the third part of the project Live in Campo Grande (listen up); Sandrão RZO launched From Grid to Freedom with Henrique Fogaça and DJ Company (check out); to stay with you is the new project Lito do Brasil (listen now); Stu and Marii Batista celebrated love in toast to us (here).