The presenter returns to the Aeolian Islands to visit Vulcano, the closest to Sicily.
Saturday 13 August airs on Rai 1 a new episode of Blue Line. On every trip Donatella Bianchi is flanked by Fabio Gallo. The appointment is as usual at 14:00, at the end of the news.
Last week the presenter left from Maratea until you get to Praia a Mare, from Basilicata to Calabria. Today he goes on Aeolian Islandsdiscovering Vulcano.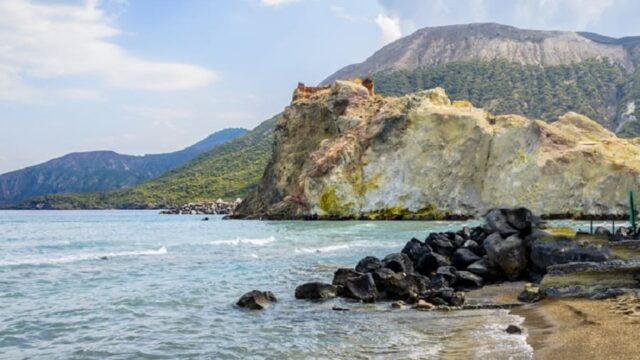 Blue Line 13 August, Vulcano, Aeolian Islands
In the August 13 episode of Linea Blu, Donatella Bianchi reaches Vulcano. This is the third largest island of the Aeolian Islands and the most close to Sicily. It is in fact about 12 miles from Capo Milazzo and has about 400 inhabitants. The island is formed by four volcanoes: Fossa, Vulcanello, Piano and Lentia.
With its 21 km² it is one land to be discovered. It is a favorite of the enthusiasts of underwater activities thanks to his crystal clear waters. But also the conspicuous variety of marine flora and fauna to admire up close.
The stretch of sea that revolves around the island is still subject to leaks of fluids and gases. These processes, when they occur, give the inhabitants and tourists some suggestive sceneries.
Last May, for example, one was registered consistent emission of gas, composed of sulfurwhich has colored the sea an intense white.
Tourists also have the opportunity to immerse themselves in the Bay of Warm Waters, which is composed of jets of hot water released into the sea. On the eastern side of the beach there is instead the Thermal Pool, which is perpetually fed by volcanic fumaroles.
Linea Blu, monitoring activities, gastronomic traditions
The whole volcano apparatus of the island is constantly monitored by INGV experts, National Institute of Geophysics and Volcanology. The Institute supervises thevolcanic and seismic activity of the island for ensure safety of wet people, tourists, natives.
During her trip to Vulcano Donatella Bianchi also dedicates space to culture and gastronomic traditions. Among the typical products of the Aeolian island are the Canestratohard sheep cheese and the ricotta from Vulcano. Both are produced according to the ancient tradition. The first typical is instead represented by Spaghetti alla Vulcanaramade with tomatoes, basil, anchovies, garlic and breadcrumbs.
This week Fabio Gallo it is found at Portopalo of Capo Passeroin the province of Syracuse. He gets on board a fishing boat to show viewers how the purse seine fishing for blue fish with lamparas. The activity takes place from dusk to dawn. Next to him one of the oldest Sicilian fishing families.