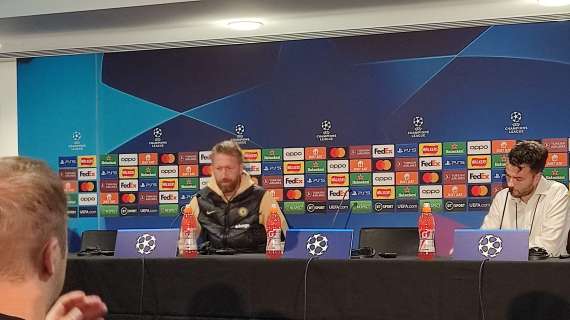 MilanNews.it
The Chelsea coach Graham Potter, from the press room of Stamford Bridge, presents the match against Milan. Follow the live text on Milannews.it
On trying to win at home: "We play with a different team, a phenomenal team, every match is different from the one before. We have to try to get points, it's important to win home games but we play against one of the best teams, it must be a good atmosphere. at the stadium, we are really excited.
Will Edouard Mendy be able to return to the squad? "Mendy has been training for days, he will be called up. We need competition in every role. He had some pain in his side and others had problems, but they all trained and I can say that they are fine even if they are not at their best. ".
On the Chelsea project: "The owners are very ambitious, they are trying to grow the team and take the club as high as possible."
Su Nkunku: "I'm not talking about players from other clubs."
On Kante: "My priority is to bring him to his maximum, we don't have many players like him in world football, and that's my priority."
On Cristiano Ronaldo at Chelsea: "You can ask all day about the other players, but I'm not talking about them. I'm only talking about our players."
On the alternation of goalkeepers: "If you look at the matches it's really a crazy calendar, I'm in no hurry to define a goalkeeper rather than another".
On Koulibaly: "I was impressed by him, by his personality. He understands that he had to wait a while to play. He trains well, he comes from a team where he was very confident but things in the Premier League are different. Incredible player." .
What have you learned from the first Champions League match? "There is a difference between playing at home and away, it was a bit strange period, but I enjoyed it. We have to play to the maximum otherwise it becomes difficult."
What do you think of Leao? "I am really surprised in a positive way by what he has done, he makes a difference in attack with goals and assists, congratulations, he is a top player. Then what he will be in the future I don't know but he is playing really well with Milan. He has the skills and the talent of being able to play well in the Premier League too ".

On Milan and Giroud: "They have an idea of ​​how to attack and defend themselves, they play really well. Giroud knows him well here, he uses his strength and his qualities. I want to play this game and we want to try to get the best result." .
Potter's lecture ends
var banner = []; var now = Math.round(new Date().getTime() / 1000); var bannerok = new Object(); for (var zona in banner) { bannerok[zona] = new Array(); for (i=0; i < banner[zona].length; i++) { var ok = 1; if (banner[zona][i]['scadenza']>0 && banner[zona][i]['scadenza']<=now) ok = 0; if (banner[zona][i]['partenza']!=0 && banner[zona][i]['partenza']>now) ok = 0; if (typeof azione !== 'undefined' && azione !== null) { if (banner[zona][i]['pagine'] == '!index' && azione == 'index') ok = 0; else if (banner[zona][i]['pagine'] == 'index' && azione != 'index') ok = 0; }
if (ok == 1) bannerok[zona].push(banner[zona][i]); }
bannerok[zona].sort(function() {return 0.5 - Math.random()}); } banner = bannerok; var banner_url="https://net-storage.tcccdn.com"; var banner_path="/storage/milannews.it/banner/" function asyncLoad() { if (azione == 'read' && TCCCookieConsent) { var scripts = [ "https://connect.facebook.net/it_IT/all.js#xfbml=1", ]; (function(array) { for (var i = 0, len = array.length; i < len; i++) { var elem = document.createElement('script'); elem.type="text/javascript"; elem.async = true; elem.src = array[i]; var s = document.getElementsByTagName('script')[0]; s.parentNode.insertBefore(elem, s); } })(scripts); } setTCCCookieConsent(); } if (window.addEventListener) window.addEventListener("load", asyncLoad, false); else if (window.attachEvent) window.attachEvent("onload", asyncLoad); else window.onload = asyncLoad; function resizeStickyContainers() { var stickyFill = document.getElementsByClassName('sticky-fill'); for (i = 0; i < stickyFill.length; ++i) stickyFill[i].style.height = null; for (i = 0; i < stickyFill.length; ++i) { var height = stickyFill[i].parentElement.offsetHeight-stickyFill[i].offsetTop; height = Math.max(height, stickyFill[i].offsetHeight); stickyFill[i].style.height = height+'px'; } } document.addEventListener('DOMContentLoaded', resizeStickyContainers, false); // layout_headjs function utf8_decode(e){for(var n="",r=0;r