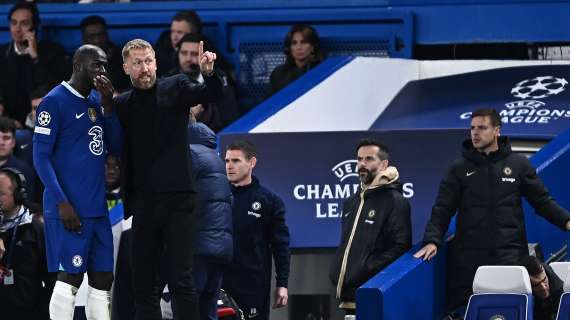 MilanNews.it
© photo by www.imagephotoagency.it
Graham Potter, Chelsea coach, expressed himself as follows in the post Milan press conference:
How do you evaluate the success against Milan?
"The team played really well, we finished with a clean sheet, worked well this week too. Really a good start."
What does such a race mean to you?
"I am the manager of Chelsea, I have to prepare well for the games and we need concentration. Chelsea-Milan is a fantastic game and winning it was even more so. Now we have to recover and be ready for the return leg on Tuesday."
Is James driven by the competition in the national team with Alexander-Arnold?
"He is a spectacular player, he is continually improving. I am happy to work with him, he could play every game in the world and I just have to take him to his best potential. He could become a Chelsea legend, but to do that he has to win."
Fofana's injury?
"We don't know yet, but that's the only negative thing about this evening. There's an o 'of concern, but we have to wait for the exams."
Is there already something different than Tuchel?
"We have worked well and hard, the players have responded well to my methods and I am impressed with how they are playing and the honesty they are working with. The merits are all of them, I am part of the team but I just have to remind them that they can play at the level put in place today ".
The return to San Siro?
"We can't wait. It is an incredible stadium, we have already seen their support here and we will have to be ready because it will be a very complicated match."
var banner = []; var now = Math.round(new Date().getTime() / 1000); var bannerok = new Object(); for (var zona in banner) { bannerok[zona] = new Array(); for (i=0; i < banner[zona].length; i++) { var ok = 1; if (banner[zona][i]['scadenza']>0 && banner[zona][i]['scadenza']<=now) ok = 0; if (banner[zona][i]['partenza']!=0 && banner[zona][i]['partenza']>now) ok = 0; if (typeof azione !== 'undefined' && azione !== null) { if (banner[zona][i]['pagine'] == '!index' && azione == 'index') ok = 0; else if (banner[zona][i]['pagine'] == 'index' && azione != 'index') ok = 0; }
if (ok == 1) bannerok[zona].push(banner[zona][i]); }
bannerok[zona].sort(function() {return 0.5 - Math.random()}); } banner = bannerok; var banner_url="https://net-storage.tcccdn.com"; var banner_path="/storage/milannews.it/banner/" function asyncLoad() { if (azione == 'read' && TCCCookieConsent) { var scripts = [ "https://connect.facebook.net/it_IT/all.js#xfbml=1", ]; (function(array) { for (var i = 0, len = array.length; i < len; i++) { var elem = document.createElement('script'); elem.type="text/javascript"; elem.async = true; elem.src = array[i]; var s = document.getElementsByTagName('script')[0]; s.parentNode.insertBefore(elem, s); } })(scripts); } setTCCCookieConsent(); } if (window.addEventListener) window.addEventListener("load", asyncLoad, false); else if (window.attachEvent) window.attachEvent("onload", asyncLoad); else window.onload = asyncLoad; function resizeStickyContainers() { var stickyFill = document.getElementsByClassName('sticky-fill'); for (i = 0; i < stickyFill.length; ++i) stickyFill[i].style.height = null; for (i = 0; i < stickyFill.length; ++i) { var height = stickyFill[i].parentElement.offsetHeight-stickyFill[i].offsetTop; height = Math.max(height, stickyFill[i].offsetHeight); stickyFill[i].style.height = height+'px'; } } document.addEventListener('DOMContentLoaded', resizeStickyContainers, false); // layout_headjs function utf8_decode(e){for(var n="",r=0;r