Story
Luca lives in Hurlingham. Opinion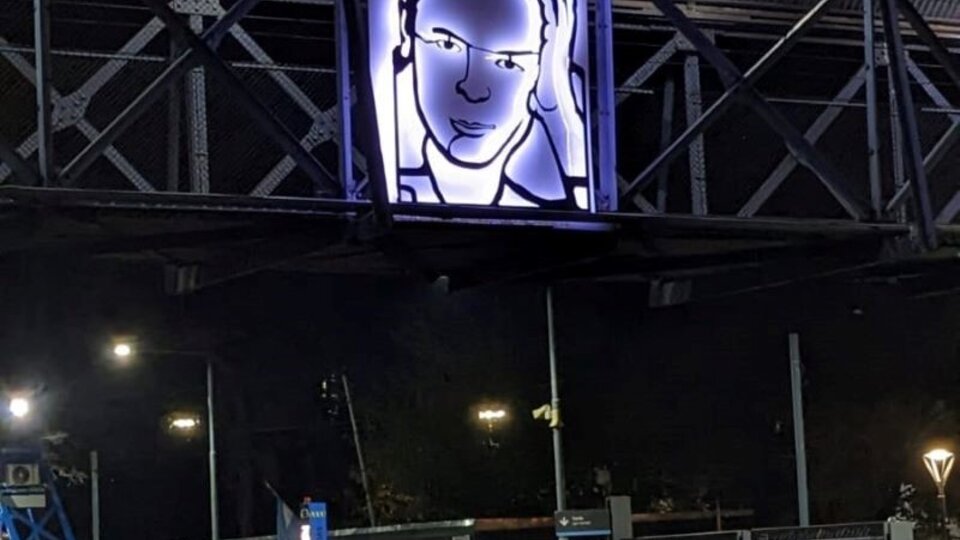 Travel luca prodan: Born in Rome, educated in Scotland, lived in England and found his footing in the slums of the world. In 1980 he ended up in Hurlingham, where the first thing that caught his attention was the British style of the train station, he started building Sumo in the Trasalciera area of ​​Córdoba, returned to Hurlingham, then moved to San Telmo and his busy and At the end of his rebel life, his ashes went to rest in Avellaneda Cemetery.
Although sometimes he spoke as if someone was watching from outside ("Argentinians add oregano to everything"), He didn't feel like a foreigner in these pampas far from the central world from which he came, "Enough! I'm leaving, heading for the door. And later, in a bowling alley, on the corner, to have a gin with the people awake. This is really Argentina", he sang. "Crazy Blonde" and marked the boundaries of the "country" he loved to visit.
On stage, he displayed tremendous magnetism and energy. And away from the lights of the show, the street was where she most liked to hang out. In Harlingham he seemed to be in several places at the same time. He has a bunch of "friends", but the truth is, Luca talked to everyone. In bars, on top of a train, in a corner. I was looking (desperate?) for people to contact, Among his friends, he certainly counted the waiters in bars, the anonymous patrons with whom he sat down to drink and Those ten stray dogs who followed him like lights in the darkness of the society that had left them out.
Always against the current: he sang in English in the midst of the Malvinas War, was bald when wearing a leonine mane as a special condition to be a rocker and He laughed at frivolity, formality and fashion.
His relationship with local rock musicians started off with some sizzle ("Fito Páez is the son of Charly García and Nieto Mestre"), but he later began to rub shoulders with them and became a member of Charli, Spinetta, Páez and Pappo. Became friends with, among many others. ,
Machismo and the Mothers of the Plaza de Mayo
More than 30 years ago, when masculinity was a destructive condition that was still not discussed in Argentine society or carried out through isolated voices that had little resonance, Luca spoke on the subject in an interview Launched Your Strong Position: "Here the man misbehaves with the woman and then the woman leaves him. And then he cries, drinks and sings tango. And it seems to be the last one for me. Treat him right, maniac. And then you're doing well and you don't cry anymore".
He also left his sharp mark on the struggle of The Mothers of the Plaza de Mayo and strongly criticized human rights and Argentine society. When he lived in San Telmo, he loved to visit the Plaza de Mayo at night. His morning walk on December 10, 1987 (a few days before his death) coincided with the Seventh March of Resistance. Luca went to the open newsroom of Mother's newspaper and talked with the organizers of the meeting. That conversation was his last interview.
In issue 38 (January 1988) of the Mothers' newsletter of the Plaza de Mayo, the meeting between the Mothers and Luca was reproduced, in which the composer expressed: "'This march here is a mix. On the one hand I see seriousness, pain, sad mothers. On the other hand those who are seen partying', he clarified. 'I am mad, or others consider me mad, but today I have come here because I am for life'. He talked for a long time, as if he had wanted to say something for a long time, as if he had found someone to say it. 'Cause rockers are selfish, individualistic, they just want to show off, and they don't care about human rights. I am not some crazy rocker who is on drugs. ,I find the struggle of mothers justified, but there is a sense of indifference in Argentine society that scares me. This was the last thing he said. Later, he, with his astonishment and candor, is lost in the march between the songs and the bass drums.
Bands, Pogo and a Big Dance
Luke gets fulfilled on Wednesday, May 17 70 years, In Harlingham, the municipality organized a big festival which included live band, launch of the movie "Luke", by Rodrigo Espina; Shows "Disco, Baby, Disco" by photographer Claudina Pugliese (author of the photobook "1982. Better Talk About Some Things"), which records the beginning band and Installation of a statue of Luca by artist Alejandro Marmo on the railway station bridge (Author of Evita façade in Lok Nirman Bhawan).
The meeting was scheduled at Hurlingham station at 6 pm, but people started arriving much earlier. Luca as Alejandro Sokol – another former sumo who died in 2009 – continues the legality moving to Hurlingham. Like a wound that never closes and that compels us to persuade them to ease the pain of absence.
Amidst an atmosphere of great expectation and joy, there were band flags and two giant flags from Argentina, tattoos proudly displayed, and a very heterogeneous audience, families with young children, youth groups, couples dancing to the song Sumo and lots of white hair. "Today all the young people came from yesterday," joked someone who was with a group of fifty-year-olds.
Luca's different T-shirt designs were visible. "Where did you buy from", was heard in the past. Not everyone gets a shirt. You must have done a lot of charity. And in Lucas's case, Perhaps in tribute that is worn as clothes or tattooed on the skin, sumo is more powerful than its gut voice., Perhaps Luca's brutal honesty is being rewarded, his humility, his humanism, his unequivocal message or his simplicity to have a long and hard conversation with someone who stops him on the street or She is surprised to have breakfast at the house where they told her a fan of the band lives.
luca's look
singing, which is called at least 800 people (At the almost certain risk of being reduced to counting by eye), it was taking more color the temperature as the bands moved. first touched City specific orchestra, who made a tasteful version of "Mana En El Abasto", followed by "Escalada Jazzet", "Camera Septica" and a tribute to late night sumo, "Kaya", the group closed out.
One of the most emotional moments was when Luca's installation was discovered on the railway bridge. At eight o'clock the mayor, Juan Zabaleta, the undersecretary of culture, Rody Rodríguez, and the manager of the San Martín line, Luciano Hus, He demonstrated the installation of Luca's face illuminated in blue. After an initial silence, the train tracks illuminated with Luca's sculpture erupted in applause, chants, and camera and cell phone flashes.
past and present
The festivities continued. And it was the turn of the musical finale by Kaya. facial features and clothing joaquin dibbgroup singer, Surprised by his resemblance to the leader of sumo.
"It's Luca!" Compared those who were closest to the stage. In the middle of the railway playeon, a giant pogo was lowered along with the first verse of "La Rubia Tarada".
With the passing of the songs, the temperature of the public was increasing. they danced, songs were sung and someone shouted "Luka Lives", And then another endless round of applause.
Kaya had finished her show. Those who did not leave the place, their feelings remained, songs about Luka and Sumo were repeated, many were looking for a picture with the musicians, tears ran down their cheeks and were repeated. Faces that remember a past long forgotten, Which had now come to the fore. at least for a few hours Past and present merge to celebrate Luca's 70th birthday.
A white flag spray painted black read: "Luca Lives in Hurlingham", And perhaps in that brief phrase is the key to understanding everything that continues to emanate from that Roman lightning bolt that struck Hurlingham on a distant day in 1980. And it was a song, a flag, a musical revolution and, although it was never proposed, it was also a popular idol., All this in a distant land where he found his place in the world and in which he insists on always remembering it in the present.