A few days ago, a photo of Kendall Jenner in a bathing suit was circulated on the network, which was juxtaposed with a portrait of 19-year-old Alyssa Carson – the astronaut who became the youngest person to ever pass all of NASA's tests. The list was to show the absurdity of Kendall's disproportionate popularity compared to Alyssa. However, this approach was opposed by, among others, Maffashion and Maja Bohosiewicz.
Photo of a model and astronaut

Kendall Jenner's body in the aforementioned photo had the unreal proportions of a Barbie doll dreamed up by many women. Alyssa's body was covered with a suit. And although both women have achieved success, only one of them enjoys exorbitant popularity.
– You can check which of the women is more famous and admired all over the world. This situation shows us the disproportionate value that society gives to beauty. While many women struggle daily to occupy male-dominated positions and occupations, society continues to reward vanity and beauty over real skill and intellect. I'm the first one to appreciate female beauty, but how can you stand above the incredibly talented, dedicated and skilled person Ashley is? I feel this is ignorant and extremely detrimental to the progress of the human race, wrote on the Worth Feed website.
We checked what is obvious – Kendall Jenner follows 153 million people on Instagram. Alyssa – only 448 thousand. Both women perform hard and time-consuming work, but such a huge gap in popularity proves that a nice body in the photo and advertising cosmetics has an incomparable advantage over science and important discoveries. It is hard to consider that admiring someone's beauty, photogenicity and selling skills is more promising for the world than discovering it.
Maff and Maja Bohosiewicz in defense of Kendall Jenner

However, some found that the value of these two women or their success was compared, and not the mere popularity of pretty pictures of an attractive woman, which translates into profits of specific companies.
"I see two succesful women, and you? Peace and Love. Hey, what about? So women just right or left? What is this comparing women to each other? So the models are just pretty but stupid? you are not a model, then you have to be a turbo genius? Both are hardworking and both beautiful. Comparing it proves the author's ugly, ugliness from the inside. I don't know what he really sucks, but for me it insults both girls. Not cool.
And more broadly, this photo shows some rush for success, soaring into space – literally and figuratively, because on the left a woman with a perfect body, and on the right an astronaut (soon to be), so great, because both of them are rockets, but let's stop having some pressure into space. For one person, reaching the next ranks at work can be a success, for another getting out of bed and leaving the house! There are no worse or better people. However, it is true that there are nice and ugly people, but inside. You can have flowers inside, or worms and that's about it. I wish you success! " – Natalia Uliasz, an influencer who promotes content related to mindfulness, skin care and sports, wrote on Instagram.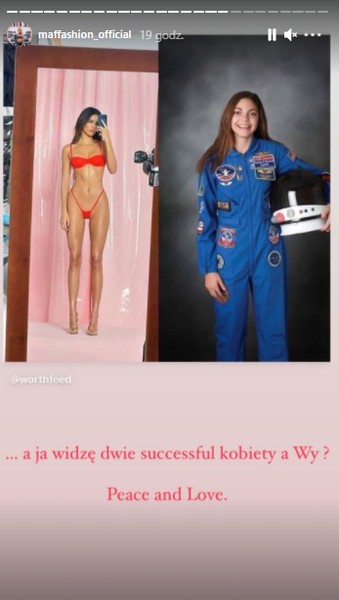 Screen Instagram, originally with Natalia Uliasz / Photo. Instagram

Photo: Ofeminin / Instagram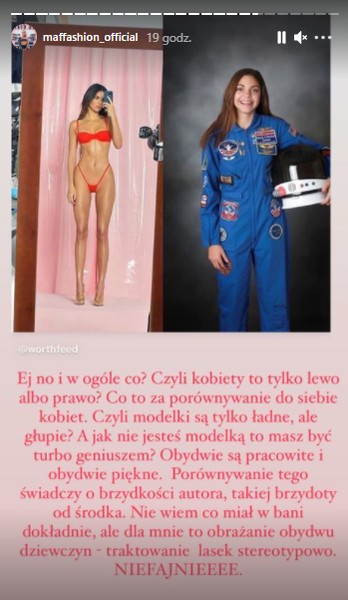 Screen Instagram, originally with Natalia Uliasz / Photo. Instagram

Photo: Ofeminin / Instagram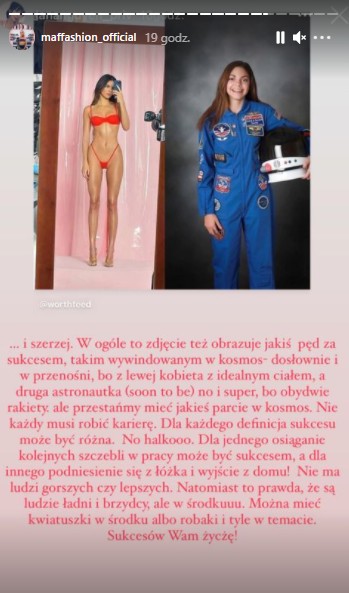 Screen Instagram, originally with Natalia Uliasz / Photo. Instagram

Photo: Ofeminin / Instagram

Her InstaStories were made available by Maja Bohosiewicz and Maffashion.
The value of science, education and breaking down boundaries

It is hard not to agree that everyone has the right to live in their own way and nobody should be judged for their choices. In the online discussion, however, there was no dispute between which success of the two units is "better". Rather, it concerned the disturbing disproportion between recognition (and thus – budget) the world of fashion and beauty and the world of science.
Write to the author: [email protected]