Pictures of the Australian star without make-up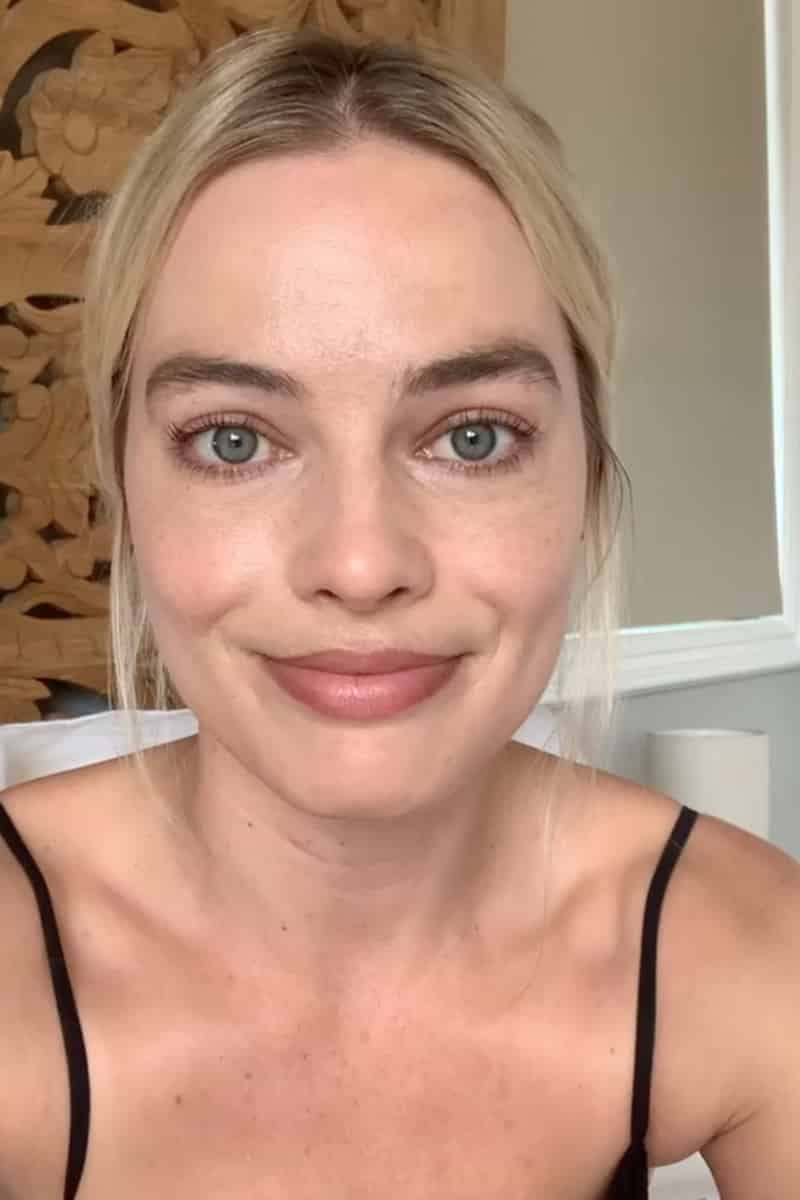 You are here:
Home » Margot Robbie without makeup, that's how it is
How Margot Robbie without makeup? Have you ever wondered? Margot Robbie She always captivates audiences at the cinema with her gorgeous complexion, not to mention the photos that are taken of her at important ceremonies. How many times have you seen her in photos taken at Oscars oa Cannes, while walking the red carpet? When the cameras are off, however, the actress maintains a more minimalist style. Margot Robbie most of the time she chooses a tinted moisturizer, because she likes to let her skin breathe a bit.
This is because due to work she always has to wear various make-up and at least in her free time she wants something that helps her skin stay beautiful. Often Margot Robbie decides to spend days without makeup, if he doesn't have to shoot scenes at the cinema or appear at important events. She doesn't particularly like the makeup she is forced to wear when she has to go on stage, as she said in an interview with Vogue. Speaking of some colleagues she said: "they just put on makeup again and again," the actress told the magazine.
Margot Robbie without makeup? The actress says hydration and sleep are key to maintaining a clear complexion
Growing up Margot Robbie she has become more confident in herself and her skin and relies less on makeup to accentuate her natural features. If she could give her younger self one piece of advice, she would say "for sure wear less makeup", as she said in the interview with Vogue. She explains: "I think it's a question of safety, you always have the mask on. As I've gotten older, I've had more confidence in wearing less. Now I'll happily go to dinner wearing a tinted moisturizer."
Margot Robbie has a routine for keeping her skin healthy, rather than focusing on keeping it safe from the inevitable breakouts. The Australian actress in an interview with Telegraph she said to keep skin healthy you need to drink plenty of water and get enough sleep. Margot Robbie explains that in this way you can also live without makeup: "it's all the things we've always known: wear SPF, drink plenty of water, get enough sleep. We keep trying all these ways to find a secret recipe for youth… and it's all you knew from the beginning but were trying to find your way around".
Margot Robbie explains that you can go without makeup, but you need to get enough sleep
For Margot Robbie it is important to get enough sleep and drink plenty of water. As she likes to say "it's the simple things that work". She relies heavily on anything that can keep her skin hydrated and less dry. Margot Robbie reveals: "I'm not a big fan of serums because my skin can be quite sensitive and sometimes reacts to them, but I love facial mists"
The actress further explained that she always has a hydrating facial mist in her purse to refresh her skin, especially in the summer. Margot Robbie explains: "why does my skin get so dry. Everything at Aesop smells so good." They are small expedients that allow a Margot Robbie to go without makeup.
The actress does not worry about the skin before photo shoots
Margot Robbie when it comes to photoshoots, she doesn't even worry about her skin anymore. In fact, the actress said a Elle which thanks to Photoshop it is virtually guaranteed that any pimple that appears before the shot will be eliminated with the program. He explains: "I don't even worry anymore. I get scared more during filming."
Margot Robbie told Vogue who would like to always have clean and healthy skin, but it is not always possible due to the amount of make-up that is put on it during production. To work around this problem Margot Robbie Prep her skin by using face and eye masks after taking a shower.
The face masks
Margot Robbie she wears these masks after she dries off, while still naked to buy time and blow-dry her hair. She then decides what to wear for a quiet evening or an event. Once you give her the green light to remove her makeup after a gala or a series of shoots on set, Margot Robbie he will do it right away without thinking about it. This especially happens when he is travelling.
Margot Robbie she loves to go without makeup, but can't always do it: "you have to wear makeup when you go through the airport, annoyingly because there are often paparazzi there. But when I'm on the plane I'm slow to take off my makeup, so I use Johnson & Johnson wipes and then Peter Thomas Roth Complexion Correcting Pads."
After showing you a photo of Margot Robbie without makeup, I'll tell you about her passion for tattoos
Margot Robbie she has numerous tattoos and also loves to get them. The actress gets tattoos and her favorite guinea pigs are her set mates. It seems that she has made more than 50 tattoos, even managing to convince David Ayerthe director of Suicide Squad to have one made by her. The best tattoo of her, however, is the one done to her colleague and friend Cara Delevingne. She tattooed a smiley face under her big toe. Cara Delevingne who has a tattoo on her foot just like a colleague: Emily Ratajkowski's foot tattoo. But it wasn't Emily who did it Margot Robbie.
His favorite tattoo is the one he has harley quinnthe character he plays in Suicide Squad. harley quinn He has a dolphin leaping over a rainbow tattooed on his right hip. A tattoo that has a special meaning, both for yourself and for the character you played. Margot Robbie consider this dolphin jumping on a rainbow sexy.
More curiosities about Margot Robbie
Have you ever seen Margot Robbie without makeup? Don't you still find her beautiful and sexy? After reading about Margot Robbie without makeupyou can also read these interesting bits about the film:
Finally I remind you that, to stay up to date on the latest news regarding movie, TV series, music And cartoonsyou can follow the blog on social networks. It's not just movies has a Telegram channel and pages on Facebook, Instagram and Twitter.
You liked this article about Margot Robbie without makeup? Find similar articles in the blog section they are not just movies dedicated to curiosity. I remind you that if you want to help the blog you can buy this excellent anti-wrinkle cream by clicking on the link Amazon down. In this way you will help pay for the expenses of the blog.
Luca Miglietta
Anti wrinkle cream for men – women – sponsored