L'Hulk of the Marvel Cinematic Universe offers some of its strength to Jeremy Renner after the serious accident with the snow plow on New Year's Day.
Posting on his Instagram Stories, Mark Ruffalo shared a thank you message for her co-star from Avengers: Endgame in which he asked fans to pray for Renner's recovery. Ruffalo's message accompanied a news story about Renner's accident and urged everyone to send positive energy to the fellow actor. "Please send him the healing bounty," he said. Ruffalo worked alongside Renner for three films in the Avengers series: the Hulk of him el'Hawk eye Renner's teamed up on The Avengers, Avengers: Age of Ultron and Avengers: Endgame.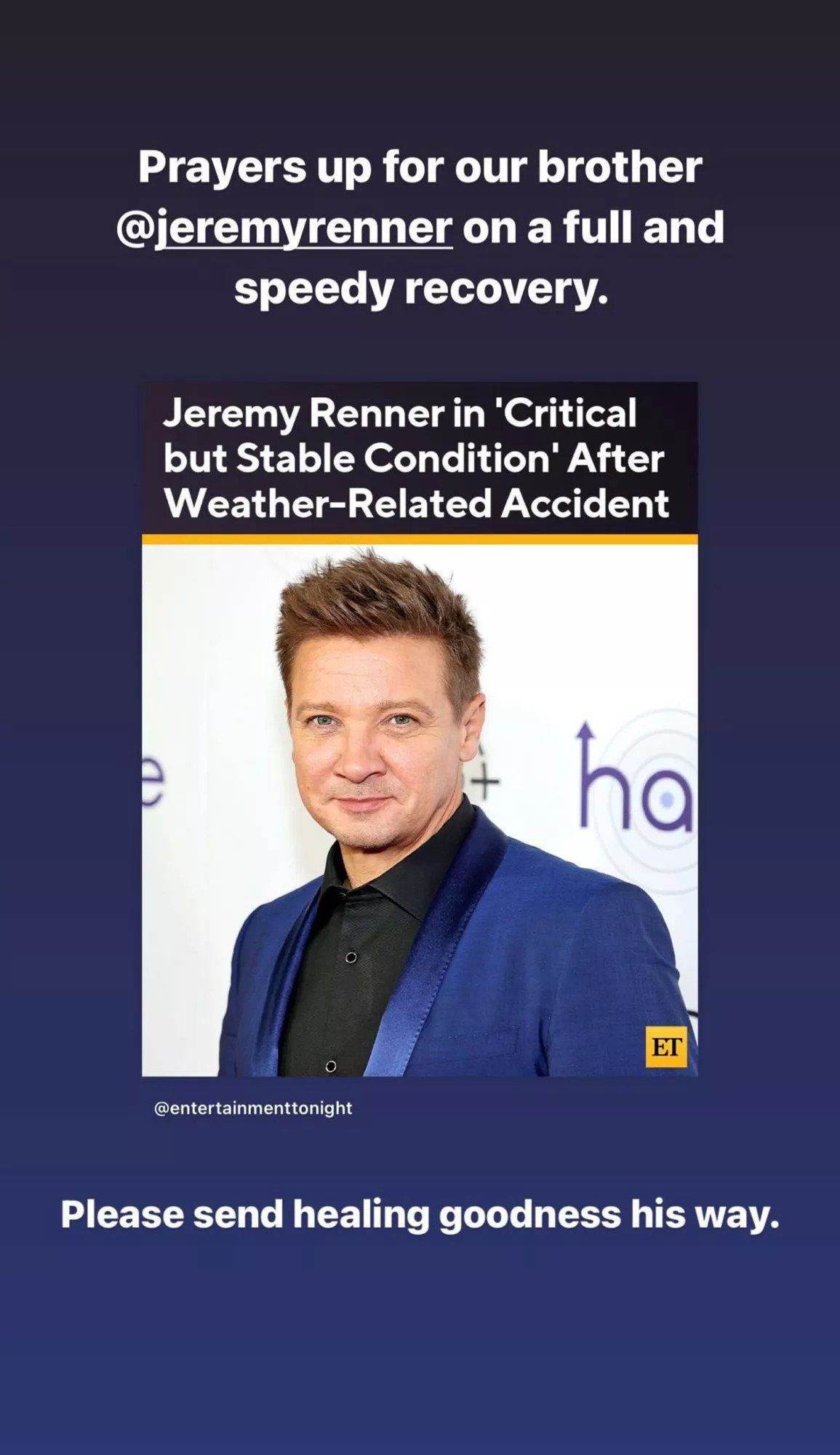 Renner was involved in a snowplow accident on January 1, while trying to clear out his family's home following a heavy snowstorm. The vehicle, called a snowmobile, rolled over on his leg, causing significant blood loss. One of Renner's neighbors, a doctor, stopped the blood flow and was able to apply a tourniquet to his leg while waiting for medical personnel to arrive at the scene. In addition to the leg injury, Renner suffered chest trauma and orthopedic injuries. The actor of Hawkeye he was airlifted to a local hospital, where he underwent emergency surgery; a later video shows the helicopter taking him there.
At present, doctors report that Renner is in critical but stable condition, recovering in an intensive care unit following surgery. The actor's family released a statement on Jan. 2, thanking his fans for their support and expressing their gratitude to the medical staff for their hard work and persistence in helping him recover.
The acclaimed career of Jeremy Renner
Renner has been a staple of the Marvel Cinematic Universe since his appearance as Clint Barton/Hawkeye in the film Thor of 2011. In addition to his work in the Avengers opposite Ruffalo, Renner has also starred in Black Widow alongside Scarlett Johansson, David Harbour And Florence Pugh. The Academy and Golden Globe-nominated actor also starred in the miniseries Hawkeye and voiced the titular superhero in the animated anthology series What If…?, both for Disney+. He got an Oscar nomination in 2010 for The Hurt Locker (best leading actor) and in 2011 for The Town (best supporting actor) and has appeared in other major films such as The Bourne Legacy, Arrival, American Hustle and the film series Mission Impossible.
Renner's likeness made a cameo in the new whodunit Glass Onion: A Knives Out Mysterycurrently streaming on Netflix. Additionally, he is slated to play the role of Mike McClusky in the second season of the crime drama television series Mayor of Kingstownwhich will debut on Paramount+ on January 15th.
What do you think? Let us know in the comments. And don't forget to subscribe to our Facebook group dedicated to TV series and cinema.