editing: watson, images: instagram x shutterstock X threads
Will the MMA fight between Musk and Zuckerberg never happen? The boss of Meta, tired by the procrastination of his great rival, believes for his part that "it is time to move on".
14.08.2023, 19:0815.08.2023, 07:46
The fight Musk against Zuckerberg, will it be "pschiit"? Like the Booba-Kaaris fight, which we are still waiting for? However, everything had started well. "Meta against Tesla", "Zuck vs Musk"… The small world of the Web compressed into the one-dimensional "X" had prepared popcorn and savings for the bets, while "Zucky" was threading a quintal of nuggets between two deadlifts and three sweeps in jiu-jitsu, and other mixed martial arts.
The cage fight of the two gleaming figures of tech 'was to be broadcast live on the ex-Twitter. The two champions were white-hot in the torpor of June. "I'm ready for a cage fight," said one. "Send me the location," the other armed himself.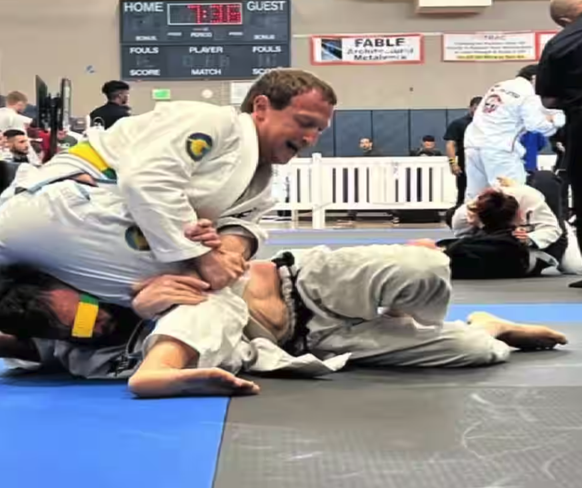 Mark is on a mission.source: instagram
But here it is, the boss of Meta seems well and truly on a war footing, when the outsider works more on his dodge than he does his high kicks. Everyone has their own method, of course. When the first is photographed from all angles on a tatami, the other responds blow for blow by interposed tweets – it's because rhetoric can do damage, and a good logorrhea, it suffocates you, her man. But Zuckerberg seems to have smelled like a deflated tire stench, which he hastened to diffuse on the platform Threads Sunday.
"I think we can all agree that Elon isn't serious and it's time to move on"
mark zuckerberg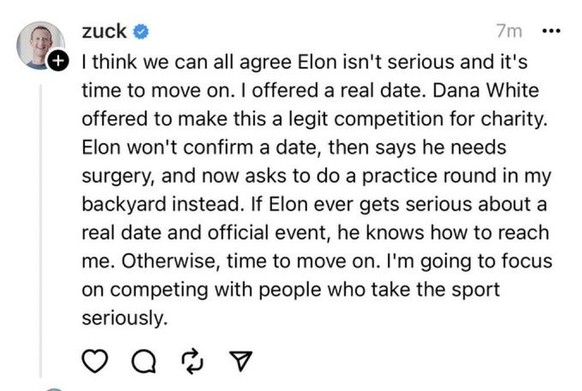 Mark zuckerberg on Threads.
"I offered a real date. Dana White (UFC boss) offered to make it a legitimate competition for charity. Elon didn't confirm the date, then said he had to have surgery, and now he's asking for a training session in my garden instead, "laments the Instagram boss.
As reminded by Guardian, Musk had initially suggested that the fight take place in an "epic location" in Italy. The upper echelons of local politics had been sounded. The Italian Minister of Culture himself, Gennaro Sangiuliano, had confirmed that he had spoken to Musk about organizing a "big charity event evoking history". A sum of six zeros had been mentioned, which would be intended for two Italian hospitals for children. The city of Rome, however, is very quickly removed from the martial equation.
Friday is the drama. The boss of Tesla evokes a "minor operation" for a "problem with (his) right shoulder blade rubbing against (his) ribs". A hitch that would be fixed "in a few months", but who had the good fortune to rage on the other side of the ring:
"If Elon gets serious about a real date and an official event, he knows how to reach me. If not, it's time to move on. I will focus on competing with people who take the sport seriously."
mark zuckerbergthreads
What Elon Musk hastened to answer, with finesse: "He (Zuckerberg) can't eat at Chick-fil-A, that would be cannibalism".

Faithful translation: Zuck is a coward (with feathers and a beak). source: x
If the fight so much emulated within the media sphere makes a blank, disappointed Internet users can always console themselves with a pitched battle of memes.

Let's change the subject?
An AI has created star couples and their children
Elon Musk has his Chinese version, here is "Elong Musk".
Video: watson
All about Musk's Twitter:
It's petite, with a small engine, an open cockpit, leather seats, thin tyres, and a lot of fun: here's the Pembleton T24!
Yes, it still exists: a driving experience that is truly pleasurable.