Dries Mertens, one of the winners of the San Gennaro Prize, spoke to the microphones of Radio Marte in connection with his wife Kat from Istanbul.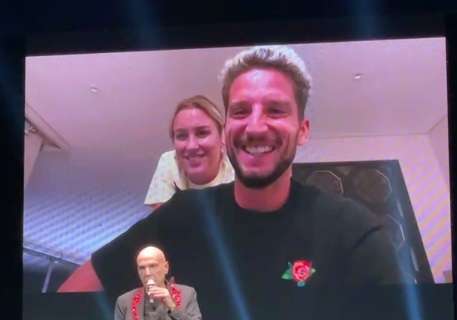 Dries Mertensamong the winners of the San Gennaro Prize, spoke to the microphones of Radio Mars in connection with his wife Kat from Istanbul: "I'm fine, but I miss you". The radio host will present the event Gianni Simioli.
Is it true that when you go to Capri or around the hoteliers greet Kat first and then you? "You can't understand, in Capri or in other places they go to her first and hug her thanking her".
Is it true that if a girl was born you would call her Anna in honor of Palazzo Donn'Anna where you live? "I don't know, at the moment I am very happy that it is a boy and that we can carry the name Ciro all over the world".
Have you thought of 'manufacturing', conceiving the next child in Naples? "Let me make something tonight first and then let's see (laughs, ed.)".
But is it true that the house took a month to finish? "We arrived in Naples and saw some houses. One day we arrived at Palazzo Donn'Anna and a boy with an open shirt like a true Neapolitan welcomed us, Claudio Boccalante, who told us that the house was not finished yet but it was the most beautiful house in Naples. As soon as I entered I saw the sea, the gulf and I immediately fell in love. Claudio told us it wasn't over yet. I thought that and it would never end, here in Naples they say a week or two and then months go by instead. He told us that it was ready in a month, I trusted him, we went in and it is still our home today".
Could Naples become your refuge in the future?
Kat replies: "For me yes".
Dries: "You already know my answer, if she says yes it is yes for sure".
Have you found Naples improved in the last 10 years?
Kat: "For me it has improved a lot, at the beginning there were not many tourists and it works better. The little bars weren't as they are now, now there are many more".
Dries: "I think of her as Kat, I've seen her get better every year. For me Italy is the most beautiful country in the world and Naples is the most beautiful city in the world. You ask me if I know what Bella Mbriana means? I know all of Pino Daniele's songs, so yes".
How do you see this Naples this year? Since you don't want to expose yourself because as a true Neapolitan you say it's bad for you, do you want to just take a look at me? Hilarious Dries' response, which imitates the exultation after the goals inspired by his dog and a sign of friendship with the storekeeper Tommaso Starace.